Hear Daniel Bachman's patient, delicate new album Axacan
On his new album Axacan, premiering on The FADER today, Daniel Bachman wrestles with colonial America's modern legacy.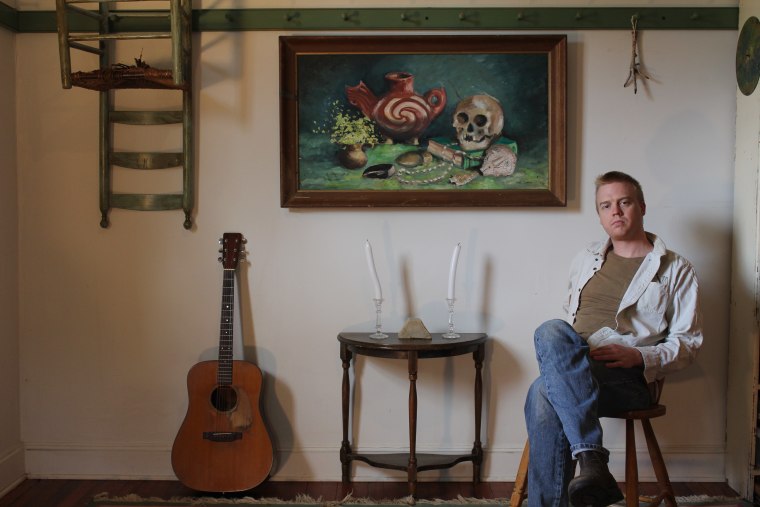 Axacan is a portrait of our future painted from the tones of our past. Over the course of 10 patient, delicately moored soundscapes, folk experimentalist Daniel Bachman unearths the beauty of America's pre-colonial landscape and the violence that changed said landscape forever. Radio signals, nature sounds, and fragmentary guitar lines intermingle constantly on this record, revealing the truths of a country where history has never been given a chance to settle; despite being entirely instrumental, the politics of Axacan are clear and bracing, its distinct choice of modern samples drawing clear lines between colonial violence and modern suffering and decline. Despite being much lighter in its palette, it's an album that feels, to me, like a twin to Divide and Dissolve's January polemic Gas Lit, an album that considered the ripples of violent colonialism as it plays out in the mind and the body.
Speaking to The FADER via email, Bachman talked us through the methodology behind Axacan, as well as his the politics that define it. Listen to the album, and read his essay about it, below.
"The title of this record, "Axacan", is a reference to the first Spanish missionary colony established in Virginia, circa 1570, which was ended when Native groups killed all of the Jesuit missionaries. This event would mark the start of sustained colonization efforts in Virginia. A 400+ year period of violent creolization relentlessly pursued through means of racial capitalism, settler colonialism, and a culture of white supremacy that we are still living to this day.  Because some of these themes are complex and abstract in an instrumental context, I try to express them through environmental recordings where some of the historical events that inspired the material took place.  
All sounds, instrument based or otherwise, were recorded within the geographic boundaries of Ajacan (alternate spelling), roughly from the Chesapeake Bay/Atlantic to the fringes of the Blue Ridge mountains.  For example, on "Accokeek Creek" the radio static heard is an anomaly recorded while driving through Southampton Co. VA, near where Nat Turner's Insurrection took place.  "Blues in the Anthropocene" begins at a Potomac River creek bed where Pocahontas was traded for a copper kettle and ends with a rain storm at George Washington's childhood plantation "Ferry Farm".  Feedback from the Virginia governor's first public address concerning Covid-19 morphs into low growls heard on "Year of the Rat". The whole record continually references itself and brings site specific recordings back together in different combinations, mimicking the churning of the centuries and its inherent interconnectedness.  Even the tunes that are entirely guitar based were recorded at these sites.  Coronach was recorded at the former site of Fredericksburg battlefield and Ferry Farm plantation, a site that is now a subdivision and is still very much haunted by its past. 
I'm also very interested in the intersections between these historical events and the current climate crisis that we all face, in particular how the former has directly influenced and shaped the latter.  With Axacan I'm attempting to draw clear lines between the earliest colonial supremacy in America, (the Virginia Company), and the contemporary corporate entities that will destroy us all if left intact and in control. The birds, bugs, animal/plant sounds and unknown anomaly recordings on this album were taken from climate sensitive sites, nature preserves and national parks.  Blue Ocean 0 refers to "a blue ocean event [known] as a complete absence of Arctic sea ice (a common threshold is when the area is less than 1 million sq. km.)."  This new epoch is characterized by severe global sea level rise, an event that would lead to the loss of the barrier islands where "Blue Ocean 0" was recorded near Chincoteague VA.  The moaning sounds heard on WBRP 47.5 are of a dead pine tree swaying in the wind along the Blue Ridge Parkway, mile marker 47.5 at "Indian Gap Rocks".  And the title "Deep Adaptation" is taken from Professor Jem Bendell's paper, Deep Adaptation: A Map for Navigating Climate Tragedy, which states that "Disruptive impacts from climate change are now inevitable. . . a new approach which explores how to reduce harm and not make matters worse is important to develop." 
In releasing this record I hope that I can share some of this experience through the musical and non musical forms that are on it.  I hope that the sounds on this record are not only emotionally relatable to the listener, but also help to put our modern crises of pandemic, climate change and white supremacy into a broader historical timeline. One we are still very much entangled in. And one that we might only find our way out through similar human and non human partnerships as well as the rejection of our shared colonial supremacy."
Listen to Axacan in full above ahead of its release tomorrow, May 7, via Three Lobed.