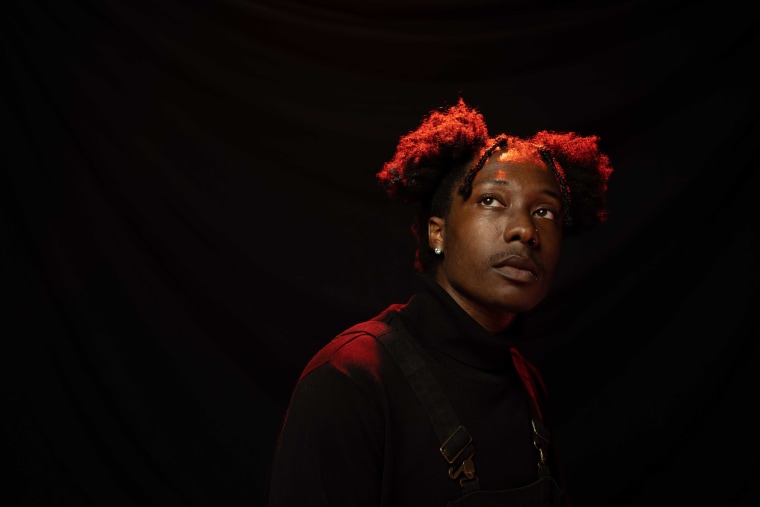 If there's anything McKinley Dixon knows, it's that his music isn't for everyone. The Richmond, Virginia-based rapper is used to sharing parts of himself that cause curious banter at best and tension at worst. This includes Twitter takes that take the idea of race and genre-bending to task, musings on agriculture and sustainability, and namechecks late author Toni Morrisson as the greatest rapper of all time. Today, he shares his debut studio album For My Mama And Anyone Who Look Like Her, a raging, pulsing project that blurs the lines between the personal and the political—albeit unintentionally. "I've always had this community of beautiful Black people around me and this album is an ode to them and what we go through," he explained via phone. "People that look like my mama can be Black women, Black trans people, Black queer folks, my Mom is this very universal thing in that regard."
On the album, Dixon bounds between rapping and spoken word cadence over production ranging from piano-led gospel to frenetic jazz, subverting genres without necessarily blurring them together. Tracking like an introspective journey through heartbreak and healing, Dixon's ideas about home, connectedness, and the notion of using rap as a means of time travel through the Black experience shine. "If time is 'non-linear,' what is stopping me from going back to process the past," he pondered in an official statement about the album, adding that previously learned lessons are instrumental in moving forward. "I can see what I can do differently for the community and people around me."
Despite tackling topics like survival, violence, and religion on previously released singles like "Bless the Child," and "Swangin," Dixon is intentional about not being perceived as overtly conscious. On "make a poet Black," Dixon is succinct about his music's catharsis, a feeling that permeates through the entire 11-track album. "Joyful hymnals packs with the subliminals / to distract from the fact that I'm without my kinfolk," he raps on the track's seemingly endless bars. "Once people hear the album, a lot of people will think I'm talking about like, mass incarceration," he explained. "And it's like, the guy I'm talking about is literally just my homie. I'm mainly trying to do this for myself."
Ultimately, Dixon wants both existing fans and new listeners to take the same thing from the project: the concept of growth. "I want them to know that things take time," he said. "It's a privilege to be able to have the language to describe what you want as eloquently as I tried to, so I definitely want people to know that it takes time, and there's patience in it."
Stream the album below.