Angel Olsen and Sharon Van Etten on crossing paths, writing pop, and making "Like I Used To"
In the latest episode of The FADER Interview podcast, Shaad D'Souza speaks with longtime friends and new collaborators Angel Olsen and Sharon Van Etten about their first collaboration.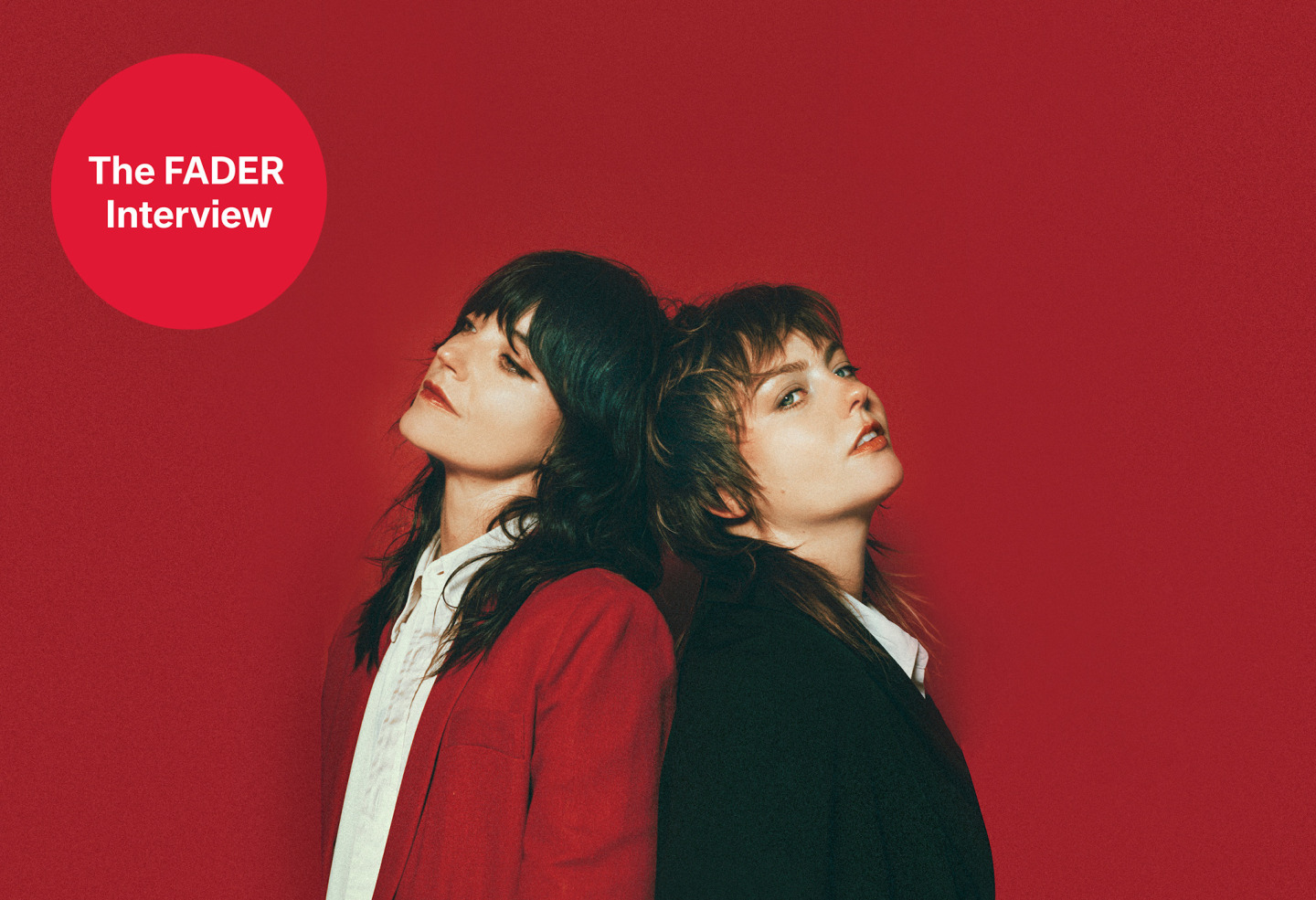 The FADER Interview is a brand new podcast series in which the world's most exciting musicians talk with the staff of The FADER about their latest projects. We'll hear from emerging pop artists on the verge of mainstream breakthroughs, underground rappers pushing boundaries, and icons from across the world who laid the foundations for today's thriving scenes. Listen to this week's episode of the podcast below, read a full transcript of this week's episode after the jump, and follow The FADER Interview wherever you listen to podcasts.

Over the past decade, Angel Olsen has built a career as a titan of indie rock. Ascending from Chicago's DIY scene to headliner status off the back of her spectral, increasingly rich folk songs. All throughout, her music has stayed true to a mantra she espoused in one of the earliest songs, "Know your own heart well. You could be surprised at what you find." That mantra could just as easily be applied to the music of Sharon Van Etten, who over the past decade, has risen from the Brooklyn DIY community to become one of our generation's most respected songwriters and performers, as well as an actor in acclaimed projects like The OA and Never Rarely Sometimes Always.
In 2019, both artists at new creative and experimental peaks; Olsen with her cinematic All Mirrors, and Van Etten with the post-punk influenced Remind Me Tomorrow, both produced by John Congleton and released on Jagjaguwar. This year, after leading seemingly twinned careers that never overlapped, they collaborated on "Like I Used To," a Springsteen style epic that, like the earliest music, espouses the value of knowing your own heart well. Earlier this week, The FADER's Shaad D'Souza caught up with Olsen and Van Etten to discuss how they first connected, the vast intersecting worlds of pop and indie, and the heartland rock power of "Like I Used To."
The FADER: Hi, Angel and Sharon, welcome to The FADER podcasts. Thanks so much for being here today.
Angel Olsen: Yeah. Thanks for asking us.
Sharon Van Etten: Yeah. Thank you.
Did you fight about whether it was going to be Angel and Sharon or Sharon and Angel when you recorded the song?
Olsen: Well, it was Sharon's song originally, so it's Sharon and Angel, for sure.
Van Etten: I mean, it was an arm wrestle, but I mean ...
So "Like I Used To" is obviously your first collaboration, but were there times in the past where you came close to working together or playing together?
Van Etten: We've played some festivals? I feel like we're on opposite stages and we've missed each other in cities where we've met up after shows just to cheers and celebrate in the middle of a crazy tour. Well, actually, no, before this, right before we worked on "Like I Used To," I had reached out to her to sing on a cover of "Femme Fatale" that we were asked to do for a companion piece to a Velvet Underground documentary that I'm still learning more about, but we've never really collaborated or played together before. But I've seen her live a few times and always wanted to hang with Angel.
Olsen: We had a couple of heart to hearts. I came to visit you in LA when you were out there temporarily, and we had a night of just kind of talking about our own struggles with being musicians and just trying to figure out how to communicate our needs and be up front with people we worked with. For me, at least, I remember talking a lot about that because I had been going through quite a bit of changes in my band. It was really nice to talk to someone who also just has been doing it and had a different perspective. I just really remember that hang fondly and we joked about the fact that I think we were both trying out for the same role for TV.
Van Etten: That's right.
Olsen: I was like, "I guess this is how it works in the biz." They just go down the line of all the indie rock singers and see-
Van Etten: They had something specific in mind for this character. I don't know what it is. So that was 2018. That was just before we moved here officially. But that was the year that I realized that it was time for a change just for myself and my family and thinking beyond touring and stuff. You have branched out a lot since then, too, with working beyond albums and touring since we met up that year. It's kind of nutty.
Olsen: Yeah. It's been a weird time. I think part of my sleepiness is having dreams about what it will mean to be ... I'm playing two festivals this year and I'm having dreams about the gear not showing up. I'm like, "Man, I guess I'm going to go back out there. It's weird." I'm looking forward to it, but I am very excited that I got some time to really think about my life and other things that I might want to do now that I've sort of established myself in music in a way. But it's nice to also be at this point in my life and my career where I can feel really comfortable working with someone I really respect, like Sharon, and also, yeah, just have fun with it instead of feeling afraid that the industry will turn us against each other or compare us.
I think in the past I was preoccupied with that because I really wanted to create my own vision and my own thing. I was so afraid of that kind of thing happening and now I just have to shrug and laugh about it because we're all ... Whether it's by listening to our friend's albums or just by being at the same place in the universe, we're all influenced by each other in some way. Sometimes it happens that you sound alike in moments or you're listening to something at the same time and so you write something similar and it's relieving to be like, "Oh wait, we can do this together and be stronger for it and make something beautiful out of it."
Have there been times you felt that industry is too much of a competitive force?
Olsen: I don't know. You have to laugh about stuff because the only way to describe something is to put it in a genre or a box and you have to have a headline, right? So within the headline becomes this really funny thing and it just becomes this cardboard version of the truth of what it is, and so you just have to be like, "Well, that's just showbiz."
Van Etten: But I think it's also your own nature. I feel like if you're a competitive person, you're going to enjoy that competitive nature that can exist in music. But me personally, I'm not a competitive person. Even growing up, I couldn't play board games in my family because my sister was just the worst. We played Parcheesi and if I rolled the dice the wrong way, she'd flip the fucking board.
So grew up with this sense of ... You know what? If any time it feels like that, I back off, I don't feel comfortable with it. I'm just like, "I'm just playing man." I just want to enjoy myself and relax." If it ever felt that way, it wasn't really my circle. Whether it be friends or sports or music. I think it's also part of nature and who I tend to work with. Most people aren't really like that, that I tend to work with or hang out with.
So in "Like I Used To," was there a particular sensibility of the others that you wanted to capture in the song?
Van Etten: Well, I actually, I sent this line to Angel and she laughs when I say this, but I was afraid I was ripping her off and I was ready to just give her the song. I sent it to her in my ... Well, in my memory, I actually told her that, but I actually didn't. I went back in my emails because I said, "Did I actually say that?" I realized I was just making up this little narrative because I was so insecure about it.
Olsen: You know what? I'll take it now, I'll take it now. Actually my band and I are going to learn the whole thing, so we're just going to do it without you.
Van Etten: But literally, I was like ... I heard her immediately on it, regardless of if my insecurities were founded or not, I heard her timbre in there and once it felt like a reality that she would actually want to sing with me, it just became clear that it would be our two voices together.
Olsen: When you were saying you heard it in the song, maybe you were also just like ... maybe it was purposeful in that way without you really knowing it. Sometimes I feel like writing songs, it's like your brain is putting together a puzzle that you didn't know you were trying to figure out or find a place for something. I don't know. Maybe I'm being too heady about it, but ...
Van Etten: I bet if I piece through my handful of demos, I could start a folder that would be titled What Would Angel Do Here?
Olsen: Well, anyway, I listened to it and I was in love with it and stoked about it and I thought it was a really sexy, made me want to get up and dance song. I was so in love with it, even if it was unfinished at the time. I was having my best friend over for a cocktail and we'd sit outside by the fire and I'd play what we could of the song and how it was developing, and it was exciting to share it. I know that that's probably weird to hear that I was sharing it with people, but I was just so stoked about it, I wanted to share it with my close friend and yeah, we were both just like, "Man, this is going to be so much fun to play and to record."
She kept asking for me to send it to her and I wouldn't. I was just like, "I can't get too attached to how everything sounds. It's going to change." I have to do that with my own music too, but I'm really excited for the way that John Congleton mixed it and created this whole kind of like ... It's almost like a doo-wop kind of feel to it. I don't know. I don't know how else to describe it.
Van Etten: It's like a Dion meets Springsteen, which is funny because originally I was thinking it was more of a Fleetwood vibe, but leave it to John to push it that extra mile.
Yeah. The song has this very classic feeling, kind of heartland rock vibe, I guess. What does that sound speak to for the two of you and what about it felt right for this song?
Van Etten: I mean, when it first got there, after tracking in the studio, I was semi alarmed. I mean, based on the demo at first, because my Bruce radar is pretty high, but at a certain point ... There's part of me that gets defensive about the Bruce influence. I love The Boss. I grew up listening to The Boss and it was just so suddenly there from a much more laid back, more '70s rock kind of demo. But then once I got into it, I was like, "You know what? This is so ballsy. This is more like Heart and the song wants to be bigger than my demo allows." So once you let that go, you have much more fun taking it to this other place.
Olsen: You can always play it slowed down, stripped back, however you want later, if you choose also.
Sharon, what was your process behind writing the song initially? Because I guess this idea of "Like I Used To" is something obviously a lot of people will be working through in their own lives right now.
Van Etten: Yeah. Honestly, I sat down just first from the mindset of a mom and laughing about all the things I used to do just as a teenager, early 20s something that didn't have all these other responsibilities, but then put in the context of COVID, it's a bit more emotional and funny. But I think when you combine those two feelings that you get something that's rooted in something that people can connect with. That's not just silly and outside of themselves, but something that's true to life and heavy, but also relatable and somewhat of a relief to hear that other people are feeling the same way. Because the lyrics weren't done when I first reached out to Angel and I wanted to make sure they were not just things that I was going through and also not so obviously COVID where it's like, "This is going to be a COVID song. You want in?" I want it to feel like something that was still universal beyond this moment in time, and Angel helped me do that.
At this point in your careers, you're both quite established musicians and it's, I would have to assume, quite a big operation, but you both started as more DIY musicians. How do you navigate getting to this place where a career is sustainable, but it's also moved so far from how you initially started?
Van Etten: I think, and not just because of quarantine, but because of my age, because of my family and because of the relationships that I've built by having a career and trying to be loyal, that I don't only owe it to myself to try to sustain the touring so that I can help sustain other people's livelihoods, I also need that creative side of me to still be able to thrive as a person. If I don't write and perform, I definitely am not myself, but I know that I can't tour like I used to. Ha, that was not intentional. But I can't tour like the old days where you're gone nine months out of the year.
Olsen: Me, neither. I mean, I will.
Van Etten: I mean, if I have to, I will. I will bring my child. Next year is probably the last year I don't have to plan school around a tour, but it's those things that start as you get older, they start popping up. There's things that are important to you that you don't want to miss. Like weddings, birthdays, anniversaries, whatever that be. But I still like having a live band and feeling close to them and playing venues. I can feel my audience and trying to only play clubs that I like going to, that I would enjoy where the sight line is good, the sound is good, there are other bands playing there that I like, I think that's the question you were asking.
Olsen: I have a hard time with the playlist thing and we've been doing them and they've been fun, but it's always framed in a way where it was always the artist's idea, when it never is. I have a hard time with doing the promotional stuff that takes research and time. I'm like, "I just want to play music," and I'm still such a baby about it, but I do have fun trying new things. I think working with someone that does have an outside perspective outside of me and wants to see me challenge myself and put myself in different positions. Yeah. I don't know. Like the Mark Ronson song that I did was just like ... I never would have imagined that I would have collaborated with Mark Ronson and that was a really enjoyable experience and it was so much fun and it's one of my favorite songs to play now.
I think in the past, being very punk DIY, I would have never collaborated with Mark Ronson on something. But I think also that has a lot to do with how the indie community and the pop community are merged at this point. I feel like in the past it was very like, "It's them or it's us." Now everything is just kind of like ... everyone is making music and it's a better way now.
Earlier this week you performed "Like I Used To" for Fallon at Zebulon, which, Sharon, it's quite a significant venue for you. Can you tell me a bit about your relationship with that venue and what it was like performing that song there?
Van Etten: Zebulon was my first real haven in Brooklyn when I moved to New York and it would be the kind of place where you would go for a glass of wine and you see a bunch of people that you knew, that my dad could feel comfortable sitting at a bar and like talking to the owners. You could just go there and whatever music they were playing on the stereo was always incredible, and whatever music was playing live was something I had either never heard of before that I loved immediately and not genre specific at all. It kind of run the gamut. They early on gave me my first residency there and allowed me to book my own shows and bring my own friends in to be a part of the shows. I got to bill it and everything.
It was a pass the hat club, no cover, people just came in and people would sit on the floor if all the chairs were taken. It was an intimate, beautiful space of probably maybe 150 people could fit in there, maybe legally, depending on if they took tables out or not. But the kind of venue, too, where if it was a quiet performer, they wouldn't make drinks. So it was really special to me and the neighborhood, Williamsburg, changed so much that they didn't actually feel welcome there after a while. So the two brothers moved back to France, they left the space and they started plotting their move and what was next. They knew that there was going to be another Zebulon, but didn't know where, and they ended up in Los Angeles and they actually moved the physical bar from the Brooklyn space all the way to the LA space so that now exists here.
Olsen: Wait, that's the same exact bar?
Van Etten: I sat at the very same stool my dad and I used to sit at. My dad used to come to all of my shows at Zebulon and I think even on occasion he had to crash at my house, but yeah, it was just such a welcoming place. So now that Zebulon is out here in LA, that my family and I have settled out here, it just was bittersweet because my first time going into it when it was completed was during COVID and it meant a lot to be able to collaborate with them and sharing the story of my relationship with Zebulon but also where they are at now. It's like a community center, really. They have all different kinds of music, they support local artists and touring artists and it's a much bigger space than what I knew in New York, but it still has a very warm and inviting energy and they keep that creative spirit.
Olsen: It's the place to be.
Van Etten: It's the spot on the east side. One of few.
Angel, after recording a couple of solo live streams and performances last year, how did it feel to perform with a full band again?
Olsen: Honestly, it felt great. I mean, I love playing solo and I'm going to get out there at some point and play Whole New Mess and I always do kind of like ... In between records I'll do a small solo tour here and there because some people ... I've never really done a full-on solo tour in Europe, et cetera. I'd like to go to Japan one day and do that. I'm stoked to get the band back together. Like I said, I'm also just having nightmares about gear just breaking or in the dream I don't know how to program the keyboard, stuff like that that is silly to dream about. But it was so much fun getting a bunch of people together. Some of them are from friends of friends, people that we've met on the road, people in our friend's bands getting together to play this song with us. So it was really fun.
There are all these kind of really distinct and evocative Like I Used To's in this song. Can you talk me through each of your favorites?
Van Etten: I guess one for me is that I find that I'm more of a home body than I ever realized I was. Avoiding big crowds like I used to I think is my favorite one. Not just as a performer, but even sometimes going to shows, I used to find that I would get a little anxious so I'd be the one in the back corner and I'd have to sneak outside to get some air because I have a thing with crowds, which is the worst profession to have if you get social anxiety. But now that I'm home, I'm kind of like ... I'd kind of do the same thing, but obviously on walks and you see a bunch of people, you cross the street to not walk through them and just staying at home by myself and being in my own little bubble has been really nice, actually.
Olsen: For me, yeah, it's sort of similar, just avoiding big crowds, dancing all alone. Now I'm excited to be back in the game and trying to get the band together. But at the time I was like, "I guess I'm just going to spend the day in the house dancing and no one will stop me and I have nothing I have to do." At first that was really, really freeing. So having the time to really think about what I want in life, where I am. I was at a place where I was like, "Oh, I got over this heartache and now I'm just going to be with myself," and I was with myself and it was so much fun connecting. I was going on walks and I met all of these beautiful people and befriended this person who lived by a lake and he lent me his canoe and I would take the canoe out, and I was just connecting with nature in this way. I felt really just into myself in a way that I didn't really get to connect with that wasn't about music or writing really.
For me, being in that place, I think, allowed me to really fall in love and be open to just being myself, and accepting where I was in life. Yeah, just being able to let go is the overall feeling for me when I sing this song.
That's beautiful. Thank you so much Sharon Van Etten and Angel Olsen for coming on The FADER podcast to talk about your new track. Thank you and have a great rest of day.
Olsen: You too. Thank you so much. I'm sorry if I talked too much, Sharon.
Van Etten: No, I love it. It helps me out.
The FADER Interview would like to thank Lauten Audio for providing our microphones and James Ivy, who wrote and performed our intro music. Our engineer is Tony Giambrone and our Associate Producer is Salvatore Maicki.