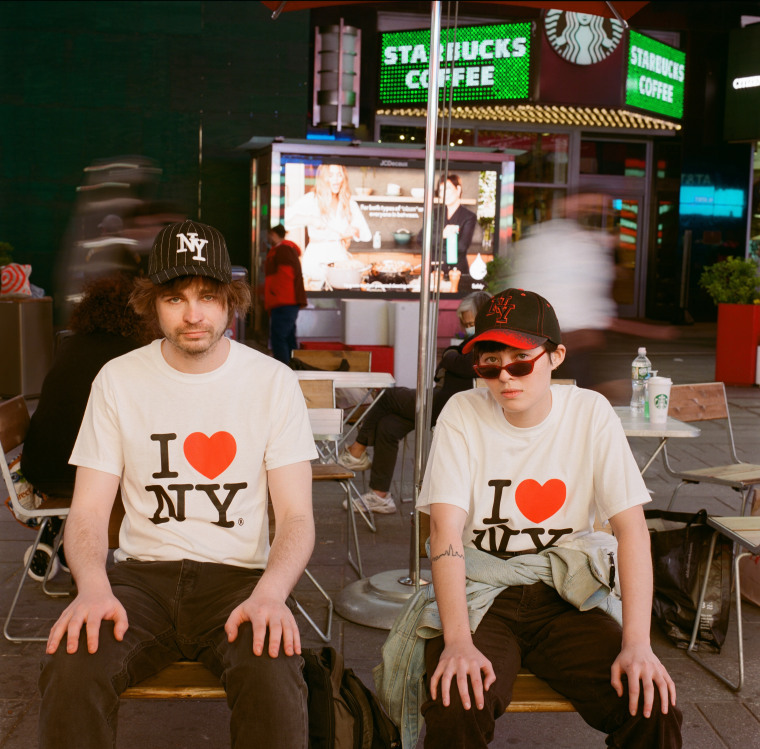 Water From Your Eyes are the Brooklyn-based duo Rachel Brown and Nate Amos, who you might know from their solo work as Thanks For Coming and This Is Lorelei respectively. Next month, August 27 to be precise, WFYE will release their second album Structure. It's their second album following 2019 debut Somebody Else's Song and their first on new label Warf Cat Records.
Structure is truly an album of two halves, with "Track Five" actually landing sixth in the running order and thus on the latter side of the record. On an album that switches between Brown and Amos's love of experimental and pop music, "Track Five" represents the best of both worlds. It begins in dissonant fashion before opening up into a punk-y disco bounce with a wall of automated drum claps combining with synth sounds to create an overwhelming wave of sound. Brown uses the platform to open up about someone close walking out of their life and the painful mix of emotions that brings. Like many of the lyrics on the words come straight from their journals.
Speaking to The FADER via email, Brown explained a little more about their thinking behind the song and video.
"I get really lost in this song when we perform. It's so easy to get lost in. Someone once said it's like dancing through the fallout of a nuclear power plant. I think they were on to something. This song is also a bittersweet one. I think this whole album might be bittersweet. I remember writing this song right after someone in my life left. For me, this song always feels like watching someone walk away as you realize the mental image of the last time they looked in your direction has already faded."
"To me, the song is both melancholy and out of control. I felt that the video needed to have an abandoned industrial feeling to convey the pining for what has been lost in sharp contrast with a chaotic chromatic dance party that digs into the welcomed apathy of letting everything go. We shot it at an abandoned building out behind JFK that I had seen from the highway on my way to Far Rockaway the week before, by the old Red Hook grain terminal, and in the hallway of my apartment. It was a real fun time hanging out and creating with some of my best friends and also I learned that there are lizards by JFK which is a very exciting development for me."
Structure is available to pre-order now.