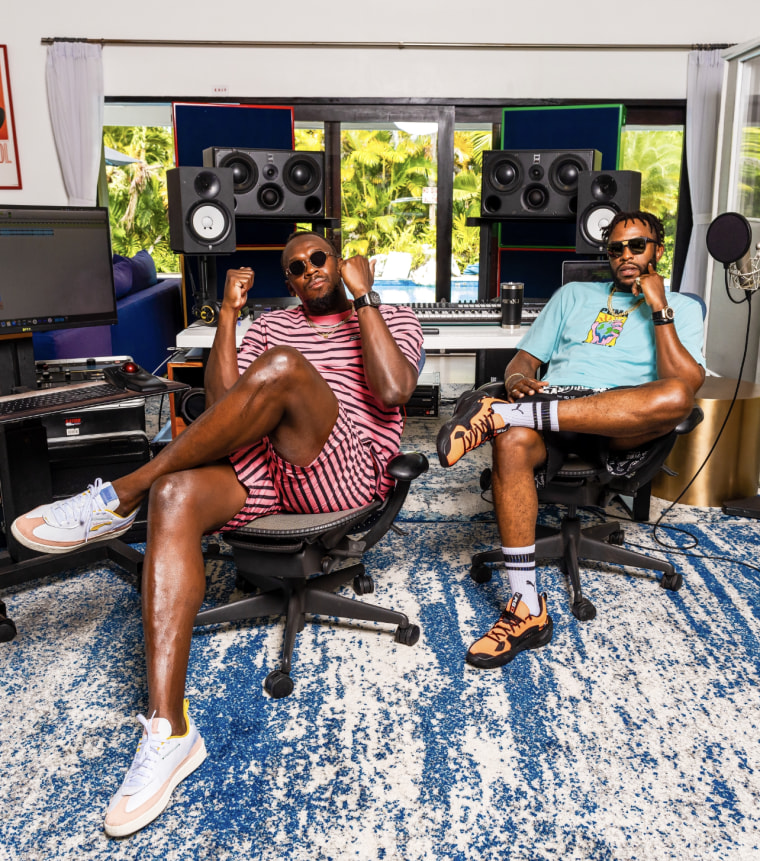 Since retiring from atheltics in 2017 Usain Bolt has enjoyed the many opportunities being the fastest man in history gives you. He's played soccer, founded an electric scooter company, and published his autobiography, My Story: 9.58: Being the World's Fastest Man. Since 2019 he has also pursued a line in music, specifically dancehall, the upbeat and life-affirming sound of his home country Jamaica. This Friday, September 3, Bolt will release Country Yutes, a collaboration with his manager, Nugent "NJ" Walker and featuring a number of dancehall artists. The album celebrates the dancehall and reggae that Bolt grew up listening to in Jamaica and is released via Bolt's A-Team Lifestyle Records.
Bolt spoke to The FADER about his journey in music so far as part of this week's episode of The FADER Interview podcast. Chatting to host Sajae Elder, Bolt talked about the tunes that used to inspire him to compete, his early memories of music back home in Jamaica, and his ambitions now he is pursuing music on a more serious basis.
Read on for a breakdown of five major takeaways from the interiew and be sure to listen to the conversation in full.
Bob Marley sparked a fire in him
Speaking about his earliest inspirations, proud Jamaican Bolt couldn't look past another iconic figure from the island. "For me, definitely, Bob Marley stood out, because I remember at a young age, anywhere I went, people always knew Bob Marley, no matter where in the world I went, as long as you are playing Bob Marley music," he explains. "And that's something that always put a smile on my face. I was like, "Yeah, it's good to have good music that people know everywhere you go." Bunny Wailer, all these guys, Buju Banton. So for me, those were the guys at an early age I was inspired, because I could go anywhere and hear their music."
Country Yutes is a reference to Bolt's arrival in the big city
Bolt and his family grew up in the Jamaican countryside and a move to the capital, Kingston, when he got a little older brought with it some teething problems. "We moved into a neighborhood that was upscale, uptown type of vibe," Bolt recalls. "I wouldn't say they didn't like us, but we didn't get the energy and the vibe that we expected. We're nice people, we're very chilled, so that's how we really came up with a country yute vibes. We were like "Yo, we're country yutes and we live and sleep and we'll always be country."
"So that's how we decided to name the album Country Yutes, because we just want to make people know that's where we from. And we made a song that's called 'Living The Dream.' For me, that spoke on what we've been through and making people know that you can make it no matter what you do. Just work hard no matter where you're from, just work hard, and that's how Country Yutes came about, again, and that's why we decided to name the album Country Yutes."
Bolt likes to think of himself as the "DJ Khaled of dancehall"
A major key to understanding Bolt's role in music is to look to DJ Khaled, less an artist in his own right and more of a creative center point that others orbit. Speaking about the similarities, Bolt explains: "I'm the type of person, if I go to a club, when I have a good time, I'll go on the mic and try to build the vibes of the club. So for me, that's why I'm so inspired by DJ Khaled and I want to be a version of him, just in dancehall, or just, you never know, it might be bigger."
But don't expect to hear him flexing his vocals any time soon
Bolt is involved in every stage of making his music, but that doesnt mean he's racing to the mic just yet. "I drop in, say a few lines, say a few things, but... You have to know your limit," he laughs. "I'm not a singer-DJ type of guy, but I can bring a vibe and that's what I'm going to do. That's why I'm going to step back and let artists do what they do because I know I can produce good music. I know what I like and I think I know what other people like as well, that's why we're making music."
He's ready to prove the doubters wrong
Sports stars turning their hand to music isn't always a recipe for success and Bolt appreciates that he might have to show some people he's got major love and respect for dancehall music and culture. "From the start, people were saying why are we doing music?" Bolt says at one stage. "I was like, "This is what I love." The problem with nowadays is that people, they have you in a box and they decide that this is what you should do. I'm not going to let anybody put me in a box. I was an athlete once, that chapter of my life is over, and now I want to be a producer, so I'm going to produce. It doesn't matter what anybody wants to say.
"If I make good music and I put good vibes out there, I know people are going to love it. So that's what we're doing. And we're not just doing it by ourselves, we have people we talk to. And again, we work with experienced artists as have done this before, so we can ask them, just have a conversation with people. We're not just going to act like we know everything, we're taking our time and just working our way up."