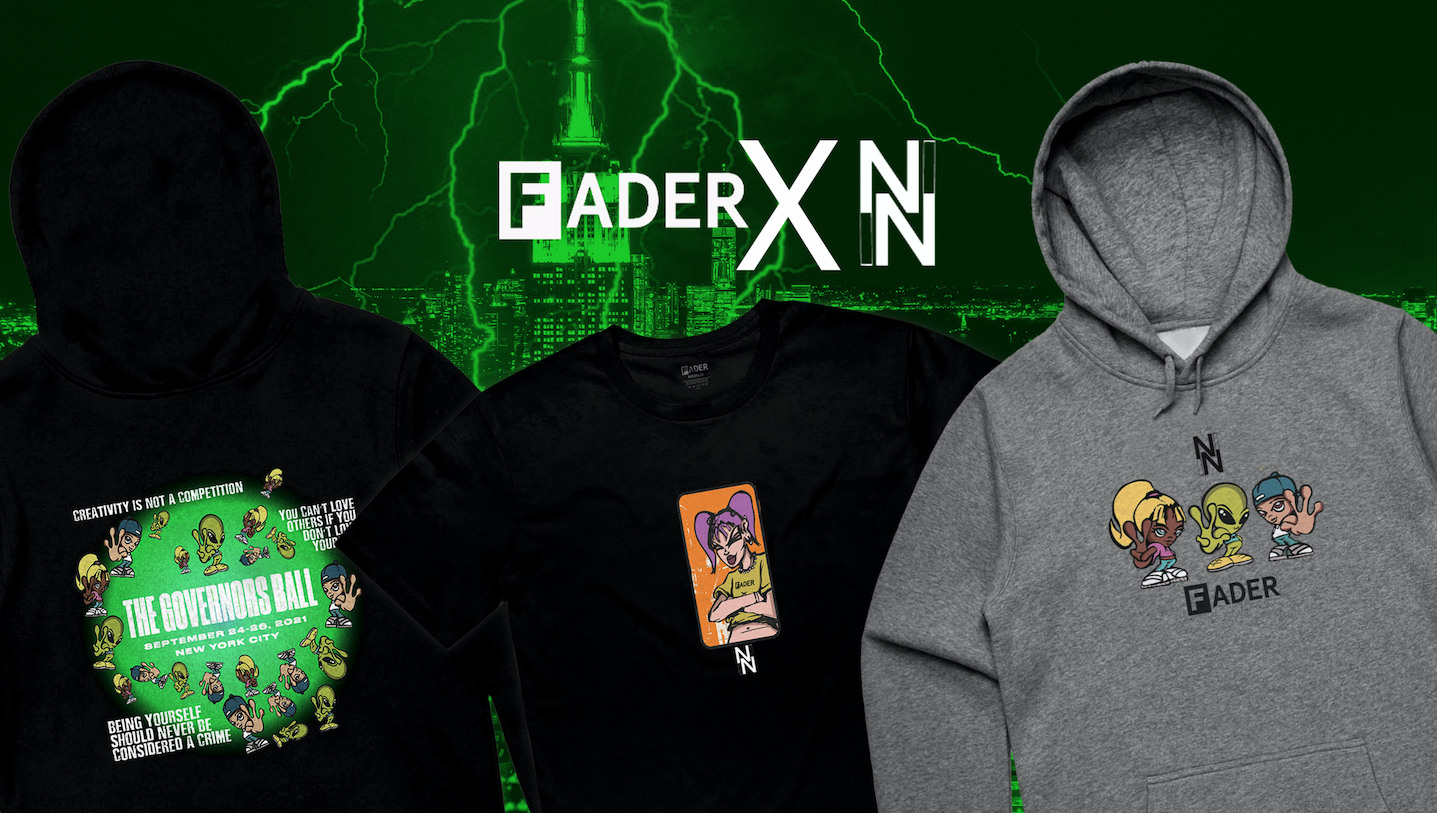 This weekend marks the 10th anniversary of Governors Ball, New York City's iconic, multi-genre music festival. The festival has grown exponentially since its debut, and the looks on the ground have diversified at the same time — there are fewer identikit skinny-jean fits now, and far more colorful expressions of identity. To celebrate that decade of creative growth, The FADER and No Negativity LLC are partnering with Gov Ball on a merch collab for fans and artists alike.
No Negativity founder Levar Mcdonald, also known as DickByAir, brought together his homies to create stickers, tote bags, T-shirts, and hoodies promoting a straightforward but radical message: "see people beyond their labels." While the merch is in an array of saturated colors, it's not so literal as the Pride flag. Four main characters throwing peace signs and rocking baby tees, drawn in a '90s grunge style by FIT student Vincenza Grippe, defy categorization. (One is literally an alien.) Like all of us, they're here for the music.
Mcdonald understands feeling boxed in, growing up as a Black creative with limited access to the arts in Brownsville, Brooklyn. About six years ago, he started No Negativity as a Facebook group chat of 100 people, adding any poets, designers and musicians he knew of. Members reached out to each other to collaborate, and the chat quickly quadrupled in size. Now Mcdonald is raising money for a physical community center where 3D printers and a photography studio replace the traditional gym and lap pool. A portion of all No Negativity x FADER merch purchases will go toward the effort.
"Without spaces like this, I feel like we're forcing kids to become athletes when so many have creative dreams," Mcdonald says. "I want No Negativity to be the place to work on a project, to use Adobe without paying a fortune, to meet the person who has your dream job."
Music has always been an equalizing force on the pages of FADER, at the Gov Ball mainstage, and in New York. "I've done so much here and don't always get the recognition. Agencies leave me on seen or steal dope ideas that I pitched. I've been grinding for 10 years, so to be at Gov Ball not just as an attendee anymore but a part of it, it's full circle," Mcdonald says. Another sign he's made it: he showed his friend Virgil Abloh the No Negativity x FADER T-shirt design and got his full approval.
On Friday you can catch the creator at Leon Brides and Billie Eilish. Saturday he'll be bouncing between Aminé, Megan Thee Stallion, and longtime favorite A$AP Rocky. Sunday is for discovering newer acts like Amaarae. "I'm open to everyone as long as it's live," Mcdonald says. "Whenever someone sends me a song I'm like, 'No. Just invite me to their show.'"
Check out some highlights from drop below, find the full collection in our shop, and keep an eye out for The FADER x No Negativity at Gov Ball and on socials all weekend.