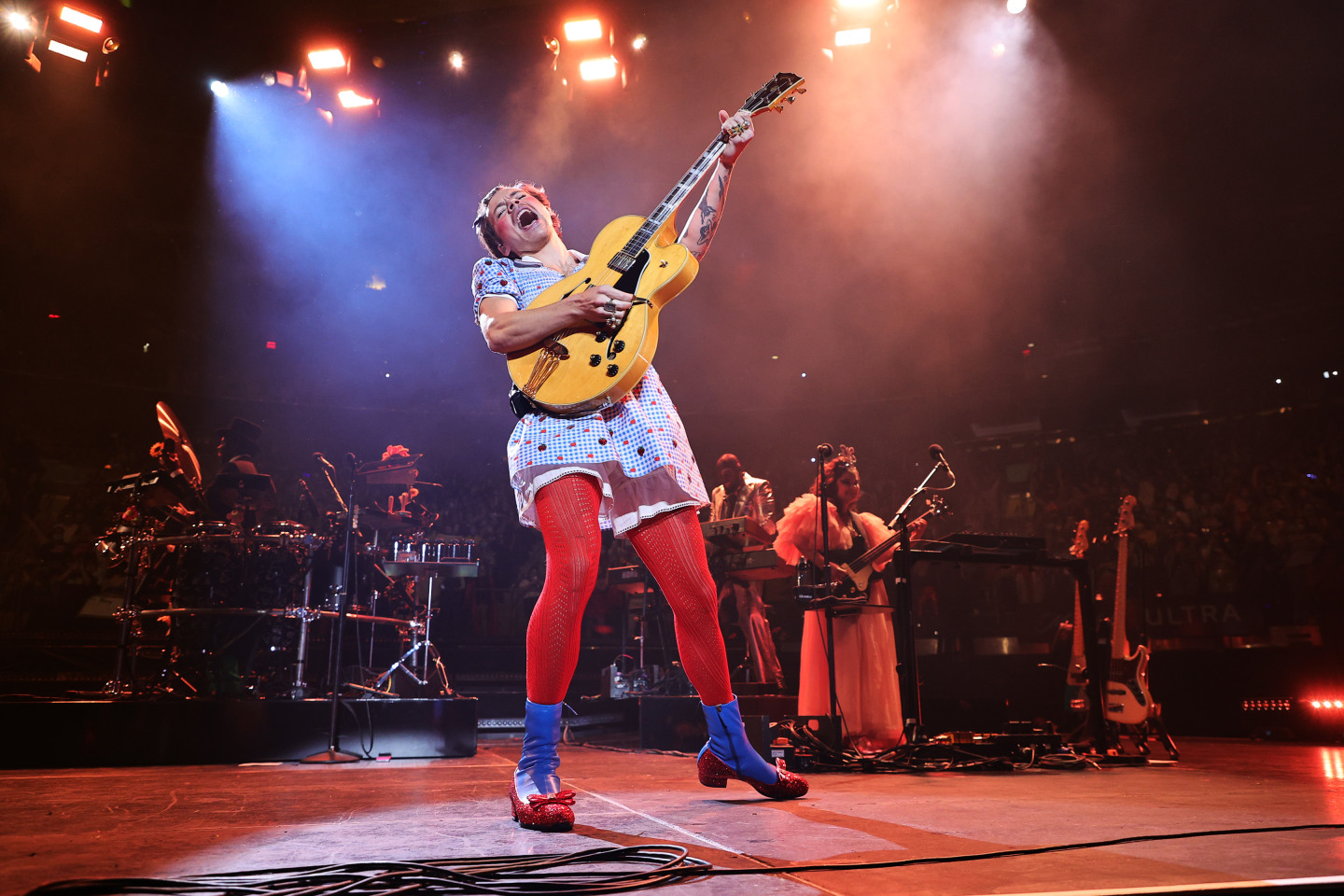 Spend any amount of time on the Harry Styles subsection of TikTok on the night of one of his sold out Love On Tour shows, and you'll watch videos of at least a handful of fans crying outside after being scammed by fake resale tickets. A ticket originally purchased for $200 can be resold on Stubhub or SeatGeek for $700, but for some Styles fans, love conquers finance. After Styles' fifth show at New York City's Madison Square Garden in October –– night two of the long awaited, weekend-long fancy dress party Harryween –– someone snapped a photo of a pillar at the Hoyt-Schermerhorn subway station. "MONEY IS FAKE," someone had scribbled on the dirty white tiles in black ink. "HARRY STYLES IS FOREVER."
It's a sentiment I fully understand after seeing five nights of Love On Tour at MSG. Keeping up with the tour has become a comfort for fans who have been following the trek since it kicked off back in September at Las Vegas' MGM Grand Garden Arena. They sit on social media each night, refreshing their timeline in the minutes after the show's start time to see what variation of custom Gucci stylist Harry Lambert had selected for Styles that night. Some cities receive a shirtless, open-chested look showing off his tattoos while others receive a recreation of the Fine Line album cover: suspenders and some variation of well tailored pants and a button up shirt –– a sheer one if he's feeling spicy. It's the same show every night, more or less, but there's also a sense of unpredictability that Styles carefully wields.
This impish relationship with the audience has different dimensions, and seems to fuel Styles night after night. One of the biggest mysteries of Love On Tour is that of the beloved "To Be So Lonely." At the start of the tour, it was the only Fine Line song that didn't make the setlist. Now, Styles varies which cities he performs the song in with seemingly no clear schedule. At one show, Harry asked a fan in the pit what their favorite song was, a sinister smirk appearing on his face as the crowd screamed "To Be So Lonely," hoping for a chance to shout the lyrics: "And I'm just an arrogant son of a bitch / Who can't admit when he's sorry." Tough luck: "We're gonna do Canyon Moon!" he exclaimed as the arena filled with dissatisfied groans and excited cheers.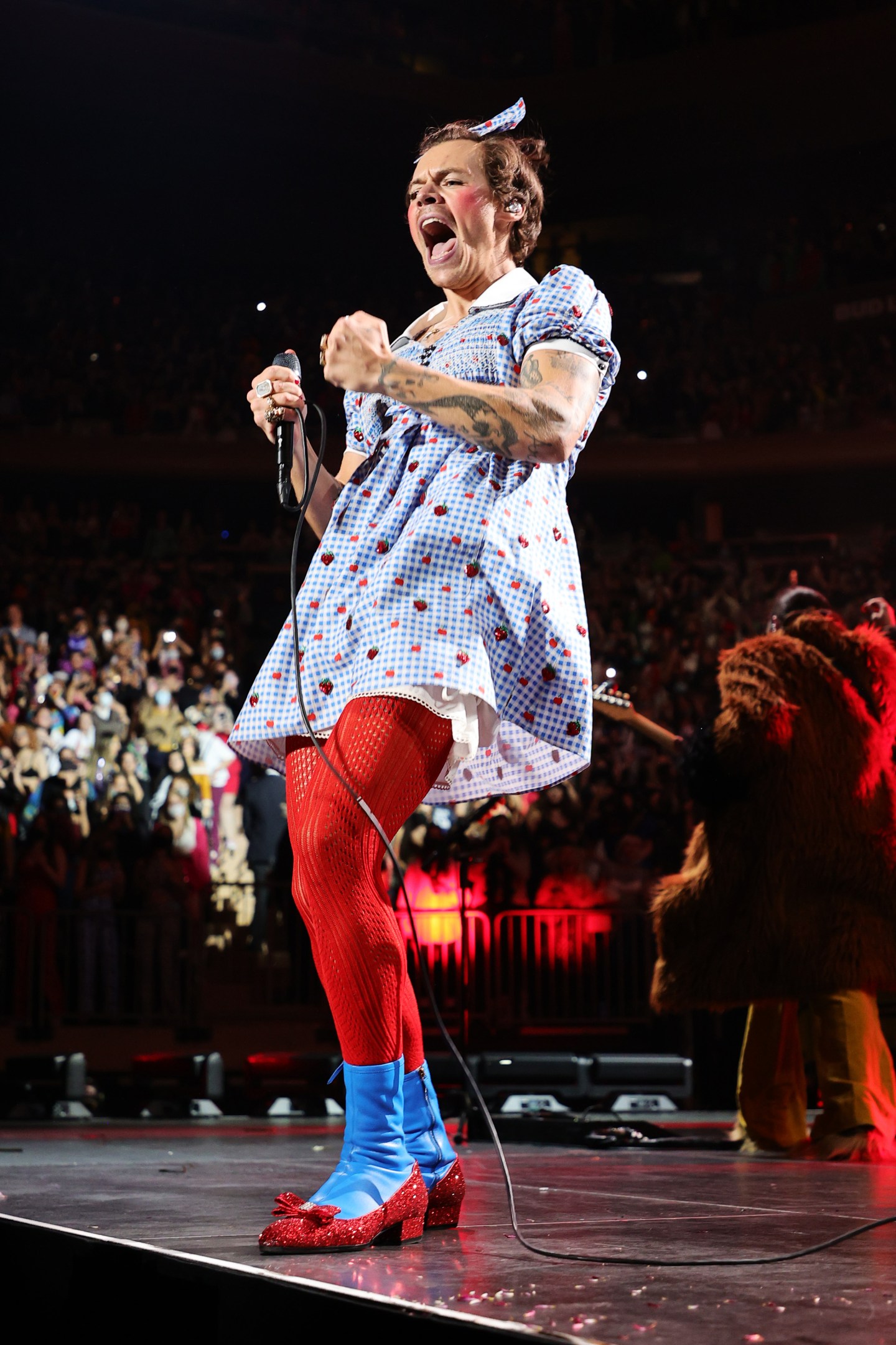 The second night of Harryween was the only New York City show that didn't hear "To Be So Lonely." Styles made up for it, however, with a three-song punch of high-stamina songs: the unreleased "Medicine," which fans have been begging for him to acknowledge in any meaningful way since performing it during a 2018 tour, an electrifying cover of Britney Spears' "Toxic," and the worth-the-wait show closer "Kiwi." Styles stopped and started the building-shaking final song two or three times before running through the track in full: "This is called edging," he noted devilishly. The floor that night shook harder than it had for any other show, the crowd's screams the most ear-splitting. Fans in the pit started falling over each other, unable to keep their balance, and the screens above the stage and the higher tiers of seating became almost elastic in their bouncing.
The first tour supporting Styles's 2017 self-titled debut album was intense, but letting go of himself in the studio made a clear path for Styles to bring all of himself to the stage. "When I listen to the first album now," Styles told Zane Lowe in a 2019 interview, "I can hear all of the places where I feel like I was playing it safe, because I just didn't want to get it wrong… I kind of went into the second one feeling like I want to work out how to make all of this feel really fun."
Styles has been performing for over a decade now, dating back to his boyband days where he was already expected to be the breakout soloist of One Direction. Now seeing him command a stage on his own makes it difficult to ignore the feeling that these early tours were the precursor to a historic pop career for an increasingly untouchable star. When he's drenching the crowd with all of the contents of his water bottles and dropping to his knees during "Kiwi," or swiping his thumb across his tongue during "Adore You" and moaning his way into the chorus of "Carolina," there's an intoxicating haze that lingers even after the lights come back on as you attempt to make sense of what you've just seen.
There's a sense of exclusivity around Love On Tour, in particular. The version of himself Styles offers up each night, running up and down the stage catwalks like a kid on a playground, isn't one you can encounter anywhere else but in these concert settings. You won't find him on social media or at an award show tapping into the same sort of unrestricted and tantalizing freedom. It's for the stage and the fans who fill the seats, with a promise to spend the next 90 minutes having the time of their life.
Styles launched the Fine Line era with an existential question tucked into the lead single "Lights Up," asking: "Do you know who you are?" Each night, he prompts the same question as attendees light up the arena with all the colors of the rainbow using slips of paper placed over their phone flashlights. On the first night of the tour, Styles extended his mic to the crowd to sing "Do you know who you are?" as loud as they could. "I do when I'm with you," he offered back as a response of his own. Now, looking through the crowd at each show, there are always a few signs that read the same words.