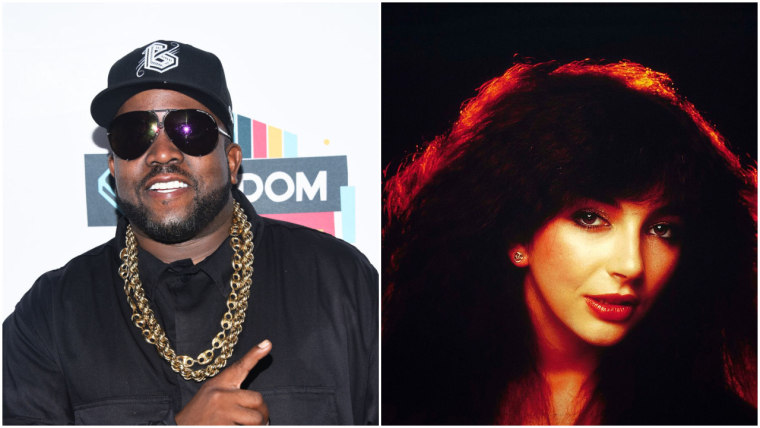 Big Boi's love of Kate Bush is no secret, he likes to talk about her and her music at every available opportunity. He has also spent much of that time speaking about his dream of working with the elusive artist, who has largely retired from the public eye in recent years. However, in a new interview with Mark Ronson on The FADER Uncovered podcast, Big Boi confirms that he has been in the studio with his idol and that a "monster" collaboration is ready to be released.
Speaking to Ronson about his various collaborators throughout the years, Big Boi said: "I have a monster hit with Kate Bush that I'm just holding." Adding: "It's a dream come true and the people are going to fucking love it. It's fucking incredible."
Going into specific details, Big Boi explained that he met Bush in London when OutKast were on their 2014 reunion tour and Bush was staging her Before The Dawn residency in the city.
"I got tickets, me and my wife, and we went to go see her show that she had, played the live shows," he said. "And so from there, I get invited backstage, we have some wine and we talk. And her kid is there, he's about the same age as my kids, which is cool. And she signs an album for me and give me her number. So after that, about a year or so pass, and I told her I was coming back, I just said, "Hey, when can we do a song?" Just send her a text every now and then. I talked to her on the phone, "Hello. Hello. So lovely." And so I came back and she's like, "Let's go to dinner." So we went and she took me to dinner to this cool little pub place where I had almond cognac. And we was both throwing them back. It was the coolest experience."
"So we had dinner and then we're like okay. Her son was going off to college and she was just like, "Okay, I'm going to try to get to something when I get my studio set back up." And so my manager, being the great, great manager he is, he reached out to her manager a couple years ago and was like, "Hey, we need to make this happen." And I just so happened to have the right song that is fucking phenomenal, and sent it to her. And it had the words on there and she just had to sing the words. And then I wrote my verse and my boy Go Dreamer wrote her parts and wrote the hook. And it is incredible. It's incredible."
Big Boi says he has no specific plan to release the collaboration, but that it will arrive "whenever I think they deserve it, I'm going to give it to them." He also added that he hopes to incorporate an NFT element to the release involving the artwork.
The FADER Uncovered, the podcast series in which host Mark Ronson talks with the world's most impactful musicians. The second season is currently airing with recent guests including DJ Premier, Japanese Breakfast, and J. Balvin. Follow and subscribe to The FADER Uncovered here and check back for new episodes every Monday.
The Prisoner Wine Company is an official sponsor of UNCOVERED. For a limited time, take 20% off & get Shipping Included on the star-studded Prisoner lineup by using code: UNCOVERED at theprisonerwinecompany.com/uncovered.
Offer valid on first time online orders only for U.S. residents of legal drinking age through 12/31/2021. Rebate requests from alcoholic beverage retailers, wholesalers, or anyone suspected of submitting fraudulent requests, will not be honored or returned. Limit 1 offer per household, name, or address. For more information, contact customerservice@theprisonerwinecompany.com. Other exclusions may apply. Please enjoy our wines responsibly.