Cover story: Big Boi
Revisit The FADER's 2005 interview with Big Boi ahead of this week's episode of The FADER Uncovered with Mark Ronson.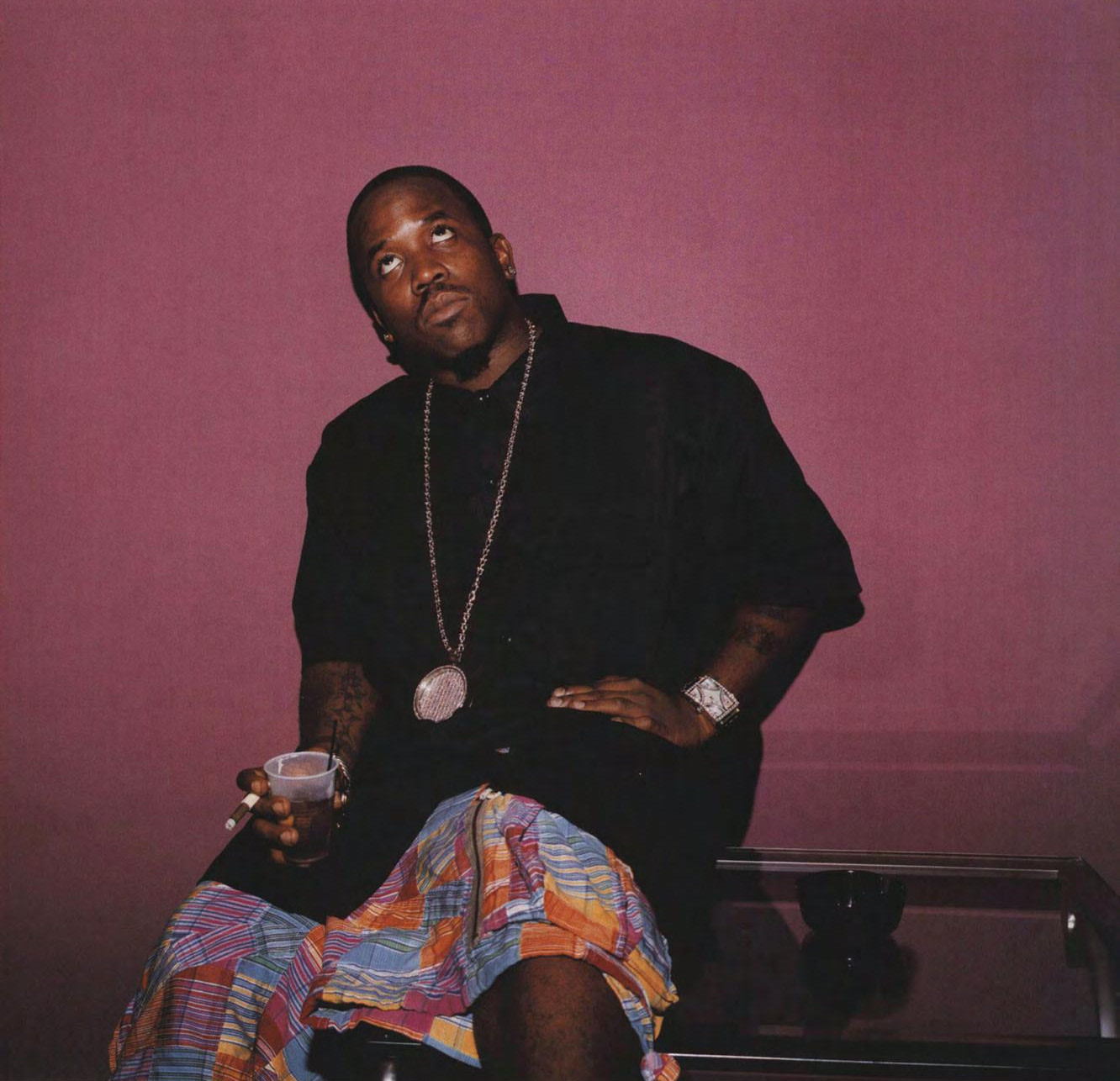 "I usually get to the office around one o'clock, listen to music. pick singles, go over budgets, photo shoots, the whole nine yards. Then after I leave the office, the recording studio Stankonia is across the street so at about eight or nine, I clock out and boom—I'm in work mode."
Big Boi, one half of Outkast, Antwan Patton—General Patton—sits by his pool In the Fayeteville, GA house that her lived in for the last eight years as a boggy summer night hunkers down. His wife's two pits run the length of the fence beneath the porch that extends from the infamous Boom Boom Room, water spills from the hot tub into the pool, and Big works his way through another Black N' Mild filter tip. "God givin' that my mind is clear, I can go in the studio and pump out some shit," he continues. "Whether it be a track or lyrics-whatever for whoever-I stay in the studio from nine at night to five in the morning. Then I come home, sleep till noon, and do it all over again." These days, Big Boi deals with business—the new record label venture through Virgin Records called Purple Ribbon—and music—the product that Purple Ribbon is set up to move.
There's also films, appearances, meetings, travel and leisure, too, but really everything spills into everything else, and whatever's left when it's all boiled down is the music and the establishment of the infrastructure needed to sell it
"First we had Aquemini," Big Boi says in reference to the first label he started with André 3000, his partner In Outkast. "But nobody really knew how much work it would take, so after the first couple years Dré was like. 'Uh.- I don't really wanna do the record company thing—you can go on and have that.' So I was like, 'Okay cool' you know? One thing i'm not is a qultter. I got the champion spirit, and shit- I'm still goin strong for 'em."
By "them," of course, Big Boi means the artists signed to Purple Ribbon— Killer Mike, Bubba Sparxxx, Sleepy Brown. an R&B singer called Scar and a group called Konkrete. The plan is to jumpstart the label with Killer Mike's second album Ghetto Extraordinary, follow with a Iabel-wide compilation, and then start introducing new music by Bubba, Sleepy and so forth. As the first mixtapes drop and the release of Ghetto Extraordinary approaches, there's a tense excltement among the handful of employees and artists who pass through the label's offices. "Even though we got two albumsi/ This one feels like the beginning," Big Boi rapped on "Y'aII Scared" in 1998. In 2005, after five albums, a greatest hits record and countless accolades, it feels like the beginning again, all over agaln.
As these things go, there's a T-shirt that's been damn near ubiquitous recently at various hip-hop events. On the front, it reads, "I'm not a rapper," and on the back, "I'm just a hustler that rhymes good." From the retirement of Jay-Z to the constant assertions of everyone from TI to Cam'ron to the Clipse, rappers are assuring the streets that if they weren't making money off music, they'd be doing just as well in another line of business.
In fact, that's just it, music is nothing but business; an industry; a hustle. In 2005 you can rap about whatever the fuck you want as long as you don't say you're rapping for rap's sake. Of course the "I don't need music" posturing is more a trendy boast than a working method—clearly TI, for instance, has put a lot of love and hard work into what is, in fact, his art—yet it also seems borne of an industry truth. The rise in rappers who claim to not need rap has, not coincidentally, mirrored a decrease in the profitability of music and an increase in the prevalence of lucrative extra-musical ventures like clothing lines, shoe deals and liquor sales. No, they're not just rappers, they're hustlers that rhyme good and are good at selling lots of other shit too.
Of course Big Boi has each of his ten fingers In a different bowl like everyone else—from movies to clothes to pitbull kennels—but his music projects are his only priority. "It's a legacy here,—he says. "Just the love for creating new jams and keeping the funk going."
Outkast is largely respected for the quality of its music—the funk that Big talks about—rather than the sheer lyrical brilliance of its two MCs. In Big Boi's case, his commitment to the full-spectrum of music has nevertheless detracted from his reputation as a straight ahead, balls-to-the- wall rapper. Hls snappy, percussive flow is both fierce and fiercely original, especially when he quickly stacks rhyming syllables on top alone another like pancakes, building up the rhythmic pressure, then suddenly runs off a long winded, half-rhyming couplet that lets all the air out. Plus, his storytelling game has never been tighter. On "Kryptonite", the first single off the upcoming Purple Ribbon compilation. Big starts his verse off rapping, "Time and time again I turn around and tell C-bone/ Grab that cologne out my bookbag-I smelt 'dro all on you holmes/ Suppose the po-pos/ Get a whiff of the spliff/ That we just smoked/ Don't want no trip...", then goes on to imagine a whole scenario involving the K-9 unit, a car search, his team of attorneys and a judge. The verse is thrilling both because of its impossible lyrical foldings and because it's an honest window into Big Boi's world 12 years after Southernplayalisticadillacmuzik. These days, he's just trying to get home from the club without getting fucked up by the cops. But really, even Big Boi wants to talk about the funk, not his lyrics. "It's like moonshine you know what l'm saying" he says with excitement. "It's that raw element of music that's missing. People ain't trying to do that weirdo type funk shit. They Iookin at the South now, and it's a lot of crunk, bounce, chant things goin on. But the funk element needs to be heard, the Iive instrumentation. That's where that whole country feel in our music comes from, the whole gospel element of things. We still dealin' with all that. The funk, the country, the gospel, the live instrumentation, the quirky song structures—those are the heart and soul of Outkast and their associates, the distinctly and historically Southern musical principles that have kept them walking a line well left of the trends that have brought Atlanta so much attention.
Unlike the ATL's club storming crunk and bounce music, the Dungeon Family sound is born of Atlanta's neighborhoods that are tucked away just off industrial roads lined with gas stations, churches, liquor stores and the occasional strip club.
Those ubiquitous establishments and the lifestyle spent equally between them is reflected in the polymorphous moral consciousness of the music's lyrics. The funk, though, comes from the weather, the atmosphere, the geography. Down amidst the houses, box Chevys and the occasional sun-bleached ice cream truck cut slowly through sunken, densely tree-filled areas where houses have battered screen porches and hand-me-down toys in the front yard. The neighborhoods are down by the airport in East Point/College Park, or nestled around what was called Lakewood Amphitheater until Hi-Fi Buys bought the name; they branch off Bankhead highway, and practically fall off either side of Simpson Road. Body Tap, the strip club where Big Boi is currently presenting "Boom Boom Room Purple Ribbon Monday Nights," isn't downtown by the hotels, sports arenas and convention centers, but on a hill on a wide road full of beer distributors and railroad yards called Chattahoochee Boulevard. These are the neighborhoods that Big Boi captured on Aquemini's weed-buyIng skit, where the crickets chirp and the hinges on the porch doors creak. They're also the first neighborhoods to hear the new funk— he takes jams straight from recording them at Stankonia and breaks them at the strtp club around the way. "Yeah they call us country/ But we only Southern," Big Boi once rhymed. This isn't, after all, the countryside: this is a different kind of city life in the back pockets of the South's largest metropolis.
Down in the Southwest Atlanta off Campbellton Road over by the mall, there's a record store called Super Sounds about which Big Boi will later say "'Yeah, that's my spot." Inside, the CDs are laid flat in display cases like baseball cards, organized not alphabetically but according to movement—Cash Money, No Limit, Dungeon Family and so on. There are two clerks, both maybe 26 or so, one of whom is skinny with a fade and a Polo shirt, while the other is bigger, wearing a triple-XL white T with a crossed out rodent graphic and the words "D-CON I DON'T FUCK WITH RATS."
"My Chrome," the first single off Killer Mike's Ghetto Extraordinary is getting spins on Atlanta radio, but ask dude in the D-CON shirt if people are fucking with it and he says, "Nah—least not on this side." By this side, of course, he means the SWATS, Southwest ATL. "Only thing people feelin round here is Jeezy," he says. But moments later, Polo calls Witchdoctor's 1998 album A S.W.A.T Healin Ritual the best record in the store. When asked if they've heard any news about Witchdoctor, a member of the DF who's also been featured on a number of Kast records, or if he comes around, they just laugh. "Last I heard he was working' at UPS," says D-CON. "Nah, I heard most recently he's working at Waffle House," says Polo. Both shake their heads, maybe at the question, maybe at Witchdoctor's fate, as D-CON punches a purchase into the register. Although it was an absolute flop sales- wise, A S.W.A.T Healin Ritual
Killer Mike even has a song on his mixtape over Outkast*s *Aquemini" beat where he pays tribute to the golden age of the Dungeon Family, remembering how it hurt to watch Kast get booed at the '95 Source awards, shouting out Big Rube, and rapping, "Speakin of bein sick/ Rap need a doctor/ Which doctor?/ Bring back the Wltchdoctor/ Feelin me?"
As both the mournful, days-gone-by feel of Killer's freestyle and the rumored fate of Witchdoctor suggest, there's an uneasy tension at Purple Ribbon despite the presence of the crown and wings of the mighty Outkast brand. As usual, Big Boi's got a grip of his own projects coming down the line, and they will probably all be successful, the Outkast film and accompanying soundtrack come out around December or so an all new Outkast record called The Hard Ten comes out towards the middle of 2006, a solo record that's already 14 songs deep will arrive after that, and so on.
But the future of Purple Ribbon is much less certain. Not even the biggest-selling artists in the world can always put other artists on, and neither Killer Mike nor Bubba Sparxxx are happy with their sales figures so far. Both MCs feel that they must go platinum this time around. Big Boi, for his part, is ever confident, regardless of what happens. Ask him if it's financially viable for him if Killer Mike and Bubba Sparxxx continue to just go gold, and he says, "Hell yeah that's viable. If it weren't—shit—they wouldn't have a deal fight now. There's an industry standard and motherfuckers think they're not good enough if they don't reach it. They're thinking the parent company is gonna pay more attention to em, give 'em that push [If they sell a certain number]. But like I told 'em, that push gotta come from that RECORD."
Outkast's freakish commercial success aside, the legacy of the Dungeon Family according to Big himself Is to keep creating jams, to keep the funk alive, not to sell a million copies. Nobody blames Killer and Bubba for trying to go platinum, but at the same time one wonders if it's wishful thinking to hope that Purple Ribbon can be a label where artists don't have to sell a million to consider themselves successful; a place where rappers can survive without the pretense that they don't care about rap. Because on a personal level it's fucked up that
Witchdoctor might work at the Waffle House. But to the world at larae, to music, to the South, to country boys and girls everywhere and MCs aspiring to make their own version of the funk, what's most fucked up Is that Witchdoctor was effectively silenced—that record sales, dollars and cents cut him short.