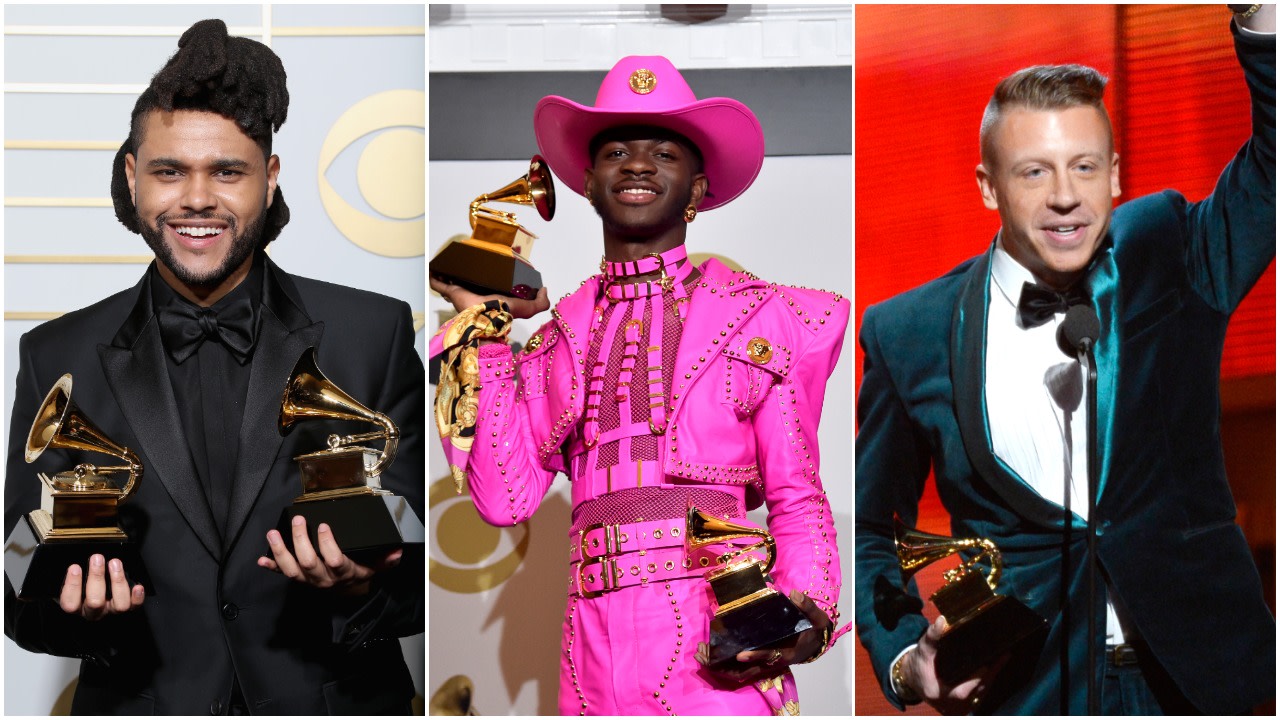 Less than three years and precisely one full-length album into his disruptive career, Lil Nas X has now officially picked up his second Album of the Year nomination from the Recording Academy. This puts him level with Drake and Justin Bieber, and one above Ariana Grande –– three industry titans more than a decade into their careers. MONTERO, the stellar debut for which he's nominated at the 64th Annual Grammy Awards, is more than worthy of the nod, presenting the genre-crossing artist as a multifaceted creative visionary for the first time. And it's definitely a marked improvement on his uneven, 19-minute-long EP 7, which shared space in the category with era-defining albums — actual albums — by Ariana Grande and Billie Eilish two years ago.
The Grammys would have been rightfully battered for not recognizing "Old Town Road" in 2019, but an AOTY nomination was a step too far. In a way, its lack of selectivity in the past set the bar for Lil Nas X's future releases so low that he was almost owed a nomination for MONTERO on the basis of "Industry Baby" and "Montero (Call Me By Your Name)," both of which were infinitely better alone than 7 was as a whole. The Recording Academy is in a position where it now mostly knows enough about which artists, singles and albums it would be eviscerated for not including (see: The Weeknd's notorious After Hours-era snub), but still can't seem to get a grip on a solid combination of choices that get it right. It still seems to operate under a yearly trial-and-error routine where changes are only implemented after there's been widespread complaints about how the show has already been approached before, instead of avoided in advance.
The problem with this is that no matter how many positive changes are made, the Grammys will always be haunted by its own past. This year, the four Big Four categories –– Album of the Year, Record of the Year, Song of the Year and Best New Artist –– were opened up to include 10 nominees, expanded from eight, which was itself up from five in 2018. But the expanded field doesn't necessarily change the outcome. Even without the recently abolished "secret" nominating committees that had a say in whose names filled up those slots, voting members of the Recording Academy are habitual in their voting patterns. They bounce between who they think everyone else thinks should win (see: Childish Gambino's "This Is America" Record and Song of the Year wins), who they consider to be a more palatable response to that actual right choice (see: Macklemore's 2014 Best Rap Album win over Kendrick Lamar, or don't) and the beloved, front-runner artists the Grammys just wouldn't be the Grammys without, like an Adele or H.E.R. It feels less like room is being made for deserving nominations, and more like space is being reserved for artists whose inclusion will placate critics, fanbases, and a general audience.
Every year, the Grammys set a standard that both depends on that of the previous year and positions the bar for the following year's set of nominees. Like Lil Nas X, Bieber has also found his music boosted by this. He picked up nominations in three of the four pop categories in 2020, including Best Pop Solo Performance for "Yummy" and Best Pop Vocal Album for his comeback album Changes. Bieber insisted that the full-length should have been nominated in the R&B category despite not actually being an R&B album –– definitely not one executed well enough to displace the five artists who were nominated in the category. And yet the general acknowledgment of the album, which nosedived the bar set for the singer's follow up, made a Pop Vocal Album nomination for Justice (2021) imminent. Anything he put out that was even a slight cut above Changes would merit recognition. The album also landed Bieber in the Album of the Year category for the first time since Purpose was nominated in 2017.
The Grammys is something of an unsolvable puzzle. But once a standard has been set, there are more and more expectations that come with each passing ceremony.
Justice isn't undeserving of acknowledgment –– and his nominations for "Peaches" with Daniel Caesar and Giveon actually do make sense in the R&B categories this time around –– but when an album like Ariana Grande's Positions is shut out of Album of the Year even with the expansion of the category it's hard not to question what thought process informs when the Grammys decide to be even slightly more selective of who they chose to recognize. What's supposed to be a coveted honor in the music industry has over the years been diminished in its value under an ever-changing-but-never-exactly-for-the-best Recording Academy too reliant on technicalities and too loyal to its darlings to take chances.
To some extent this is, as always, a classification problem. The Grammys has always been poorly structured for change, but never more so than in the streaming era where genre categorization sparks more debate than it offers clarity. Ahead of this year's nominations, Billboard revealed that Kacey Musgraves' album star-crossed had been deemed ineligible for recognition in the Country category by members of the Recording Academy's annual screening committees –– despite being created with the same team of writers and producers who crafted the Album of the Year winning country album Golden Hour. While the singer ended up snagging Best Country Song and Best Country Solo Performance nods for the album cut "camera roll," star-crossed was absent from the nominations.
Usually, when the Grammys run into a genre conundrum and don't know where to stick someone, they just delegate them to the general fields á la Post Malone. Thankfully, Halsey's If I Can't Have Love, I Want Power was allowed to slip into the Best Alternative Music Album category without opposition, having never been nominated for any of their deserving pop albums. A self-proclaimed anti-pop star, Halsey worked on the cinematic, boundary pushing album with Nine Inch Nails members Trent Reznor and Atticus Ross, who have twice been nominated in the alternative field in past years. But the placement of Ed Sheeran's "Bad Habits" in Song of the Year and no genre categories is questionable when Brandi Carlisle, who has previously been nominated and awarded in both the Americana and Country categories, was slotted into Best Pop Solo Performance alongside Bieber, Eilish, Grande and Olivia Rodrigo,
Every Grammys season is oversaturated with conversations about how the Recording Academy could do better, why what they have tried to do better is or isn't working, what they should try next. And, without fail, there's always a few dissenters who think we should do away with caring about the awards ceremony completely. There isn't a version of nominations where everyone is completely satisfied with the results and there definitely isn't a version where everyone's top pick artist wins –– and that's fine. The Grammys is something of an unsolvable puzzle. But once a standard has been set, there are more and more expectations that come with each passing ceremony. It's the Recording Academy's job to make sure that the criteria under which it operates is based on the quality, impact, and influence of that year's music –– not convoluted industry pleasing and seemingly obligatory nominations.