Pharrell Williams on Virginia Beach, "gospel punk," and making the past sound like the future
Read the full transcript to the 17th episode of The FADER Uncovered.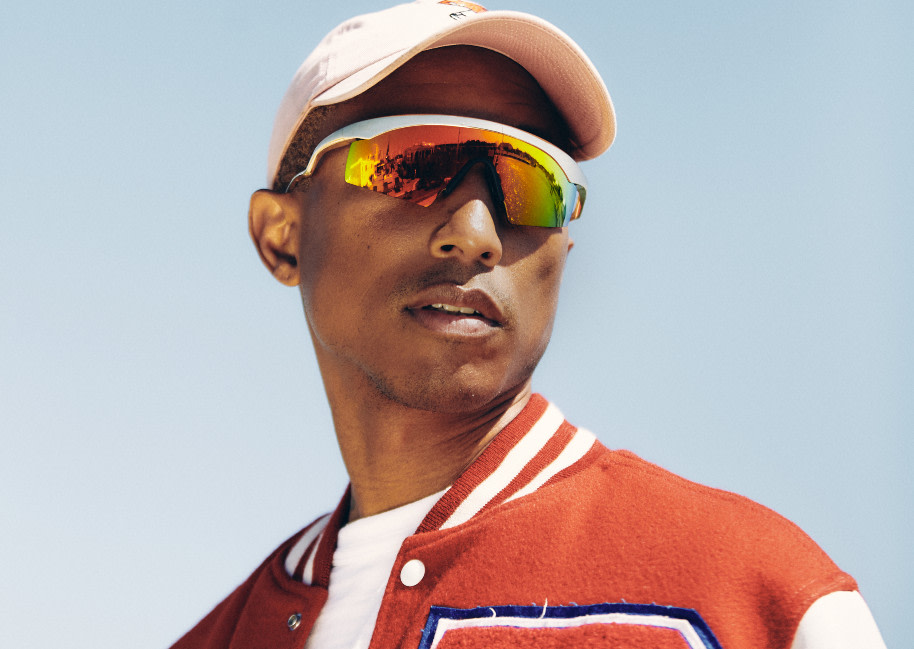 Today, my guest is icon and genuine musical legend Pharrell Williams. Pharrell appeared on the cover of FADER #11 back in 2002 with his partner in music, Chad Hugo. And the two of them made up the Neptunes, one of the greatest production forces of all time. It really is impossible to overstate the sonic disruption that the Neptunes caused when they first burst on the scene in 1998. I was DJing in clubs five nights a week, and New York was smack dab in the middle of the shiny suit era. Do you remember that? Puffy and Mase ruled the dance floors in the airwaves. And yes, you had Gang Starr and Big Pun and Jay-Z have volume too, but for the most part, we were in the jiggy era. So when Queens' MC, Noreaga, dropped his Neptunes-produced single, "Superthug," it was truly like an alien spaceship had landed in the club.
I mean, the fact that the song starts with this helicopter noise definitely contributed to that feeling, but the ominous synthesized clav melody. Followed by bone rattling drums in this brutally stiff pattern, that still somehow made you want to dance. N.O.R.E.'s crazy staccato flow. And then to make it even more crazy, Pharrell's reinterpretation of Blondie's "Heart of Glass" in the bridge, which added this whole extra layer of New York, even though they were from Virginia. The whole thing was bananas. When you dropped that song as a DJ, you didn't know if people were going to dance or start a goddamn mosh pit. The song soon hit number one on Billboard's rap singles chart, they had taken one of Queen's most beloved underground talents, Noreaga, made a very leftfield, but undeniable record. And in doing so knocked Will Smith's "Just the Two of Us" from the top spot. Think about that.
Chad Hugo and Pharrell Williams, AKA the Neptunes had landed and they would rule the dance floors, the charts, and most of pop music well into the mid 2000s, crafting career defining or sometimes career reviving hits for Jay-Z, Busta Rhymes, Mystikal, Justin Timberlake, Nelly, Britney, Fabolous, Usher, Gwen Stefani, Snoop Dogg. Usually, the song would have an incredible beat, an amazing undeniable hook from Pharrell, sometimes sung in his Curtis Mayfield falsetto, sometimes spoken rapped in the most nonchalant way imaginable. And except for the unifying fact that it was groundbreaking, you really couldn't pigeonhole their sound. They could make the most sinister druglord records, basically anything by their protege's Clipse, to the funkiest of the funky, "Hot in Herre" Nelly, "Shake Ya Ass" Mystikal. And then to straight up bleacher bangers like "Hollaback Girl." They were unique, gifted, they were on a ridiculous run and everyone fucked with it.
It's often noted that in 2003, a staggering 43% of all the songs played on U.S radio were produced by the Neptunes. They also got their weirder side on with their group project, N.E.R.D, marrying live instrumentation and a rockier side of things which led to true old bangers like "Lapdance," "Rock Star," "She Wants To Move." The Neptunes graced the cover of The FADER in 2002, it's a beautiful cover, one of my favorites. And a lot of that had to do with Jonathan Mannion's idea to have Japanese style ocean waves hand painted behind them to accentuate the whole Neptune'ness of it all. An epic shot for an epic duo during an epic time.
Mark Ronson: Dude, thank you so much for doing this. It was crazy when I was just looking at that era. Do you remember this picture, The FADER cover?
Pharrell: Yeah, yeah, yeah. It was my first cover. I was just telling Rob, how I appreciative I am.
I was looking through specifically that era 2002, because you had already obviously, it hit the ground running. It had all those hits since '99, but I think what it was, is I was looking at those songs, like 2002 Neptune songs, "You Don't Have To Call," "Pass the Courvoisier," "Girlfriend," "Hot in Herre," "Grindin'," "Nothin'," "When The Last Time," "Luv U Better." I realized why I was getting so excited was because it was probably my favorite era of DJing in the way that it was the last time that my tastes also synced up with what was the most popular shit of the time, which was your records. I was excited to go down to the club because I couldn't wait to play Diddy. And some of the times Diddy was in the club, there were just all these things. I knew you had already hit it at that point, and it was a lot of success in a claim. But do you remember anything specifically about that kind of era, that time, those records you were making?
Probably the only thing that sticks out the most to me is I loved it, and I couldn't believe it. And right around that time is when I was still very arrogant. But as much as I was arrogant, I still couldn't believe it. As an Aries, the arrogance was natural to me, but it wasn't as solid. The arrogance was not as grounded to the truth because at the very core of me, I still couldn't believe that was my life. I was like, oh, this is really happening for us. Like, okay, how long does this last?
Right.
I was like this cocktail of gratitude, disbelief and arrogance. And that was a lot of fun.
Also you're allowed to lean into the arrogance, I feel like in some ways, because you were such outsiders. You didn't come from New York, LA, even Chicago, Detroit, Atlanta, like other places. You really just came and even that FADER cover, it doesn't look like we've got a chip on our shoulder, but it looks a little bit like we've got to chip on our shoulder. It's like, Hey listen, you guys, we had to force our way in here with our weirdo amazing shit and now we're going to fucking enjoy looking like that.
Yes. A hundred percent. That's what it was all about. That was the arrogance.
Yeah.
Like, you can't tell me nothing. We did it different and we're here, I can't believe we're here. Is this really happening? Oh my goodness. This is so fun. Okay. Yeah. But you can't tell me nothing.
How was that work ethic? Because I've seen interviews of course, as a producer myself, I always study the work ethics of people I love. And I'm always like, wait, why the fuck am I here till five in the morning? I read that Chad and Pharrell, they go from two to nine and they're making the biggest records of all time. But what was the work ethic actually like at that point to stay so prodigious or would you just have these bursts of creativity over just a couple days and just end up with 15 tracks? How was that?
Just, I mean the mining, it's like people who, a company that do like crypto mining. You enjoy it, it's what you do. When that machine is on, that machine is on. It's like you just go. Oh, look what came out today, or mm, couple mediocres, or oh, like four or five. Then you just go in. It's still that way now. See, the thing is, is sometimes something doesn't make sense that day, but then in two years later, I'll remember that beat and go back to that beat and it'll be perfect for then. A lot of songs that we made for certain people end up going to people five years later or six years later or 10 years later, it happens.
Yeah. I always thought of that Jay-Z line because I'm such a nerd and because I wasn't established yet and I just loved studying in the same way that I loved reading liner notes when I was a kid. I loved all the folklore around the music you made because I looked up to you and I love the music, but I always think of that Jay line, "I'm still spending money from '88." Because everyone be like, wow. Some of these hits that they're having literally number ones right now in 2004, are beats that they made in '99. It's not because they're lazy, it's because the shit was so ahead of its time then, but there were all these stories and I guess what you're telling me is that, that was kind of true.
Yes. Some of the songs that came out in 2002 were pieces of music from '96 or '95.
Wow. Can you remember one? Not to make anyone feel like they got like yesterday's shit...
Oh, I would always tell them. No, everyone knew. I would always tell them.
Yeah.
I don't know. "Slave 4 U," Britney.
Yeah.
That was for Janet.
Right.
And that was from the '90s.
"U Don't Have to Call" and a lot of the Justin stuff, I always remember hearing that those were supposed to be Michael records. Was there some truth to that or was that just DJ's mythologizing?
No, for sure.
Right.
Yeah.
Were you in the studio a lot of times, were you a crafting with the artist in the room sometimes?
Yeah.
You would make it with them in the room?
Yeah. Yeah. That was definitely, I mean, sometimes we would pull things from the past, but a lot of times it was like, stuff on the spot because you're pulling from that person's energy.
Yeah.
I always say like, songs come about, at least the music, like the backdrops for them, they come about when a person walks in the studio, the energy that they bring with them and what they're going through at that moment. It's also what it is that they say that they're looking for. And then also a question of how do you create juxtaposition to what they naturally already do already. If a person sings and they have a voice that sounds very smooth, then the music shouldn't be like silk, because that's what they do every day. They sing very smooth, you should see what it feels like to hear them over something mountainous and very rocky and with a lot of layers. It's always about just those three things for me.
I think that that's the other thing that I really loved about the music that's really remarkable, is you took oddballs. You took people who were eccentric and weird, not necessarily nerdy, they could have been gangster or whatever, Mystikal, ODB, and N.O.R.E., people that really didn't have a place on mainstream MTV, on the radio, people that really, I wouldn't say didn't deserve, because of course they did, but really didn't have a place having top 10, top 40 pop hits. And that's what was so great, and I think that's why all the hip-hop heads were always just so wild about what you guys did, is because you picked people that were our heroes, the sort of more underground people, and then suddenly you got N.O.R.E. "Nothin'" as one of the big pop tunes. That was really remarkable to me.
So I called those kinds of people that you're talking about characters. They're not just run of the mill artists from a particular genre. None of those guys are typical rappers, they're characters. Right? And they have a bank of ad libs that they go to that are very recognizable. They pick certain kinds of melodies. They usually pick like melodies and patterns with the way that they do things. They're all really different people, and to do something with them that's accessible to more people, which would make it popular, is what we love. I still love that. Now, everybody's different. Now, different is like, everyone's weird, everyone's super creative.
Yeah.
And not that they always weren't, it's just that back in the nineties, we definitely had alternative rap. We definitely had alternative rap, and everyone was creative and everyone was different, but it got to a place where it was like, there started to be like, okay, if you're a rapper, you talk about this and you dress this particular way. And you got to make a choice. Either you make alternative music that... the indie, independent, alternative, backpack, or you carry a gun and you're a gangster or you sell dope, or you just a shooter. And there's all these archetypes, right? There were a lot of archetypes, but you kind of chose one. It's kind of like choosing a character for a video game.
Yeah.
And we were seeking to break that. We were like, okay, we come from Virginia Beach, Virginia. We have roots in music, marching band, we have roots in skateboarding, we have roots in, not any different than anybody else, but hood affiliation. And we also had a church background. So when you mix all that together, along with the fact that there was no music industry in Virginia Beach or the 757 at that time... And when I say none, I mean just not enough. It wasn't like being in New York or LA or Chicago, or any town where they have... Atlanta, it wasn't that. So when you mix all that together and then you give us a shot, when we get there, our number one thing to do is not be put in any of those boxes, because those boxes didn't welcome us.
Downtown New York city hip hop clubs in the late nineties were an amazing amalgam of people, party people, drug dealers, rappers, athletes, break dancers, models, artists, skateboarders. It was a special time. It felt like the closest my generation got to the early eighties fame parties of the Roxy, where you had Blondie and Afrika Bambaataa meeting up for the first time. I would usually get to the club at 9:55 PM and have my first record on for doors at 10 o'clock. And I'd watch this amazing medley of people file into the club, theSsupreme kids, weed heads, pretty girls, usually Guru from Gang Starr. And one amazing night where Biggie and Jay came in wearing matching fedoras because they were celebrating one of their birthdays.
By pure coincidence or divine musical intervention, The Neptunes came all the way from Virginia Beach, but they had a sound and a feel and an image that somehow incorporated all of these things. Like I said before, Pharrell incorporated one of downtown's most beloved icons, Debbie Harry, in that at first Noreaga tune, "Superthug." Downtown New York clubs at that time were also a place where the jiggy aesthetic of Puff and the underground bangers of Mos Def and Talib lived alongside each other. The Neptunes did the same. Technically, their first hit was actually Mase's "Looking At Me." And then they went into N.O.R.E.'s "Superthug." These two artists, N.O.R.E. and Mase, couldn't have been any further apart on the stylistic scale. Their only common denominator was The Neptunes banger.
And the other ace in the hole that The Neptunes had was that they weren't just producers or beat makers. They came with the not so secret weapon of the Pharrell hook, because we know you can deliver the best beat ever, but if the artist messes up the hook or you have no hook, you've got an underground club banger at best, but no radio, no MTV, no BET, no Billboard, no smash. The Neptunes made it foolproof for you. The hooks that Pharrell penned and often performed on songs like "Shake Ya Ass," "Give It To Me," "Got Your Money," "Pass the Courvoisier," and maybe my personal favorite, N.O.R.E's "Nothin'." Well, they were ridiculous and they appealed to everyone. Plus, they had so much image appeal. Chad was this sort of cool nonchalant hipster. Pharrell, soon to become a true fashion icon, was the dazzlingly bejeweled skateboarder single handedly jump starting the trucker hat revival. I mean, it really was no surprise that they were about to become artists in their own right.
We weren't traditional R&B, we weren't traditional rap. We were just like, why do we have to only do one thing? And why do we have to choose a character? Why can't we create our own? And that's what it was about. And that, at the moment, was different at that time. Now, everyone's different. Like I said, that's cool. It's beautiful to see. I just don't like when it's cliche, I like it when it's really... And this is just my opinion, right? Everyone's free to be whoever they're going to be. But I like it when your difference is more a reflection of your resilience to conformity and category.
Yeah. Almost like your difference is a result of being shunned, not because you woke up one day and you're like, "This is who I'm going to say I am and it's different."
Right, right, right, right. And we all do that. Right? We all choose. Listen, I change my character every six to eight months, and then somebody will point that out to me, because I'll just look the fucking same. I just have a uniform. And I switch colors and I add this and trade that out, but it's pretty much, six to eight months, it's the same thing, like a method actor. And in this past year, I've just been the same character just based off of just being home all the time. So I get that. I get choosing your uniform and I get choosing a zone that you're going to be in. I get that, because I can completely relate to it. It's just that when we start to wear these things on our chest and start to... When that's what's in your wallet, that's when I feel like it just becomes a bit cliche.
I always say that which makes you different is what makes you special. And that difference shouldn't be about you claiming or trying to be something. It should be about the resistance against people trying to force you into a box. That's what makes you different. If there's some resistance there, that's what makes you different.
Yeah.
The way in which you resist categories, the way in which you resist classifications, that's what makes you different, the way you do it. Because you're not the only one, but the way that you do it, that's what makes you different and that's actually you.
Right. Do you think that just looking at probably what a Mystikal, what a ODB, what a character from that era had to go through to even... Do you think the fact that it's just by nature of what the industry was like back then and how hip-hop was still not the mainstream. You just had to... It was just harder back then, I guess. I don't know why I don't want to sound like that grumpy old guy, but those guys just seem almost like mythological superheroes to me and maybe... I know we have those characters now, but maybe not quite in the same way.
Of course, because they were outliers. They couldn't help it. They were who they were. Jay-Z's another one. People don't realize that. People don't realize he used to rhyme super fast. He did that record with Original Flavor, or even when you think of...
"Can I Get Open," yeah.
Yeah. Or you think about when he did "22 Two's," it's like... Jay was always, he's one of us.
Yeah.
He's not good because he's just made good records, no, he's really like a character. He's an odd guy. If you ever spoke to him, have a conversation with him, it's not a regular conversation. Or when he writes and he's just sitting there mumbling to himself, in falsetto, by the way...
Wow.
When he writes a rhyme, he doesn't go, "When the Remy's in the..." He doesn't do that. He goes, "Yo, yo, when the Remy's in the system, ain't no tellin' will I fuck him, will I diss him, that's what they yellin' I'm a pimp by blood." And he taps you on the shoulder and takes it back again. He writes in falsetto.
That's crazy.
That's odd and different and weird and amazing and makes him a character.
The impression I get from it in my own brain is just that he's had so much respect for what the final word in the craft is that until it's really worked out in his head that it's that good, it doesn't go into his normal voice. I don't know if that's just like preposterous, but for me I'm like...
Maybe. Maybe, I don't know why he do. I got to ask him why he does that. I don't know why he does it, but that he's always done that.
The other thing that I was thinking about when I was looking at the Jay records, because you obviously have a very special musical relationship there, I think that Jay had slick records, obviously giant hits. He was amazing, but he had slick records, but I think that the music and the stuff that you gave him enabled him to make sexy records. Because when I think of "Give It to Me," it's not "Imaginary Player." It's not the smooth R&B shit. It's like he got to be playful and sexy. And the beat was so dope, and the hook was so dope that I really feel, and then into, "Excuse Me Miss" and "Change Clothes." I think that you gave Jay what he needed to show that entire part of himself that we all loved.
Well, thank you. We tried.
Was that the first record that you made together, "Give It to Me?"
I think so.
There was no record that really, like, that was the record that you were like new year's Eve 1999 as 2000 goes, what am I playing? Am I either going to play "Next Episode" or am I going to play "Give It to Me"? I think that was like a once every 10 year type of record. Can you tell me little bit about being in the studio when you made that?
I think we made that beat. I want to say, I could be wrong, but I think we made it in like a B room, either Sound on Sound or Quad. It escapes me. And that was like, I don't know, that was one of them 20 minute beats. It's one of them that just like, it just came together. Because he loved "Shake Ya Ass." He was like, "Yo, I need that." I'm like, "uh, okay."
I'm not going to lie. I mean, "Shake Ya Ass" and "Danger" are obviously the bigger pop records. But "Bouncing Back" was really the one for me because it was just so weird. It was New Orleans. It was just all this shit, and I think that's the one that really made me think of Mystikal as modern James Brown, and couldn't get that out of my head. And I don't think we would've gone down. I mean, me and Jeff Bhasker drove to Baton Rouge to find KLC, to then find Mystikal to make that record feel right, that we did with him and Bruno. And there's no way, if you had not put it in my head 15 years ago that Mystikal is James Brown and should be on a song that sounds like "The Payback." Did you hear him as that as well? Or is that just something magical that happened when you put him over those tracks?
That's exactly what happened. That's exactly what I heard. You got to remember, he was making all that amazing stuff with Beats by the Pound and Master P. I mean, what an era by the way. Oh my goodness. Man, and I know you're asking me about one thing specifically. But that Beats by the Pound, KLC. Man, KLC is, to everyone who's listening, I'm just telling you right now. Just go listen to early No Limit music. Oh my goodness.
Incredible.
I'll never forget being in a club back home in Norfolk. And I had never heard any of the Master P stuff before. Man, that shit came on, and the crowd just erupted, just singing, "Bitch, get your mind right. Get your mind right. But hearing them beats. Oh my. Listen. With P in the background going, ahhh. Man, that was a different time, bro. That was like-
They were amazing. I mean the way that those records moved that he did like "Down For My," I mean "Move Bitch." "Move Bitch" just was so great because, I mean, "Move Bitch" is obviously one of the all time anthemic things. But the way that "Move Bitch" and "Southern Hospitality." Your version of Luda's song still had this amazing energy for the club. And I remember you would play those songs. And then all the way up to Kanye, with "Stand Up." It's just really interesting to see all those different interpretations of that thing. But those KLC is fucking legend.
Man. Oh, my God.
Yeah. No, it's nuts.
You don't understand. I have seen so many people get cleaned up in the club. I mean like fights, really get their clocks cleaned to that. KLC beats, man. There's just certain songs. Man, listen, you getting cleaned up.
Sometime in the early 2000s, I was DJing out in the Bay Area for some party for some skate brand. And I was killing it with my usual New York set, Mobb Deep, Tribe, Biggie. And I remember dropping "I Got Five On It" by the Luniz as my nod to where we were, and thinking it was going to slay. And it didn't at all. It got a very ho-hum reaction. I asked the other DJ after the set was done, "Why didn't it go crazy? We're in the Bay. I dropped the Luniz." And he said, "Oh, we never play the original out here. Only the remix with Spice 1 and E-40. I felt like an idiot, a clueless foreigner who came into town and professed his ignorance on two turntables in front of a few hundred people. After that, I always tried to make an effort to learn about the places I was playing, be it another city or continent.
One of my favorite things about being a gigging DJ is learning what records work in what places. There are, of course, universal bangers that play everywhere. But all cities and scenes have their own records, sounds. Learning what these are is like musical excavation. I once went to co-headline a festival in India with Flying Lotus and AR Rahman. And I swear, part of the reason the sets went down so well is because I dropped all these banger remixes of Big Sean, Nicki Minaj and Bobby Shmurda that I had heard at the Indian restaurant in London I used to go to. It was music that the young hip waiters would play, much to the consternation of the older management, I'm sure. Knowing those songs and the appreciation for the crowd of me playing them was the reason that I got to kill it over there. Seeing what moves people around the country and around the world is one of the great, great benefits and education of the gigging DJ.
Talking about going to the club, when I first went down to Virginia Beach to DJ, I think I came down with my New York set. I was arrogant. I was probably one of the top New York DJs at that time. I had a set that I knew I could sort of take to London, Tokyo, wherever. And the energy was okay. It was like, I was playing the hits. It was good. People were like, who's this guy? And I was probably a 7.8. And then the DJ came on after me, and it was a hip hop club, and they played "The Percolator." And it's essentially, I mean, I don't have to tell you, but for our listeners, it's a house electronic. How do you explain "The Percolator"? What is it? It's a house record, right?
Yeah. I mean like, because we liked a lot of rap music. And then there's just a thing where we also love go-go music. And then we love a lot of be more house music. And then reggae. And it's interesting. In Virginia, I never thought about this until just now, but literally that's the way you DJ there. There has to be a moment. There has to be a 30 minute to 45 minute reggae moment literally. And they just play the same rhythms with different songs over them. And they be dead serious. Serious.
Then there's, depending on where it is, there's definitely a go-go moment. And then there's like a house moment. And when they play that be more house stuff, you hear, "do, do, do, do, do, do, time for the percolator. It's time for the percolator." And then they just lose it. I mean, they love music everywhere. But back home, those are the staple moments there. And it's interesting because the rap music is where the drug dealers, first of all, a lot of people would get shot up during that time. You play like "Shook Ones." I mean, because you're talking about, when you went to go DJ was when?
2002, probably. Yeah. 2002, 2003.
Okay. But I think they were still playing these records. But I think right around the mid '90s, you play Lil Kim's "Queen Bitch," somebody's getting shot. "Shook Ones," somebody's getting shot. "Fuck Them other N's" with C-Murder with Snoop, somebody's getting shot. And then when you play the house music, it's like, that's kind of where the drug dealers will still be there, but they just be a little bit more peeled back. You know what I'm saying? And then you have other people who are just as cool, but for whatever reason, they don't mind getting out there and breaking a sweat. And there's a lot of girls that was with that. That was kind of the energy there. I mean, listen, you said you DJ'd in Virginia Beach or Norfolk?
I think it was both. I think I was just going down on some kind of promo tour and I was playing everywhere down the east coast, around that place. But when I saw that people just go off to "The Percolator," it suddenly locked in the Neptunes sound and all that, why all that influence of the slightly more techno noises, even if it was just some fucking theory that I made up on the spot right now, I was like, oh shit, of course, this is this weirdo. That's where the weirdo shit comes from.
Facts. All of that stuff in influenced us.
There's that really nice interview you did with Kanye a year ago. And I can't remember exactly but he says you took gospel and made it punk. And I'm like, wow. I mean, obviously Kanye is very smart. It's not surprising he'd say something that's very insightful off the cuff. But that's kind of that first infusion of the Neptunes sound really was, not every song obviously followed that formula, but the chords, exceptionally soulful, great Rod Templeton, Michael Jackson, B sections and stuff. And then just with the nastiest aggressive shit when it needed to be.
I mean that's-
Gospel punk.
Yeah. That's like an everything bagel.
I mean, with a lot of people, like these kind of partnerships that we all look up to and love, Lennon/McCartney, Andre/Big Boi. There's always this thing to be split the dichotomy, like who did what? Does Pharrell, is that where the soulful chords, and then Chad has the weird noises. And then you would see footage, you guys in the studio would be completely the opposite. I don't know if it was that kind of thing where you both informed each other so much in the beginning that you almost can't tell where one person's contribution ends or begins, or it just becomes this soup. But coming into it at the very beginning, was there a bit of a division of labor, like Chad was more programming, you were chords? How did it work?
Chad taught me how to play chords.
Wow.
In the beginning, I would do the drums and basslines and stuff, and he taught me how to play chords. And then eventually, it just became that we both could do a lot of things. But I still look at him as a savant because, literally, we'd be in a session right now, he'd just walk around the corner playing a wooden flute or some shit or a guitar. He just walks around playing instruments all day. That's not all he is, but that's literally of the many things that he can do. He's different. Chad is different, a very special guy.
Yes. I used to come down to Virginia a little bit to work with Serban, and Chad was always really sweet and he knew that I looked up to him very much. He'd always take the time or come to the studio. He listened to my first record. One thing I really remember is him taking me, picking me up, he must have had like a Hummer or a Humvee at the time, and he's like, "Oh, I want to play this new Snoop song." And he played "Drop It Like It's Hot." There's no way for you to imagine hearing that song for the first time, but it was just like...
I think all great records, your brain is trying to understand what's happening and then it's also so good and catchy, there's eight fucking million things happening. But that was something I definitely never forget that moment. Do you remember making that beat? I feel like you made so many beats. I don't even know. I remember you saying a story that when you heard "Get Lucky" for the first time done, you were like, "I don't actually remember singing that song." When I'm asking you about these songs, are some of them just like, "I can't tell this dude what I did 20 years ago. I don't even remember"?
That beat I made in the... I don't know, what's the A room? As soon as you walk in Record Plant. And I remember the vocals in that middle room on the right hand side, but I remember coming across that spray can sound and I was like, "Okay." At that point 808s was really turning up, so I wanted to find something that wasn't an 808 but was different enough and would sound alien, because I was born in 73. Star Wars came out in... What? '76, right?
Yeah. '76, '77.
And so did Kraftwerk's Trans-Europe Express. I want to say that was '76 too.
Yeah.
I don't know, but during that time a lot of Black people for years, at that point, was just doing the robot and shit. Those were my influences with space. When breaking and hip-hop started to really get loud, we had Kraftwerk, and people were sampling Kraftwerk. Hearing that, I always just love making spacey sounding beats because I just wasn't ready to let all that go.
When making "Drop It Like It's Hot," I knew I wanted to make something that felt more alien than rap. I wanted to use a rap rhythm, hip-hop beat pattern, but I wanted to do it with alien sounds. I don't know why. I'm still on that too. I haven't done it in a long time and I actually miss it. Hint, hint, clue, clue. But that was like, "Okay. I'm going have this pattern on some hood shit, but I'm going to use techno sounds and just use the tone and then the spray can on top." When the video happened, they did the spray paint and I didn't want to do that. I wanted to replace hi-hats with the spray can sound. I was like, "I'm going to touch this frequency, but I'm not going to use a hi-hat to do it, or an open hi-hat to do it. I'm going to use the spray can sound." That's really why that sounded that way.
Okay. I'm going to do something that we haven't done before on The FADER Uncovered, but I'm going to jump on the keys for a second because I need to show one of the things that is so majestic about these early Neptunes productions. You ready? Here we go. Let's do it one more time. Jesus, that's so good. "Drop It Like It's Hot." I mean it has already this incredible beat, all the catchy, "Woo." You got that. All of it. Snoop's rap. But you get at the end of each chorus, this gospel turnaround, this sequence of chords that bring us back to the top that just take us into a whole other universe. That's really what these chords are, they are straight gospel chords.
Kanye called The Neptunes sound gospel punk. I don't agree with everything that Ye says, not a lot lately, but he was so on the money because they took the soul of gospel, these chords, this musicality, and mixed it with these hardass drums and all these other crazy sounds. You think of another song, Usher, "U Don't Have To Call." Banging drums, you have the Biggie reference, ("don't leave your girl around me") And then you have these chords that are just like...
Right? "You don't have to call. It's okay, girl cause I'm going to be all right tonight." I'm sorry for singing, but I just get so excited. Gospel punk. I'm not saying they took it from Rod Templeton, but Rod Templeton was this amazing songwriter, wrote "Off the Wall," "Give Me the Night," George Benson, all the heatwave stuff. And in disco, usually you just have the same bassline, you want to keep the same thing going, just don't the party. But you just want these moments of melody, and that's what he would do. So you think of "Give Me the Night." It's like, "Cause there's music in the air and lots of loving everywhere, so give me the night." You just want to keep that beat going, you don't want to disrupt it with too many chords, but you just want when that moment happens for this gospel lift. And that's what the Neptunes did, gospel punk.
And the other song that you referenced?
I was just saying in "Get Lucky," I think I remember reading an article where you said when you heard the finished mix version of "Get Lucky," because it had been recorded a long time ago and whatever else you, you actually didn't remember playing that song or recording it.
Because at that time I was still getting jet lagged whenever I would go to Paris. We worked the day that we got there or whatever. And they just asked me did I want to write to a song for them. I was like, "All right, cool." So I'm thinking I'm writing for somebody else. I barely remembered that session and I was getting tired. The guys gave me this stuff called Guronsan.
Oh, yeah. I think I heard of it. Yeah.
Yeah. It's these dissolvable tablets you put it in. I just remember being tired and going... Like, "Okay, okay." But I was tired. I was grateful. I didn't think that that was for me. I thought that they was going to have some really big artist come sing it.
You've talked about this too. Sometimes when you're making your own records, you pretend you're writing for somebody else because it frees you up, and SIA and other big writers have talked about this. Is that a head space you get into sometimes?
Yeah. It's become harder. Because I've done so much work, it's become harder and harder to fool myself to say, "Okay, I'm going to pretend to be such and such", because then I get in my head. Whereas if it's legitimately for someone else, it always turns out so much better. Then that puts me in a position of doing records for people, and then I have to go, "Look, I'm really sorry, but I need that."
Excuse me. Excuse me. Please join us next week for part two of this epic combo where we talk about N.E.R.D, we bring Lenny his flowers, talk about the secret to longevity in hip-hop, and we'll tell you who me and Pharell agree is the Seuss of hip hop. Take me out with the FADER.