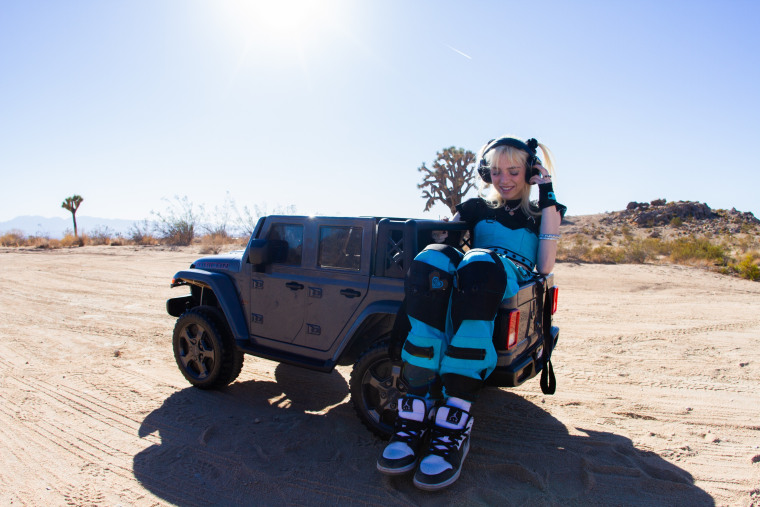 In the music video for their latest collaboration "Clearview," Toronto musician Sophie Powers and UK-based artist Noahfinnce go on an 8-bit road race through the desert. Shifting between animation and reality, the pair embrace the art of letting go.

"Not one for the repeat, better let it go / You're not gonna see me, tires hit the road / You're gone in my rearview, finally got a clearview," Powers releases over the song's slamming pop punk production, letting the space of the road become her escape.
"I wanted those lyrics to embody the feeling of leaving a bad situation in a visual manner. I imagined a high speed car chase, where I'm being chased by someone toxic, trying to escape them. I felt like I was living this experience in real time for a while, and it was such a struggle to finally get rid of their negative energy," Powers tells The FADER.
Noahfinnce tacks on his own layer of escapism, freeing himself from the weight of the past, belting out from behind the wheel: "And no, I'm not up at night, thinkin bout the past / Cause the future it looks bright / Quit talking, Stop trying / You act like you're loyal / You're lying I finally see the reason I've been la-la lost / Let me be the one to break it all all off."
Throughout the track, the pair of musicians bounce off of each other seamlessly. Powers and Noahfinnce will be hitting the road together, though not in the desert, on their joint UK tour. The 8-date tour kicks off in Oxford on January 13 and wraps up on January 21 with a show at London's O2 Academy Islington.
"I was super inspired by comic books actually for this video. I wanted it to feel like a real life comic was being written and you were watching the story play out," Powers explains of the playful yet freeing visual concept. "I read a lot of Archie comics and superhero comics and watched looney tunes growing up, so wanted to play into that for the video."
She adds: "The song is about getting a clearview from negativity for myself, and away from toxicity. During a less toxic time in my life I was reading and watching comics so it made the most sense to me to resort back to that for the video."
Powers reaches a solemn resolution through the song, realizing "you truly are who you surround yourself with, but it's not easy to change who you surround yourself with."
With the clarity of her breakthrough, she adds: "Thankfully, I was able to cut ties with some not so good people, and my life changed for the better. In the visual within the music video and lyrically, I finally get rid of the person chasing me, and they're no longer in my rearview mirror, meaning I finally have a clearview."