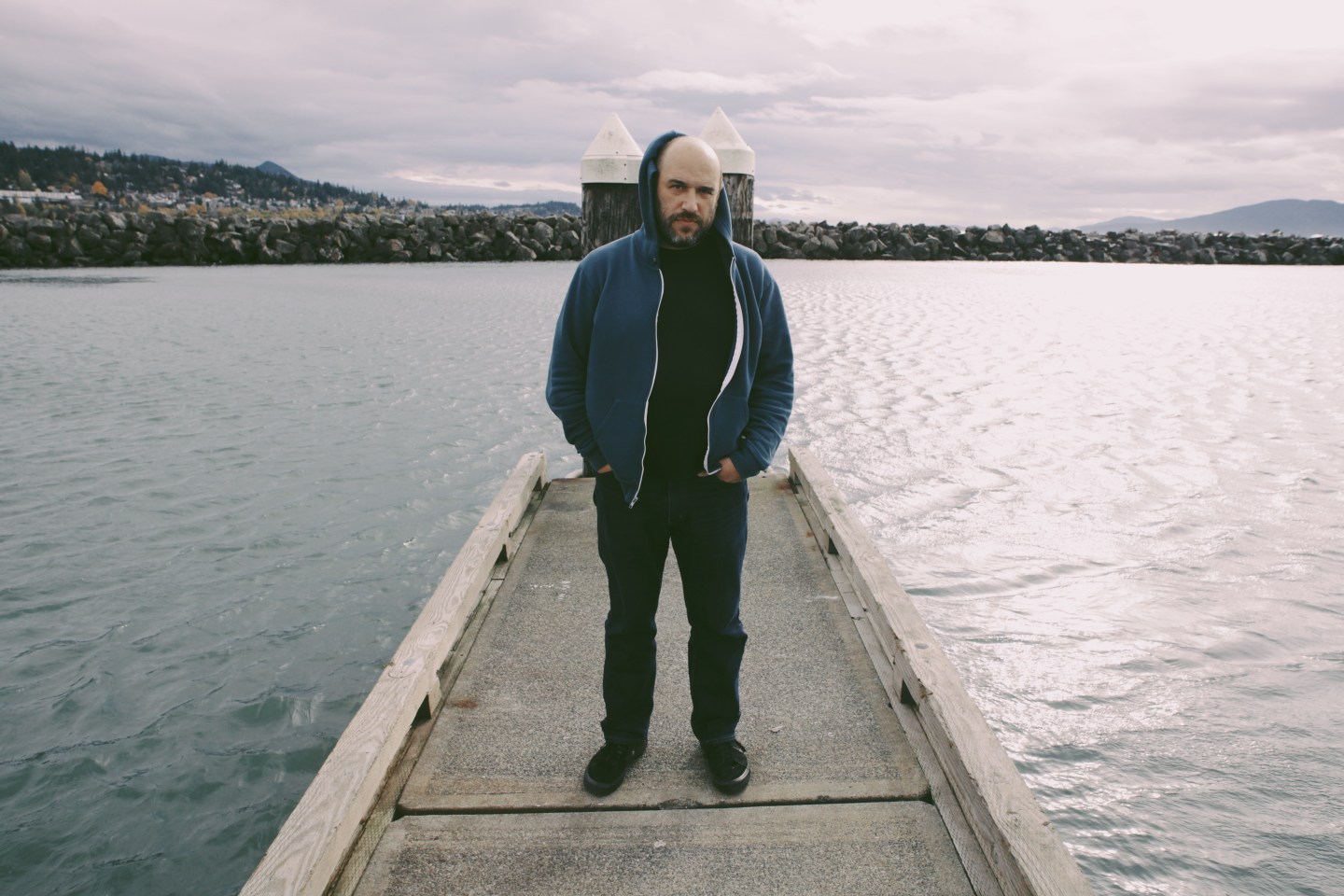 Two years ago, David Bazan was four weeks away from turning in Havasu, his sixth album as Pedro The Lion, when he called his label to tell them he was scrapping the deadline. The bones of the project fit together fine: this was the second in a five-album arc about Bazan's childhood, each record devoted to a place he lived while his father, a Pentecostal music pastor, moved from flock to flock across the United States. Bazan had worked every bit as hard on Havasu as he had on Phoenix, the first in the series. He'd traveled back to Lake Havasu, the synthetic desert city where he spent seventh grade, four or five times; he'd revisited innocuous intersections and felt his memories rush back. He'd taken notes, traced out melodies.
"And I just realized that there were some thematic things on the record that I understood I wanted to do, but that I was not capable of doing, because I had some more personal work to do," Bazan says now over the phone from his home in Edmonds, Washington. "I couldn't even hear my own feelings, because I was so concerned about the feelings of my parents and my sister and my kids' mom. I knew that I needed to put it away."
Since then, Bazan's life has changed immeasurably. Shortly after that conversation with Polyvinyl, Bazan and the mother of his children decided, after two decades together, to end their marriage. And having spent more than a decade playing upwards of 150 shows each year — mostly private concerts in the living rooms of fans across the United States — he was, like most independent musicians, forced by the pandemic to stay home. "I really lost both things at once," he says now. "And that has been pretty brutal."
Still, it wouldn't have been in Bazan's nature to have shelved Havasu. When he believed resolutely in God, as he did for the first three decades of his life, he wrote thorny, mournful parables. When his faith was shaken, he went solo and wrote the staggeringly candid Curse Your Branches, which Jessica Hopper described in the Chicago Reader at the time as "a harrowing breakup record — except he's dumping God, Jesus, and the evangelical life." When he realized that he needed to untangle his childhood, he traced out a five-album arc. Shortly before the release of Phoenix, Bazan told me that this five-album project was a reflection of the process he'd recently started with his therapist, that it was "an expression of self-kindness or self-compassion." In that sense, he was compelled to write about his past in the midst of this tumultuous present.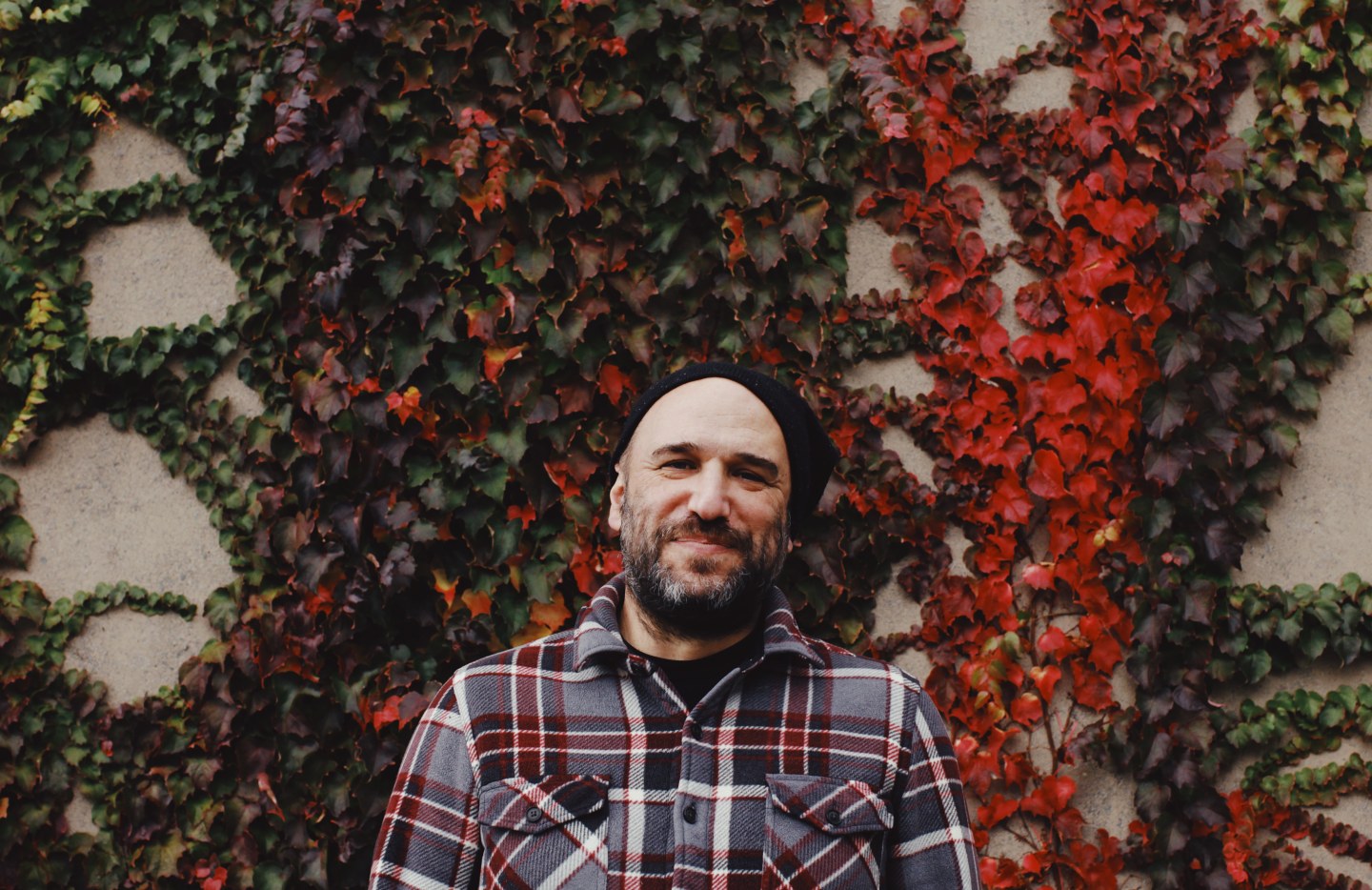 Havasu, released by surprise this morning, picks up where "Leaving the Valley," the last track on Phoenix, dropped the thread: the same uneasy chords in the same key leaning over at the same strange angle. "I desperately don't want to / Move to Lake Havasu," he sings this time, inhabiting the disconnected seventh-grader in the backseat of that car. He sings directly to his father; he asks if it's even worth being honest. Then he remembers what happened instead: "I prayed and cried and cried and prayed / Still pissed off, still in pain / Still keep it hid and grit my teeth."
From that point on, Bazan seems intent on unclenching his jaw. He revisits his decision to drop the clarinet for the drums ("First Drumset"), his first shattering heartbreak ("Teenage Sequencer"), the utter desolation he felt at points ("Making The Most of It"). As ever his delivery is warm and impassioned, a baritone in agony bursting through the choir. Lyrically, he may never have been this strong, zooming out just far enough to take in the expanse of the desert before locking in on the precise details that bring the young Bazan back to life.
The next three albums are mapped out, he insists — Santa Cruz, Paradise, and Seattle — though he's not imposing arbitrary deadlines on himself anymore. In the meantime, all things permitting, he'll pick up where he left off at the end of last year. He'll head back out in his car, play to more people in more living rooms, and see the effect of his songs in the whites of people's eyes.
The FADER: Before we get into discussing Havasu, I wanted to talk about your cover of Gillian Welch's "Time (The Revelator)," which you released last spring. Why that Gillian Welch song?

David Bazan: That tune was really resonating with me because of how things in my life had landed — things that I misunderstood for years, or ways in which I extended the benefit of the doubt for years and decades. And then everything landed. Then one day I was in a really low place and I just thought, "Okay, I'm going to sit on my bed and open up my laptop and just learn this song and try to capture something for myself, just in this moment." Not really thinking I would release it necessarily, just I needed to have this time with myself and that tune. And when I got to the end of that, I had a recording of me playing the tune, singing it.
That day I started adding fake drums. I have a studio's worth of gear in various places, but there's something with that depressed mindset where I just couldn't move from my spot. And so whatever I had access to in my plugins and in the computer, I just tried to layer on to the recording that I had made, keep chasing that feeling. By the end, I had a recording that when I zoomed out, it just really carried my feelings. It really spoke for where I was at.
That version still turns me on. I'm trying to get to a place where I like my own stuff unabashedly, and don't feel weird about it. And that's definitely an entry into my recording catalog or whatever that. I just am like, "Yep. I really like it." It's easier if it's not my tune.
You scrapped the deadline for Havasu because you thought you were withholding something thematically. Had you been trying too hard to protect other people in your lyrics?

Well, yeah, if I really write about my opinion on my childhood in detail, then it's going to reflect on my parents — that's my feeling. My whole motivation for masking the pain that I was feeling was to protect their feelings, from the time I was a toddler. Somehow I felt compelled to do that from the time I was a tiny, tiny person. And so just to look and see the kid who was riding in the backseat of the car from Phoenix to Havasu. What was that kid feeling? What was that kid showing? And what was the difference between those two things? [I had to] look back and realize that the difference was vast, and that I was masking all this pain. I didn't perceive that there was space for me to discuss this pain. I was just trying to go along and be a team player.
The big trick of this record for me was just to even admit that. The process of making the songs is dramatizing these painful feelings that I'm having. And my whole personality and personal ethics were built around not dramatizing pain — minimizing the pain that you're feeling, not making it dramatic. Being reasonable and being chill.
And I was shaky about it. I was terrified. It was just such a primitive mandate that my body had been feeling and carrying for my whole conscious life. So this record is the first time that I was like, "Okay, we're here now. If you're going to do justice to the experience of that kid back year, you have to admit that you were bullshit. That you were lying all the time by saying that you were fine, because you were not fine."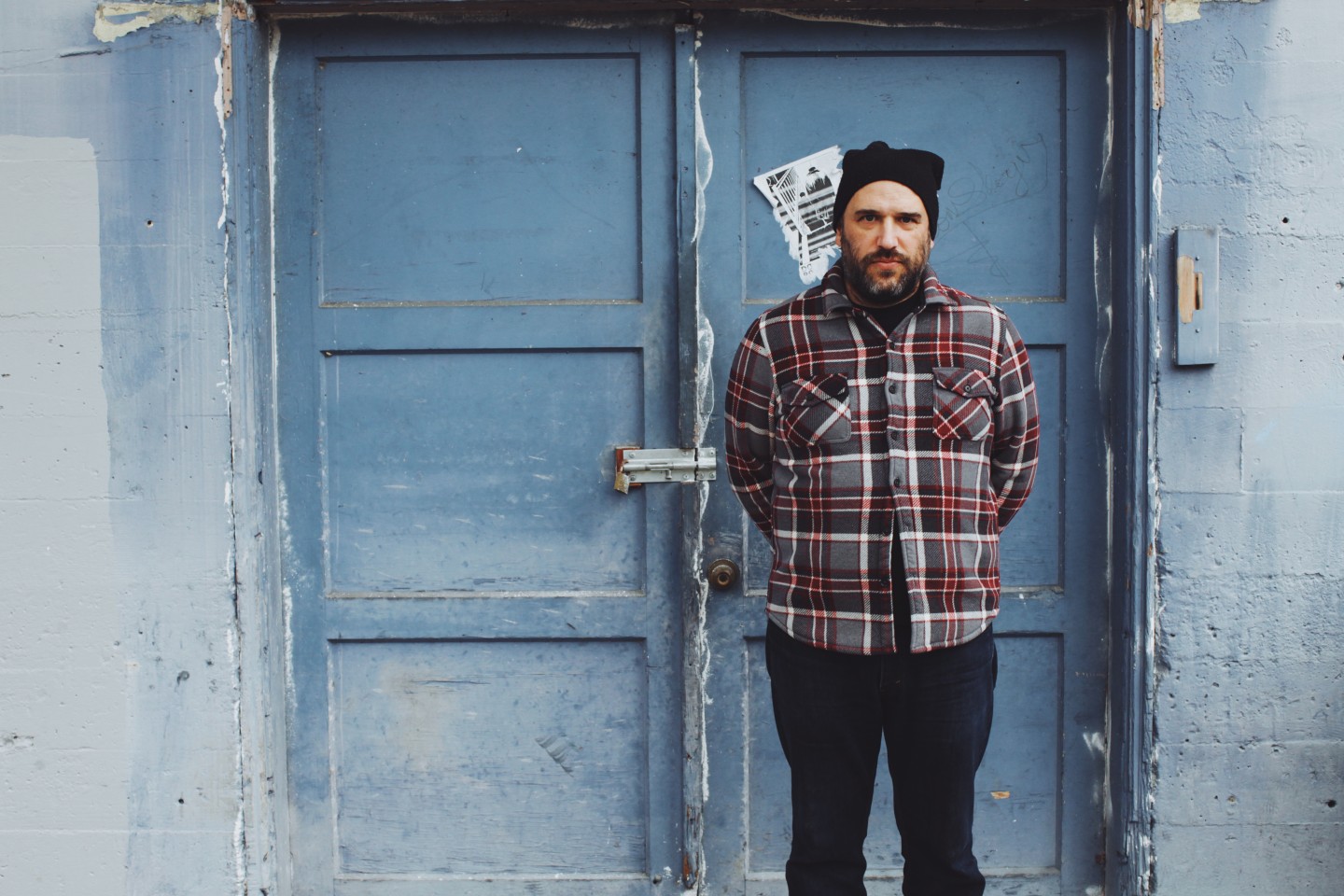 When we spoke around Phoenix, you described that album as an "exercise in self-kindness." Do you think that you were kinder on yourself this time?

I do. The "Teenage Sequencer" story, the way that all that landed for me — which I don't even go into great detail, but I hint at — was just this personal shame. It was just one that I was really reticent to write about. But then in the end it was just out of kindness for myself at that moment, that it was just like, "Hey bud, you were in earnest in this situation, and you really got hurt, and it's okay. People don't even have to understand what you're saying or feeling. You need to be able to express that."
Is it difficult to separate past and present on a project like this, when you're focusing on the past but dealing with the present? Or is it okay to let those things meld?

The work that we're doing to be present with our kid selves… it's an ongoing and probably incomplete process. I think Hannah Gadsby has shown that. She did stand up about her coming out for 10 years. Through that, she thought that she had processed it all. And then she realized that she had only processed a small part of it. All through this particular lens, that had to do with creating tension and release, commercial concerns, all this stuff. I'm not making comedy, but it's similar. At the time I thought about Curse Your Branches — I wrote and sang those songs a couple of hundred times and really felt that I had processed all that. I thought I had processed it before and was perturbed that my subconscious was insisting on all this music, about something that I thought I had passed. And so when I saw Nanette, I thought, "Oh, right." As thoroughly as I tried to process and communicate about some of those things, that's still just a sliver of the whole thing. And that realization actually led me to want to express a little bit more of the gray area and wound up in a song like "All Seeing Eye" from Phoenix.
I guess that's a long answer to say I reached into my experience as that 12- and 13-year-old kid as much as I could. That still feels incomplete as a process, but I'm not worried about it. I really came a long way with that kid. And in a sense, that's the present part of it. With that second-to-last song, "Good Feeling," me making this record is me coming back and retrieving my lost self. That's what these songs are, me going back and pulling myself out of the lake. This was such a clear picture of what was sort of spiritually happening for me at the time. And so that's the present part of it, and I'm totally grounded in that. Just wanting to see and hear and heal. And re-parent that kid that just needed more space to express his feelings and the whole thing.
You mentioned Curse Your Branches. Did you think as you wrote that album that you had a silver bullet? That maybe the shame and anxiety you felt would just dissipate when you released it into the world?

No. I think one thing that this process with Havasu has shown me is that I've known since then. I remember knowing about it first in that landscape, which is really vivid — the lighting in my memory is just so specific. It felt like I wasn't bottling my pain. I was collecting it and trying to hold space for it until... I guess my assumption was that we'd finally move someplace and stay there. Then after some time I'll have friendships where I can be myself and I can sort of reveal this, or these people can learn these things about me or these stories where I really was hurt.
I kept believing that. We moved every year for a while after this time. And so I think I've understood that eventually I had to go back to that spot. I didn't realize that I had to go further back, but I always kind of had a sense that at some point I was going to have the bandwidth to go back. And I assumed it was going to be with another person or multiple friends, like in a friendship or community or something.
Branches to me was probably part of the process of clearing the space to finally do this work. I think I've had a sense that I had to go back somehow and do that. But mostly, I was just trying desperately to keep up with my day-to-day all the rest of this time, these decades. And didn't really understand that therapy would be a great space to do that. I didn't know that I needed to do it a little bit at a time, as much as I could. I just had this feeling of waiting until things settle down. There was a bigger mountain to climb, and I knew I was going to arrive at the base and be like, "Okay, now it's time."