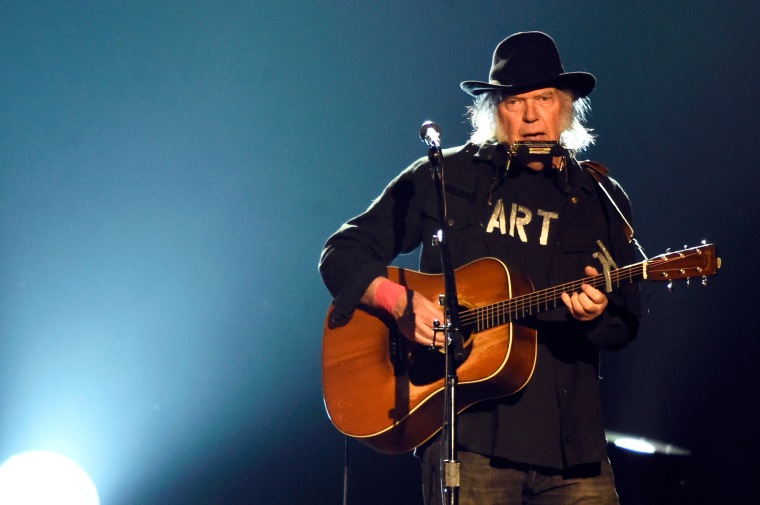 In a new statement shared on Wednesday, Neil Young confirmed that his music will be removed from Spotify. In a post shared on his website earlier this week, the singer-songwriter blasted Spotify and its popular podcast The Joe Rogan Experience for "spreading fake information about [COVID-19] vaccines," and demanded that the platform either pull his music or its support for Rogan. The Wall Street Journal reported on Wednesday that Spotify is currently in the process of removing Young's music.
Young's new statement goes into further detail behind his decision. He claims he was inspired by the over 200 physicians who signed a petition asking Spotify "take action against mass-misinformation events." The petition specifically points to an episode of The Joe Rogan Experience with guest Dr. Robert Malone, a virologist notorious for spreading discredited theories and falsehoods about COVID-19 vaccines. "I realized I could not continue to support SPOTIFY's life threatening misinformation to the music loving public," Young writes.
The letter goes on to thank Young's label Reprise Records, a subsidiary of Warner Bros., for supporting Young's decision despite not being legally obligated to do so. "Spotify represents 60% of the streaming of my music to listeners around the world, almost every record I have ever released is available - my life's music - a huge loss for my record company to absorb. Yet my friends at WARNER BROTHERS REPRISE stood with me, recognizing the threat the COVID misinformation on SPOTIFY posed to the world - particularly for our young people who think everything they hear on SPOTIFY is true. Unfortunately it is not."
A Spotify spokesperson shared the following statement in response to Young's decision: "We want all the world's music and audio content to be available to Spotify users. With that comes great responsibility in balancing both safety for listeners and freedom for creators. We have detailed content policies in place and we've removed over 20,000 podcast episodes related to COVID-19 since the start of the pandemic. We regret Neil's decision to remove his music from Spotify, but hope to welcome him back soon."