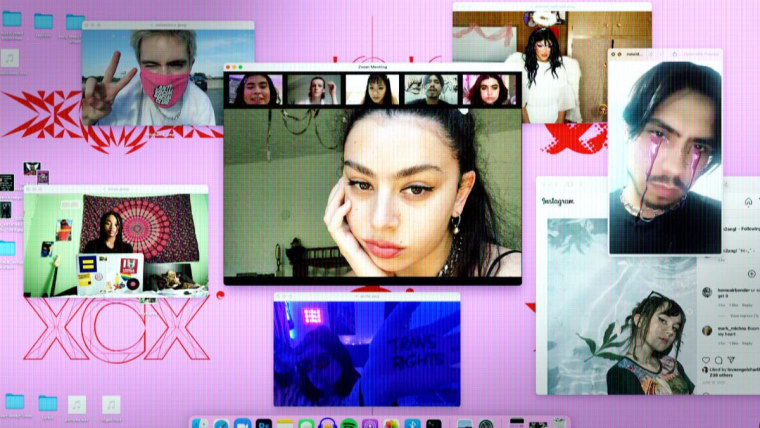 The idea of revisiting the first COVID quarantine of 2020 might be anathema to most people, but the new Charli XCX documentary Alone Together offers the inside track on the creation of how i'm feeling now, a deeply personal pop album and a key creative document of the pandemic. Alone Together tracks the six week period when Charli holed up in her LA home and made a whole new album from scratch, with little company besides her boyfriend and a pile of freshly purchased recording equipment. What the documentary reveals in its incisive sub-70 minutes is both a nuts-and-bolts look at the making of how i'm feeling now, as well as a portrait of an artist for whom creativity and her self-worth are almost inextricable from one another.
In interviews, Charli XCX often talks about her earliest days as a performer when she'd play live at raves in suburban parts of her native England. Nothing out of the ordinary there, except she was only 14 and her dad was waiting in the car to take her home as soon as the set was over. The idea of working when perhaps you shouldn't be, or at least don't need to, carries through a decade and a half later as Charli announces to documentary makers Pablo Jones-Soler and Bradley Bell that while the world is in lockdown she's going to make a new record (most of the vérité footage is shot by Charli herself). As an artist, Charli XCX has, at times, felt caught between worlds. She's either an independent-minded solo creative with songwriting credits on some of the last decade's biggest singles, or a pop star whose admirable unwillingness to conform has meant she's never quite crossed over in the way a major label pop star probably should. It's perhaps this middle ground she occupies that allowed her to convince her label to release an album effectively created in real-time, though the documentary seems less interested in the how of the situation and more the why, forgoing a closer look at the sound of the album and focusing instead on Charli's mental state during lockdown.

Documenting creativity is becoming something of a trend in music documentaries right now, from Peter Jackson's staggeringly immersive Beatles film Get Back to Taylor Swift's more studied but no less revealing Folklore: the long pond studio sessions. Alone Together is in tune with this moment. The documentary is at its most exhilarating when it becomes clear that making this album wasn't just wishful thinking (as so many lockdown projects proved) but an achievable goal. There are clips of Charli going straight from the recording booth to debuting "anthems" on IG Live as love hearts and comments from her fans flood the screen. We also see her shooting videos using nothing more than an Amazon-bought green screen that's more Zoom background than Marvel blockbuster. The idea that Charli XCX is a creative force reigned in by traditional major label structures, – often put forward by the artist herself – is only strengthened by the impressive results.
To its credit, Alone Together is not content to be a mere press release for its subject's brilliance. The film has its share of uncomfortable moments, including a discussion about Charli's relationship with boyfriend Huck Kwong, about whom much of how i'm feeling now is written. Quarantine pushed the couple together in new and testing ways, chiefly making them spend more time together than ever before. At one point they explain that the longest they had previously spent together uninterrupted was 11 days, despite being together for 7 years. Kwong is supportive but seems uncomfortable on camera and the scene of him being asked to star in a video is hard to watch. "If the last 28 years have told me anything it's that I won't enjoy it," he says at one point. Charli, with a weary tone, replies "If you don't wanna do it just tell me and I'll think of a new idea." You get the sense she has to say that a lot in her life.
After setting up the DIY process of making the album, the documentary then goes deeper and dives into what drives Charli and her decision to keep creating through such a trying period. Sitting at a table painting rocks, a hobby she's picked up in recent months, she explains that her therapist has encouraged her to start journaling as a way of processing her thoughts about feeling unwanted. It's a thought pattern she's been told may have been passed down from her father who was adopted as a child. "I've got serious issues with the way I handle my work, and the way I rely on work to make me feel like I'm a good person" she says. "I don't think I'm pretty enough, I don't think I'm smart or interesting or funny enough of a person to function without my work. My work is what makes me different and interesting. Without it I just feel like I'm nothing." It's this unfiltered moment that makes Alone Together stand out and puts its subject's entire career into a clearer focus. This kind of honesty gives invaluable insight into the deep-seated fears that drive creativity. In a documentary all about the creative process, that is priceless.
The documentary doesn't quite work as well elsewhere. The inclusion of Charli's fanbase, the "angels," illustrates the extremely online nature of how i'm feeling now and, between livestreamed dance parties, artwork ideas, and playback sessions, they're clearly a big part of making the album. Despite this almost utopian vision of fan and artist relationship, there isn't much sense as to what it is these fans get from the music and why they stan Charli. Coming largely from LGBTQ and other marginalized communities, it feels more like they have found kinship with one another as a chosen family than with Charli's work specifically. The overall flow of the film isn't derailed by these scenes, but nor do they feel entirely necessary, either
Charli's decision to document this fraught period of her life is unusually brave. . Who can truly say they would want their time spent between March and May 2020 recorded for posterity, even without the pressures of making an album? Alone Together captures this time of uncertainty, adapting to new ways of both living and working efficiently while offering a window into Charli XCX's psyche and creative spark. It leaves its most telling moment for the end, however. Two days after the release of the album Charli is padding around her kitchen in a hoodie and talking to her manager. "I just feel a bit like…." she says, pausing for effect. "A bit bored. What am I going to do now?" Everyone laughs but you just know that the next project is coming. How can it not?
Alone Together is streaming on Hulu and on-demand now.