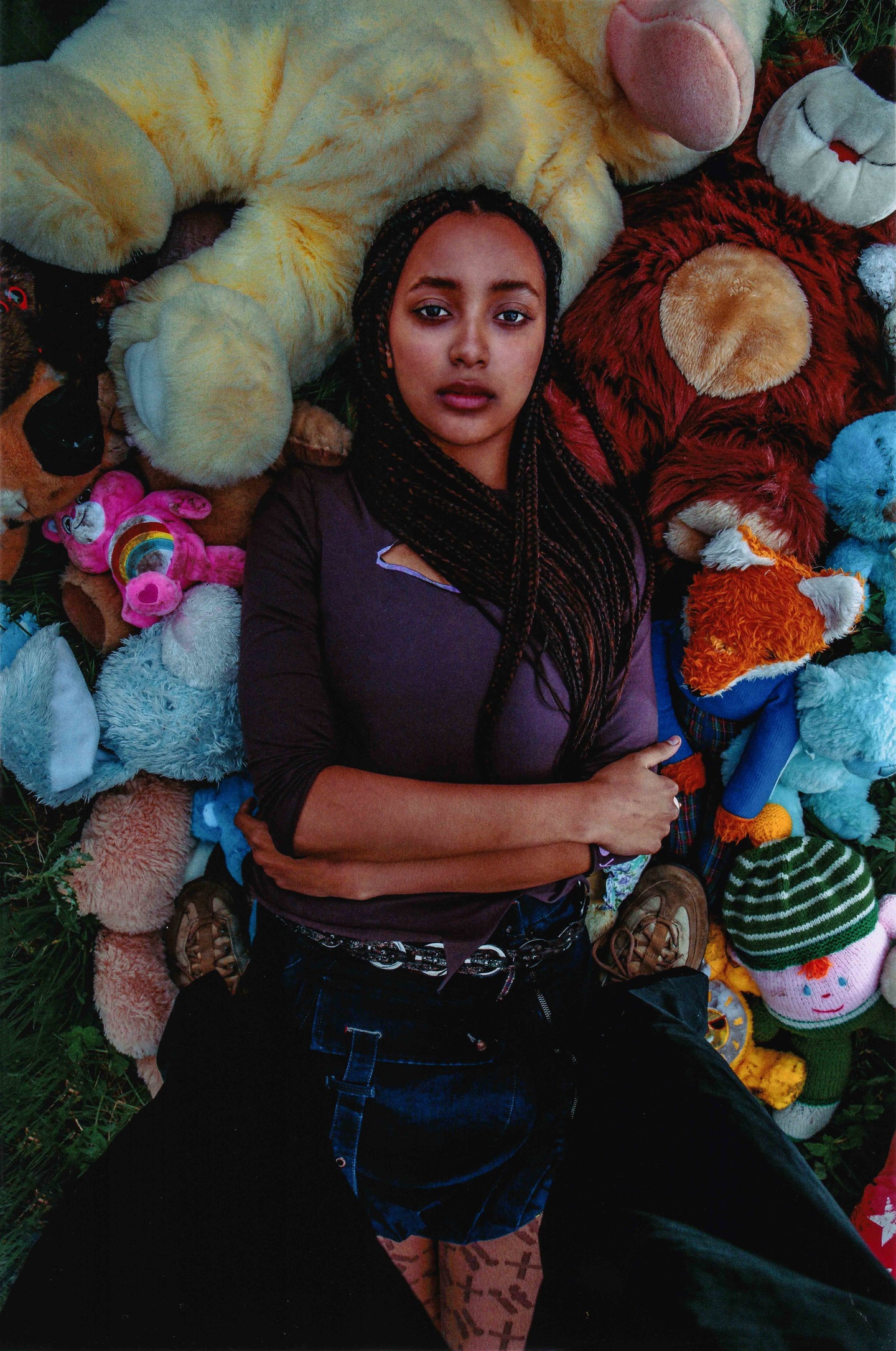 In a recent documentary made for Spotify, PinkPantheress was asked when was the moment that she realized she was "quite big." Her answer was telling, in as much as it had nothing to do with social media or streaming numbers. "A big moment for me was when one of my favorite childhood artists, Just Jack, reached out and was like, 'I love your stuff'" she tells the friend that asked the question. "I was like, 'What?' I used one of your beats, I'm so glad you like it."
Speaking to The FADER over the phone in late 2021, Just Jack (a.k.a Jack Allsopp) explains that he was as flattered to be sampled by PinkPantheress as she was with his approval. "I think it's cool," he says of his 2007 song "Starz In Their Eyes" being used on "Attracted To You." "If a massive chunk of the chorus had been sampled I might feel differently but as it's the instrumental section I'm happy. A lot of people might not recognize the sample so it just makes me smile. It was a nice surprise."
Speaking to various artists whose music PinkPantheress has sampled on her astronomical rise it's fair to say that feeling is mutual. However, some critics have suggested that the British artist's approach to sampling is something of a blunt tool. File the debate in the category of "bored people tweeting" rather than major backlash but still, in Stereogum's review of her 2021 debut mixtape To hell with it, there was just cause to include mention of her music being "derided for defiling the classics" and "reigniting debates about obvious samples that date back to the height of No Way Out and Big Willie Style."
The idea that PinkPantheress only samples the classics makes Franz Buchholtz laugh. Buchholtz records music as Signaldrift and was part of the Milwaukee electronic scene that birthed acts including Casino Versus Japan in the early 2000s. He was very surprised to learn that a major label in the U.K. had requested he clear a sample; at the moment Buchholtz works in a local book store and makes a movie podcast in his spare time. The sparse and atmospheric synth line that runs through To hell with it track "Noticed I cried" is pulled from Signaldrift's 2005 song "And Yet..." from a long out-of-print album.
"That record kind of ended up in a landfill," Buchholtz explains. "The person who ran the label put all his eggs in one basket and they went under and took the album with them. It was a limited release that didn't get a whole lot of attention." Buchholtz's excitement at the clearance request was tempered only by a brief worry that he himself may have sampled something on the original. "I have been inactive from music for a decade so I was pretty surprised to hear from her team. I had to go back and check. And was very relieved when I realized I hadn't."

Clearing a sample of Sweet Female Attitude's 2000 U.K. garage classic "Flowers" was a more streamlined process. The song, released before PinkPantheress was born, has taken on something of a second life in recent years with British rappers Krept & Konan first sampling it in 2018 later, followed by both AJ Tracey and ArrDee. On her mixtape opener "Pain," PinkPantheress lends the club favorite a gloomy air. Taking the romantic imagery of the original and instead lamenting a break-up ("such a shame that we weren't the same at all") PinkPantheress established herself as both a prolific sampler and a melancholy soul.
Speaking from her home in Manchester, England, Leanne Brown of Sweet Female Attitude admits she had not heard of PinkPantheress until her teenage daughter showed her a TikTok that used "Pain" as a sound. "I knew immediately it was "Flowers" but it sounded like a karaoke version to my ear," she says. "It's a sample that reminds that generation of being a kid and it lends itself to the music they make. I didn't realize there were so many possibilities with one tune."
Of the three artists I spoke to, Brown is the only one who suggests launching a music career on the back of social media might not be entirely positive. Much is made of TikTok's ability to propel unsuspecting songs and artists to the top of the charts, but she recalls a time when "organic growth" meant songs like "Flowers'' gained traction through pirate radio, mixtapes, and club appearances and argues that relying on the algorithm is not the same. Or, as she puts it, "I'd rather be in the studio than making videos of my dinner but you have to have that to make a hit now."

Speaking about his song "Starz…" Just Jack makes a similar point, if inadvertently. He explains that the song, an upbeat and catchy tune built around a jangly guitar riff, is a critique of celebrity and the star-making machine and how people get "pulled into it with certain ideas and aspirations and of what is going to happen to them only to get ejected on the other side in a worse position." It was written about the music industry but Just Jack says it is "more relevant than ever" in today's permanently online state, drawing a comparison between those he wrote the song about and reality TV stars who are launched into fame from nowhere and often just as quickly forgotten. It's not hard to see parallels between that experience and that of a musician who might have a song go viral and then begin to feel the pressure to follow it up. Her statement upon winning the BBC's Sound of 2022 poll earlier this year ("I just hope that I fulfill the people's expectations of me") didn't exactly sound like an artist unaware of the weight being placed on their shoulders.
Taking things slow is the message all three of the artists who spoke to The FADER had for PinkPantheress. Someone looking to speed things up a bit, however, is Buchholtz who has seen his backdoor appearance on To hell with it coincide with a renewal of interest in his music. "A weird thing that's dovetailed into this is that the guy who released the album the first time round got hold of me and wants to get something new off the ground," he explains. "Until recently it's not been on my mind but music is knocking at my door again."