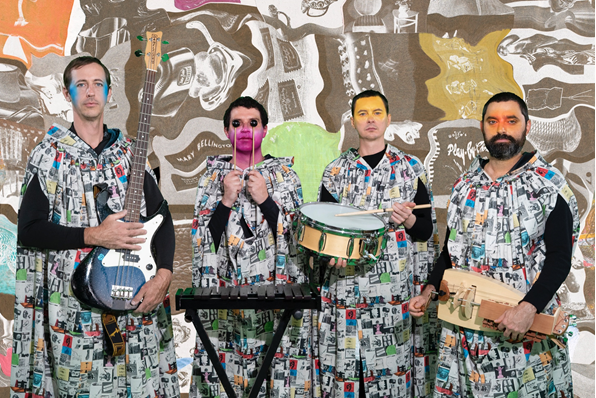 There are few contemporary bands as prolific and slippery as Animal Collective. In the first two decades of their collaborative career, the boyhood friends from Baltimore experimented in sound art, warped the edges of avant-pop, exploded into mainstream maximalism, and, finally, returned to an ambient, deconstructed naturalism.
Their new album, Time Skiffs, is something different. It's the sound of a band at equilibrium, tempering the feral catharsis of career highs like 2007's Strawberry Jam with the subdued minimalism of more pensive records like 2017's Meeting of the Waters.
Time Skiffs is the first album to feature all four members of Animal Collective — Avey Tare, Panda Bear, Deakin, and Geologist — since 2012's Centipede Hz. A lot has changed in the interim — in each of their lives, in the band's progression, and in the world at large. Recorded remotely during lockdown, the new record addresses the personal and the sociopolitical in slow motion, with the same air of relaxed reflection. Even from opposite sides of the Atlantic, the telepathic bond they share allows them to complete each other's musical thoughts, jamming on the astral plane with more synchronicity than most bands will ever achieve in person.

A few days after the album's release, The FADER's Raphael Helfand sat down with Panda Bear and Deakin to discuss the group's creative ebbs and flows, The Music Box Village in New Orleans, and how the Grateful Dead influenced Time Skiffs.
Listen to the episode above and subscribe to The FADER Interview wherever you listen to podcasts by clicking here.