e.l.f. Cosmetics Launches its First-Ever Jewelry Collaboration "ears.lips.face" with Celebrity Designer Georgina Treviño on the NTWRK app
Viewers can win one of ten exclusively-designed ear cuffs.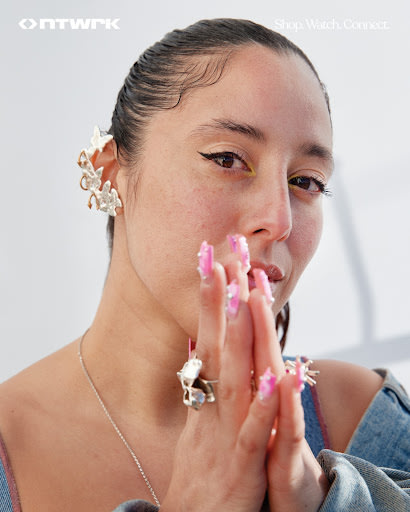 With women's history month in full swing, livestream shopping app NTWRK has teamed up with e.l.f. Cosmetics and artist and designer Georgina Treviño on an exclusive jewelry collaboration. Viewers will have the chance to win one of ten exclusively designed ear cuffs, a contemporary art piece in its own right, announced on the app by host Kylie Mar on March 15 at 2:30 PST.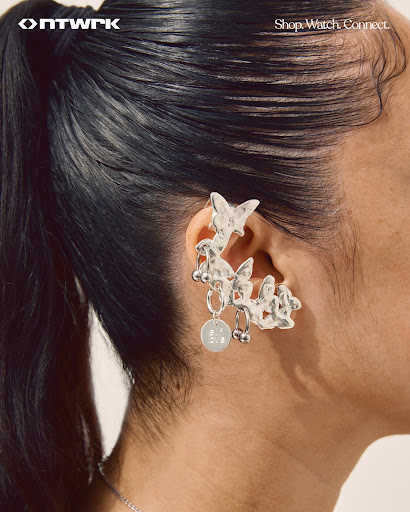 Each entry will see a donation of $1 go towards national nonprofit organization Project Glimmer, focused on providing inspiration and empowerment to young women. Treviño, whose work has been featured in exhibitions like the Racine Art Museum and New York's Museum of Arts and Design, says the cuff's butterfly design is a symbol of " beauty, transformation, and transition."
"We are always looking for unexpected ways to engage and entertain our fans, transcend beauty boundaries and own our place in culture," explains e.l.f. Beauty's Chief Brand Officer Gayitri Budhraja. "We are excited to launch the e.l.f. ear cuff as it gives us the opportunity to celebrate women with a unique piece of jewelry made by a talented woman designer and use an innovative shopping platform to bring this to life."
Enter here until March 15.