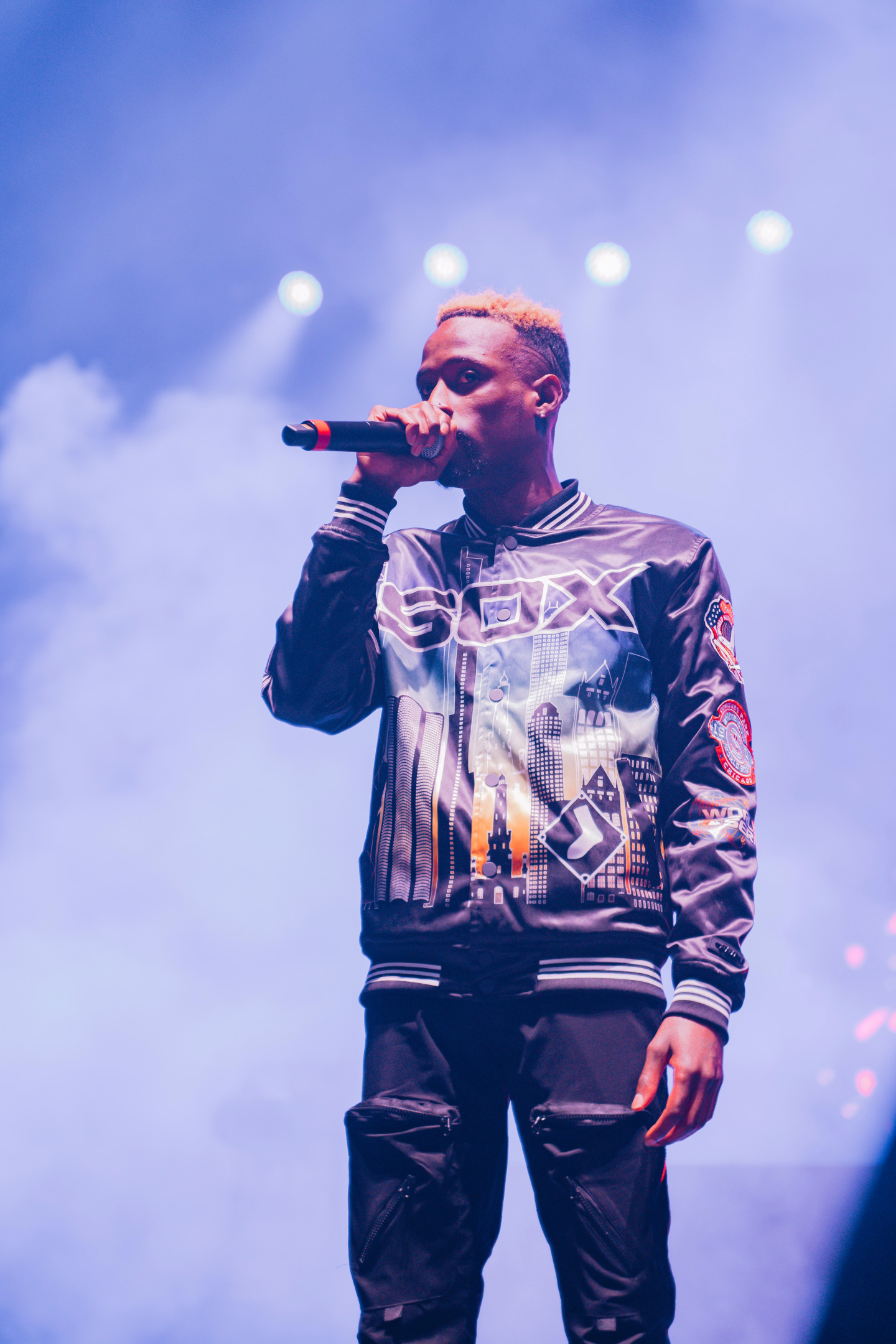 As sample drill took over New York last year, rappers from the Bronx and Queens flocked to the trend's beats created with elements sourced from obvious (and at times obnoxious) places. For some, hearing yet another song sampling Missy Elliott, Gyptian, or Barrington Levy just wasn't chaotic enough. "Heartbroken," a 2021 song from comedian-turned-rapper Bandmanrill and Mcvertt, swerved hard right and took the trend in a frenzied new direction with an infusion of Jersey Club's pounding drum patterns, layered samples, and insanely high BPMs. The song proved influential in other cities with deep club music ties like Philadelphia, where rappers like Zahsosaa, 2Rare, and the Philly Goats have been going viral with their own songs on club beats.
While rappers from other cities have attempted to latch onto the style, they don't have the same regional connection to club music as artists from New Jersey or Philly. During the last few months of 2021, I couldn't go more than a few scrolls on TikTok without watching people drop everything they were doing to dance to a snippet of "Shake Dhat," a song by the Philadelphia-based artists Zahsosaa and DSturdy of Philly Goats. The song officially dropped at the top of the year and, predictably, it took off. But it wouldn't exist at all without Philly club producer DJ Crazy, who is more excited than anyone else about a younger generation embracing club beats.
"The kids not dancing," the 27-year-old producer said. "That's how 'Shake Dhat' came up. I'm trying to slow down the murder rate, bro. This shit you rap... I believe in the law of attraction, man. You get back everything you say. So I'm trying to get these kids back to just having fun."
Club music is in DJ Crazy's blood. When I ask where he's from on our Zoom call, he says Baltimore. But when I ask him to specify what part, he smirks a little and starts beating on a table to sing Baltimore club DJ Rod Lee's "What Chew Know About Down The Hill." Rod Braxton, another club producer from Baltimore, is one of his uncles. He moved around a few times as a child, moving to Philadelphia at age 13 before settling three years later in New Jersey, where he still lives today.
"I don't want this to be a TikTok moment," the 27-year-old producer said. "Meaning, you know, like [D4M $loan and Skiano's] 'Baby Shark' was a good wave, but it was here and then it was gone. I want this to open up the floodgates for everybody."
Crazy is constantly giving flowers to producers from all three cities who have inspired him like DJ RL and Swizzymack from Philly, Rod Lee and Blaqstarr from Baltimore, and Jayhood from Jersey. On his latest album, Lets Go Crazy, the influence that those three cities have on his music bleed through like thick Sharpie blots. Some Jersey drum patterns here, a little bit of Bmore raunchiness there, a break to Tang to there.
When I talked to DJ Crazy a few weeks ago, he had just performed his first-ever solo show at SXSW after spending years out there as a DJ for AR-Ab and PnB Rock, and he felt that he was getting to put a face to the music. We got the chance to speak about how "Shake Dhat" came together, the wave of rappers hopping on club beats, and why he hates sending out beat packs.
Editor's Note: The word "boul" is Philly slang meaning "dude" or "guy."
The FADER: What were you listening to growing up? You moved around a lot.
I was listening to club music. That's what saved me. Between K-Swift, Blaqstarr, Rod Lee, just the classic Baltimore club music. I came up off of club music, strictly club. You got your hands in hip hop, but Baltimore, Philly and Jersey, we got our own culture which is club music.
Have you been listening to any of the club raps coming out of other states? Because they're doing similar stuff up in Jersey right now.
I graduated from Jersey, so I'm familiar with what's going on. Jersey played a very big role in what's going on. I always like telling people the history. It went from Baltimore to Philly to New Jersey. Jersey was the last stop. Everybody got their own feelings, but I feel Jersey got into the world.
What's interesting to me is how this all stems out of regional musical history. Y'all are bringing it back to and making sure that that culture is still there.
And that it don't get overlooked. Because what'll happen is if we keep focusing on everybody else, [the] genres will get overlooked and somebody else is going to come and rap over it. Like Drake, "Get right, Get right," when he sampled Jayhood with [DJ] Khaled on "To The Max." Now everybody mad.
You really can't be mad if we in here torching it. Now I feel like club is a force to be reckoned with. But now, we all got to be unified. That's why I be trying to stop all the dumb shit from everybody else that be talking about club. I be like, 'yo it's the first time club is on top and respected.' Period. From Jersey, Baltimore, Philly. So who cares who started what?

In that post where you were talking about what inspired the "Shake Dhat" dance, you were saying that it came from "Rock My Hips" out in Jersey, right?
So the dance, if you peep what we doing with our hips, it's Jersey, Rock Ya Hips. But then the arms is the Wu Tang, or Tangin'. So, you got a mixture of Tangin and Rock Ya Hips. They called it 'Shake That.' My young boul Spence from the Philly Goats, he actually the one that founded the dance. He put them both together. I don't even think he purposely knew. So, it is a mixture of both and the music is a mixture of all three boroughs.
Who are the Philly Goats exactly? I can't really find much about them.
It's four of them. So, you got Rail, he's the football player. You got Dyce, he remind me of the pretty boy. You got Spence, he remind me of myself—a wild dancer. You ain't going to be able to beat him in no battle. You might as well sit down. You got Su. He the cool nigga. It's four dancers.
How did "Shake Dhat" come out of that?
I just slid in they DM one day. They had this song called "Broke Shit," that was made off of a trap song, not club. So I was like "Yo, come over the crib." Dyce hit me back. He's like, "Come pick us up." Pulled up in Benz, went to go get the young boul, took them back all the way to Jersey. And then we made "Philly Shake."
Dyce kept talking about editing ["Philly Shake"]. Zahsosaa started hitting Dyce up and get on the jawn and he hit me up too. So I picked up Zah and Dyce again, we got to the crib, I played "Philly Shake" and it was just not working. I wasn't with forcing Zah on "Philly Shake," [so] I started playing beats–I just made "Shake Dhat" the night prior.
In five minutes we had "Law come, we get back/I'm with Crazy and the Philly Goats, they my slatts," I'm like, "Yo, this shit is...!!" Look, I'm in my chair tripping. I record everything. I got the whole session recorded on the camera. Just for me to be behind them boards and with the young bouls, it changed my life, bro. You never know what you really creating, for real.

Are rest days important for your creative process?
I don't like forcing it. I like vibing, man. People be like, "Just cook me a beat." I can't do that. I don't cook beats. It make my balls itch when somebody tell me to give you a pack. I'm not a pack boy. I'm not a block boy. I don't got a bundle of dope for you. I'm like the cocaine farm in Cancun or some shit in Mexico. I'm that dude. We can make the product. We can make some black magic together. Frank Lucas, we can make some hard booger sugar–a whole pot full of whatever you want.
Was it hard for you to convince rappers to get on the club beats?
Some of my songs was easy, some wasn't. It took me a year to get a song with [D4M] $loan. My bro DJ Tizz made "Baby Shark." I saw what it was going to do. Sloan took that song from his page, rapped over it and went viral. Then they got it done and sent it back to me. Once I had it, it was all these kids trying to give me thousands, hundreds just to leak this shit. Once I felt that, it was "all I need is a record with this young boul." And that took me a year, just politicking and back and forth with me and Sloan.
Then when he did one of my songs, he kept it for himself. That showed me my power, like, "damn if he want this shit for himself, that means it's a jawn." Sent him another pack, he sent me two more jawns back. I had to choose between "Just Like Dattt" and "Swagg Talk." He kept "Swagg Talk" for himself, so he's sitting on another one from me too. It was hard, but in the back of my head I just knew how politicking worked. I knew how the tables turn. And in music, the tables always turn. You could be this big one day. And this big the next day, and then that person needs you. Trade for a trade. That's what I live for.
It's funny you bring up "Baby Shark," because I really feel like that song predicted this whole wave.
Yo, me and Sloan's manager was talking about [how] I gave Sloan his shit. Sloan and his man Ski[ano], rest in peace Ski, they made the world Wu Tang again. A lot of people get it fucked up and a lot of people get stuck in their ways. "Well, I did it first." First of all you could say, "Go head girl, put your leg up." You can say that nigga did it first. You can say my god uncle did it first, "Dance My Pain Away." Its who the fuck made it happen. That's what humbles niggas. Who made it happen? You could have did it first all you want, bro. But who the fuck made it happen? And who's going to stick together so we can all be a bigger voice? I aint trying to be like "he did it, she did it." I'm trying to be, "yo, we all did it." Everybody played a role.