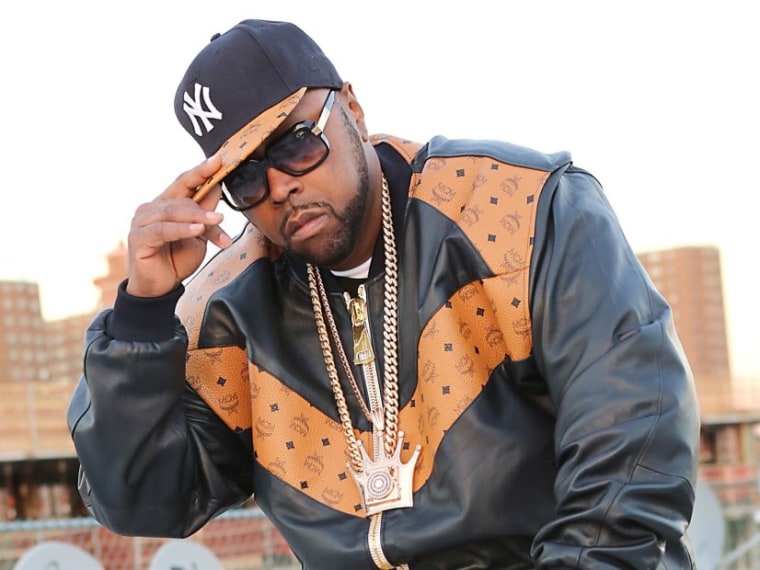 DJ Kay Slay, famed for his run of early 2000s mixtapes, has died following a four-month battle with Covid-19, his family have confirmed. He was 55.
In a statement the family of Slay, real name Keith Grayson, said: "Our hearts are broken by the passing of Keith Grayson, professionally known as DJ Kay Slay. A dominant figure in hip-hop culture with millions of fans worldwide, DJ Kay Slay will be remembered for his passion and excellence with a legacy that will transcend generations. In memory of DJ Kay Slay, our family wishes to thank all of his friends, fans, and supporters for their prayers and well wishes during this difficult time. We ask that you respect our privacy as we grieve this tragic loss."
A statement from Hot 97, where Slay hosted The Drama Hour, reads: "Hot 97 is shocked and saddened by the loss of our beloved DJ Kay Slay. We cherish the many memories created through the twenty-plus years he dedicated to the Drama Hour A cultural icon, Kay Slay was more than just a DJ, to us he was family and a vital part of what made Hot 97 the successful station it is today. Our hearts go out to his family, friends, and fans worldwide and we will always and forever celebrate The Drama King's legacy."
Slay contracted the virus in December but was said to be in "a recovery state" the following month. Speaking at the time his brother Kwame Grayson told HipHopDX that he was "getting stronger" and was being moved to a private hospital to continue his recuperation.
First emerging as a graffiti artist, known for his tag "Dez," in the 1970s, Slay was long involved in the four elements of hip-hop. His work was captured in the cult films Wild Style and Style Wars.
He was perhaps best known for his combative radio show and mixtapes, however, which gave space to battling rappers looking to face off against one another. ''He's like the Jerry Springer of rap,'' DJ Goldfinger told the New York Times in 2003. ''All the fights happen on his show.''
It is estimated that Slay released over 500 bootleg mixtapes, selling them on street corners in New York's West Village as far back as 1993. Among the artists who contributed to the tapes over the years were Eminem, 50 Cent, Ja Rule, Cam'Ron, Nas, and Jay-Z. The hustle eventually paid off with a major label record deal and studio albums including The Streetsweeper, Vol. 1 and Vol.2, released in 2003 and 2004 respectively. His most recent album, The Soul Controller, was released in 2021.
Tributes to DJ Kay Slay have begun pouring in, including messages from Statik Selektah and Just Blaze.
𝐑𝐞𝐬𝐭 𝐈𝐧 𝐁𝐞𝐚𝐭𝐬 𝐭𝐨 𝐚 𝐆𝐈𝐀𝐍𝐓, #DJKaySlay 🙏🏾🕊 pic.twitter.com/WUATLWatJI

— PUBLIC ENEMY (@PublicEnemyFTP) April 18, 2022
Drama King.

— Crime Rhyme Houdini (@JustBlaze) April 18, 2022
Rest in Power big bro. I can't even believe I'm writing this. Travel well my old friend. My condolences to his family and other friends hurting right now. #DjKaySlay #Harlem pic.twitter.com/M7BFnG62iH

— Immortal Technique (@ImmortalTech) April 18, 2022
Woke up to the awful news that we lost DJ Kay Slay. The man was the human embodiment of hip hop. Graf legend, DJ legend, mixtape legend ... so unique, so iconic ,.. when I first got to @hot97 -- working with Slay was one of the things that made me so proud to be here .. RIP..

— Peter Rosenberg (@Rosenbergradio) April 18, 2022
Can't believe I'm typing this. Rest in power DJ Kay Slay. Legend. Fuck! https://t.co/bljTndeQ90

— Statik Selektah (@StatikSelekt) April 18, 2022
We lost one of the most SOLID MFs in HipHop.. I've been checking in on him his whole struggle in the Hospital. I honestly thought he was gonna pull through. This truly Hurts… F Covid. RIP to the Drama King 👑 #Kay Slay pic.twitter.com/5MyanPPPWo

— ICE T (@FINALLEVEL) April 18, 2022
FUCKKKK 😢😢

RIP DJ KAY SLAY! 55 Years Old Man SMH pic.twitter.com/nqRI7tdO0w

— First Class 🏁 (@1DJFirstClass) April 18, 2022
sad to hear about Kay Slay. @TheRealSaigon got me up on his @HOT97 show back in the day and it was a thrill. We also chatted for the Source. He talked about the "save your ass" crate for dj's-the songs that never fail to get the party started when u need it. I still quote that 💔

— Mark Ronson (@MarkRonson) April 18, 2022
Heartbroken to hear the news of DJ Kay Slay's passing. Slay was the definition of hip-hop to us as we listened in to Hot97, growing up 30 minutes north of New York City. His hoarse voice yelling over the music he'd play... pic.twitter.com/Nxg8EPAez6

— ItsTheReal (@itsthereal) April 18, 2022
R.I.P. DJ KAY SLAY!!!! WORDS CANNOT DESCRIBE HOW MUCH OF A LEGEND HE WAS AND WHAT HE MEANT TO OUR CULTURE!!!! 💔💔💔💔💔💔

— Termanology (@TermanologyST) April 18, 2022