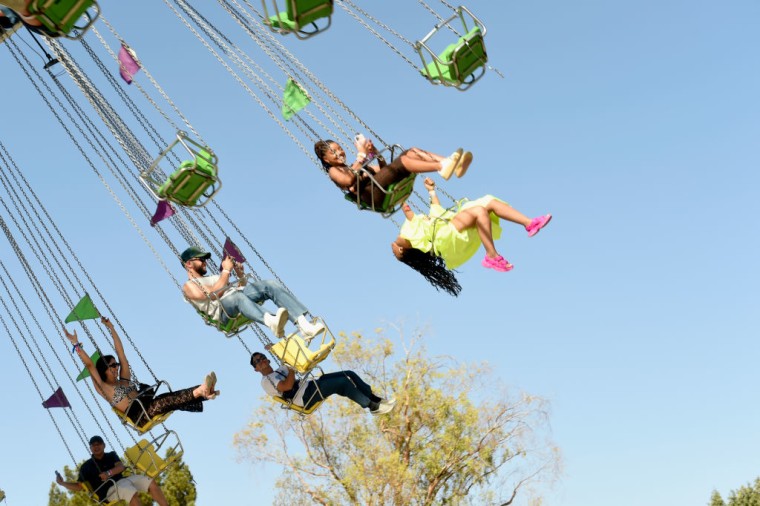 Coachella may have taken place in California this weekend but if that festival doesn't quite have its focus on fashion and the world of online influence enough then there is a handy alternative, Revolve. This weekend Revolve Festival returned to the Merv Griffin Estate in La Quinta with performances from Jack Harlow, Latto, Willow, and Ty Dolla $ign in addition to an appearance by Kim Kardashian and Kendall Jenner.
The invite-only event draws its crowd predominantly from influencer circles, creating a content-friendly environment that acts as much as marketing opportunity for the e-commerce brand as it does a music festival. That's all well and good – it's arguably a more honest way to approach festivals in 2022 – but the social media reaction over the weekend has been a little less glamorous than expected with creators complaining of being unable to get to the site while othered were denied entry upon arrival.
LA Magazine's executive editor Joseph Kapsch tweeted about influencers being "stranded in the dirt with no water, under the hot sun for hours, waiting for buses that aren't coming to bring them to the actual festival." Kapsch added that security workers at Revolve Festival had told him about "crowds of influencers yelling about 'how important they were and why they deserved the first seat'". The security team, however, didn't recognize enough of the influencers to be able to intervene: "I don't know who the fuck these people are," one is quoted as saying "I don't know who is actually important and who is lying or if any of them are important."
coming to bring them to actual festival. "Alleged fights, screaming, everyone is dizzy." @LAMag told that police are coming. AND in an "Only in LA Moment: Coachella Edition: Security had crowds of influencers yelling how "important they were and why they deserved the first seat"

— Joseph Kapsch (@JosephKapsch) April 17, 2022
The issue, it seems, was in getting people to the site of the festival with a surplus of influencers and a distinct lack of buses. Creator Hannah Kosh told Elle it was "everything [Kapsh] described and more" and alleging that she "saw three people pass out in line" for a ride to the event.
"The only way you can get to Revolve Festival is if you take their specific shuttles into the ground," TikTok user Averie Bishop informed her 750,000 followers. "I didn't even get into the festival you guys, I waited in line for two hours." She went on to allege people were "pushing, shoving, fighting, yanking people in front of the buses, people standing in between buses while they were removing, just to get on these buses and get to Revolve Festival." Ultimately, she decided to leave the site entirely. "Sorry Revolve, but I really hope you take into consideration everyone's safety and security next year."
Kristi Howard (2.5M followers) echoed the same complaints about waiting hours for a bus to take her to the festival site. "Revolve Festival was a shit show, it was a disaster," she said in a post shared on Sunday. "We got there at 2.30pm, 3pm. No address given, we were just told the corner of 'something and something'. If you live in LA you can go pick up your wristband but I don't live in LA. I drove four hours to Atlanta [from Nashville] just to get a cheaper flight because we were already paying $800 for flights. Even though I didn't have my flights paid for me, I thought this was a really cool opportunity."
Howard said she paid $300 to get to the festival "thinking I had this big opportunity for my career." "I thought it would be really cool to network and meet my internet friends in real life, and it wasn't like that at all," she said.
Revolve has yet to make a statement about the festival. The FADER has reached out for comment.