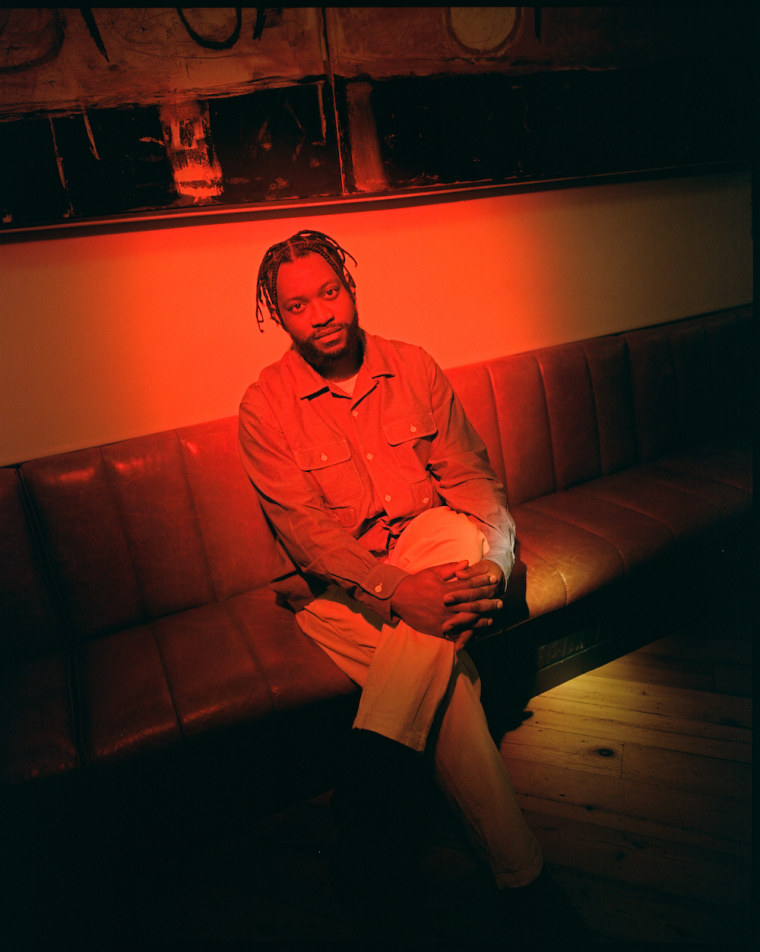 Jahmal Padmore has put on several different hats in his musical career. Since 2007, the Toronto-based musician has worked as a producer, songwriter, and drummer for artists like The Carps, Just John, Brendan Philip, and more. And now, he's stepping out on his own to pursue a solo career. He announced his debut album Esparonto last month with the release of lead single "Pretty," a smoldering cut about self-projection and ego. Today, Jahmal Padmore returns with a new single from the album called "Sorted," which is premiering on The FADER today alongside a live performance video directed by Padmore himself.
The video for "Sorted" kicks off with Jahmal walking through Telephone Explosion's Studio Z in Toronto, where the album was recorded, and joining up with the rest of his band for a live jam session. "Sorted" is another slow-burner, this time exploring love and boundaries. In the studio, Padmore's gentle, bassy voice reverberates off the walls, creating an echo that's comforting like a blanket fresh out the dryer.
"After two really long years, the timing of this record couldn't be more perfect," Padmore said about the video. "Having written this song in many stages, from acoustic guitar on the couch with my songwriting partner Brendan Philip, to the studio with Benja and Cola, it was only fitting that we film a live performance video with the other members of the fleshed out band back at Telephone Explosion's studio Z on the east end of Toronto."
Below, watch the video for "Sorted" and read a brief interview with Jahmal Padmore about the music that influenced Esparonto, which comes out May 27 via Telephone Explosion.
"Clock Strike Zero" - Derrick Hodge
When I first started working on this record I was spending a lot of time stuck inside as with everyone else. One of my best friends Adrien had recently got a new whip on road with a tight system and we spent weeks driving around listening to music running what we liked to pretend were "errands" in a world that was effectively shut down. One of the records he played me was sent to him by a friend of a friend and it was Derrick Hodge. Derrick is a bass player that runs with Robert Glasper et al., and I was blessed enough to see them play at the Blue Note last fall while I was back in Brooklyn writing this album. His bass tones and note choices are hands-down the most classy shit I've ever heard, and I hope I can be as good of a musician as him and Justin Tyson (drums) when I grow up.
"Girl Loves Me" - David Bowie
One of my other best friends, and the man I wrote the song "Sorted" with, Brendan Philip sent me this track while we were deep into writing my album. Mark Guiliana on the drums. He. Is. An. Absolute. UNIT. I've always admired David Bowie. We take his work for granted imo. More of us need to spend time understanding the impact and contribution that man had on contemporary music. This song kicks and pulses with a subtle polyrhythmic feel. And that's a thing I'm forever chasing in all of my songs. As a drummer, I am always looking for the ghost rhythm.
"Wasted" - Don Toliver
My Mexican brother Eduardo was always trying to put me onto some Texas shit in our Brooklyn apartment. George Strait found a fond spot in my heart. I got put on to DT years ago by a fellow Houstonian and my mentor Ant Demby. I guess I really love Texans. The thing I love most about Don Toliver is that you can hear he spent many many years riding around Texas listening to crooning cowboy music. His flow and cadence is enviable and the lyrics are truly remarkable Scorpio sad boy fodder that resonates deeply.
"Night Nurse (Live at Reggae Sunsplash 1983)" - Gregory Isaacs
I'm proudly Antiguan. But growing up in Toronto, Jamaican culture is absolutely prevalent. There wasn't a single Saturday where I would be in the barbershop and not hear this song. This performance at Reggae Sunsplash is hands-down one of my favourite live performances of all time. The riddim is imprinted deeply into every single musician's soul. And you can hear that the groove is locked and they are transcending. I don't have many regrets, but I do wish I took up that genie's offer for a time machine so I could go back and watch this show live.
"House of Woodcock" from Phantom Thread (2017)
In my opinion, Paul Thomas Anderson is more of a producer than he is a filmmaker. His uncanny ability to pull the best actors and musicians together to create these incredible films is Quincy Jonesian. The delicate melodies reminiscent of Erik Satie and the sweeping romantic strings only cause me to picture myself falling boundlessly through a waterfall of rose petals, deep into the dizzying embrace of love and romance. Love is tricky, love is kind, love is painful, love is beautiful. Love is all things, and this song, in it's movements, reflects between confusion/frustration and love/ecstasy. Or, something like that…
"Holiday" - Turnstile
I don't care where in the world, I'm going to always go out hard for Black people playing hardcore. Turnstile is catnip for any elder millennial who spent time on a skateboard with a MiniDisc full of "bands from DC" style mixtapes. This song really inspired me to try and work towards more dynamic shifts in my music and production. In many ways, it was far too late for me to integrate some of these ideas into my own work on my upcoming project, but I was shifted and turned upside down by what Turnstile was able to do with a sound we all thought we wouldn't hear again.