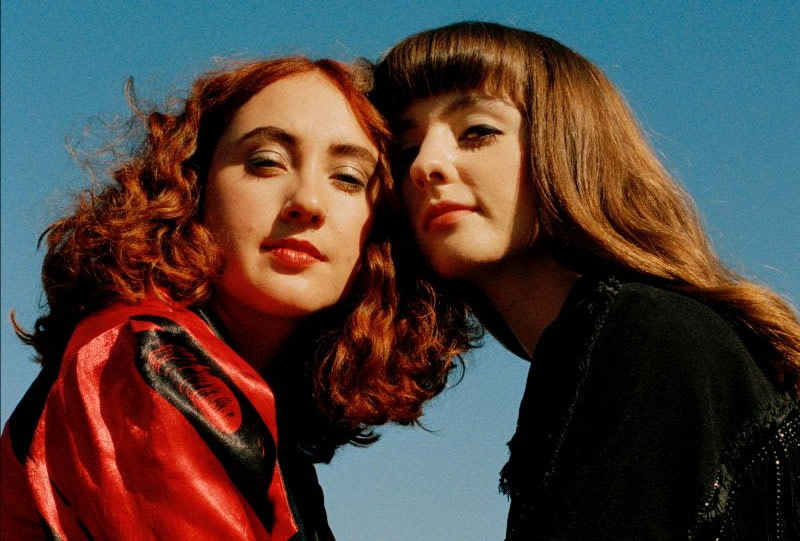 Friendship has been the North Star for Let's Eat Grandma since Jenny Hollingworth and Rosa Walton began releasing music in 2016, though its light has been brighter at some points than others. Their debut album I, Gemini was a mix of pastoral folk and electronic pop influences that sounded precisely as it was: the childlike product of two teenagers left to their own devices and inviting you in on a secret. Coming off the back of their second album, 2018's I'm All Ears, however, things had drifted somewhat. Without a major fall-out or fight to point to, the dynamic had fundamentally altered for reasons neither could explain. "We had so many conversations," Rosa says now of their rocky period. "[But] it's just that we couldn't get to the bottom of it." Jenny, clarifying, adds: "We just both assumed that the other one was mad at us for specific things that they hadn't even said they were annoyed about. It was all based on our insecurities."
To top it off, the pair were fighting to be taken on their own terms and expressed their frustrations within their music. "Hot Pink," one of two songs on I'm All Ears produced by the late SOPHIE, was another idiosyncratic step forward for the pair. "I'm just an object of disdain to you," they sang on that spiky lead single. "I'm only 17, I don't know what you mean." Once happily oblivious, they were now acutely aware of the gaze greeting their every move.
Suddenly, it was unclear if the sympatico relationship which sparked the magic behind the first two albums would return. It's much easier to maintain a best friendship when you're young. They're there for every school class, house party, and endless summer holiday because, well, what else are you doing? Adulthood, is far less accommodating. After the release of I'm All Ears, the two bandmates found themselves living in separate locations for the first time: Walton moved to London and Hollingworth stayed in her native Norwich, a distance of 120 miles. Around the same time, Hollingworth lost her boyfriend, fellow musician Billy Clayton, who passed away in 2019 from a rare form of bone cancer. Instead of being together during pivotal moments in their respective lives, Let's Eat Grandma were apart and struggling to re-discover the deep connection they had once taken for granted.
All of this; love, loss, new beginnings, bittersweet realizations, and the enduring power of platonic intimacy, is felt in Two Ribbons, the pair's third album. They wrote separately for the first time, presenting songs that expressed their feelings like news reports from the other side. For Walton this was chiefly how the move to London was not all she had dreamed about, instead discovering the city to be an isolating and lonely place. She had recently split from a long-term boyfriend and was exploring her bisexuality. This rush of feelings is felt in the glittering synth-pop jam "Hall Of Mirrors" ("There wasn't a girl that had made me shy until you… somebody tell me how I'm going to work this out?"), one of the many Two Ribbons songs that marry confused emotional states with piercingly sharp pop smarts. The death of Clayton also runs through "Watching You Go," a tender vow to make the most of life that barely masks Hollingworth's rage at losing someone so young.
Two Ribbons is an album that acknowledges friendship as a union between two individuals, not necessarily an entity in itself. Naturally, the return to that early closeness is where the album explodes with a kind of euphoria that lingers longest in the memory. At one point in "Happy New Year," Walton sings "I've been thinking quite a lot about how I want the old us back" before adding "It's okay. Say what you wanna say / Now we've grown in different ways." Speaking to The FADER earlier this week, Let's Eat Grandma talked about those respective changes, as well as how they got their telepathic friendship back on track and what they learned along the way.

THE FADER: There's a real sense of overwhelming emotion on Two Ribbons. Nothing is understated at any point. Was that rush something you felt was essential to the sound of the album?
Rosa Walton: I think that's quite a signature part of our sound, mainly because we're both very emotional people. We've always tried to put the vast scope of different emotions that you can feel into our music.
Jenny Hollingworth: Given the subject matter of the record, it being about grief and loss with different relationship changes, makes you feel closer to life in a lot of ways. The record deals with that a lot. There's a real vitality that comes from thinking about death, they're tied together for me. Realizing that life is fragile makes it more beautiful and exciting.
One message to take away from this album is that change isn't something to be feared, but rather to be embraced…
RW: That is something I have always struggled with, especially in relationships. The idea that it's not going to be the same as it was. That's the saddest thing to me. We've both talked about different stuff on this record but we're both at a point where that sort of thing comes up. Writing about it is one of the only ways I can process it and do something with those feelings.
JH: It's a mix of changes where it's been really difficult to go through but there's things to take from it and then other changes where you're still looking for the answers.
It's not a record that offers any easy answers, is it? It makes it feel more human, I think. Have you been able to find any of the answers you were looking for since you finished making the album?
RW: There's definitely been some acceptance on my part of things I have written about. I feel less in that really tense emotion now and have been able to detach myself from those feelings somewhat.
JH: Acceptance is a key word there. I'm never going to have the answers to something like losing someone so young, it's never going to make sense to me. Acceptance doesn't mean that it doesn't upset me or make me angry but it's acknowledging that it's an ongoing thing. That is what a lot of the album is about; it's about one of us looking for an answer and the other telling them that there isn't one.
There's a lyric on "Insect Loop" on the album, "Have we lost sight of the same light?," that Jenny sings. Was that perhaps where the distance between you started; that you both had different focuses and were no longer each other's priority?
JH: I think so, yeah. Life is about hope and how dire the situation was in our lives we lost sight of each other and what we were aiming towards.
RW: That lyric could be taken two ways. There's also the suggestion that we're both looking at the same light but we just can't see it. That's the way that I had interpreted it.
Rosa, was this album the first time you had felt ready to write about your sexuality?
RW: I don't think I could have written about it on the first two albums, no. It's something I spent so much time thinking about but I needed so much time to process it before talking about it to my friends or family, let alone putting it out to an audience. It's not something I struggle with but there are difficulties around it but when I was writing about it I wanted to make sure it was in a mainly positive sense but also maintaining that truth, which is very complex. It includes a lot of feelings of shame and guilt on my part as well as being a really exciting discovery.
There's quite a lot of anger that makes its way onto "Watching You Go." Could you talk a bit about where those feelings were coming from when you wrote the song, Jenny?
JH: I think rage is one of the more overlooked parts of grieving. I personally feel that the anger I felt over Billy dying was very visceral, it was never anything specific. Even though this doesn't make sense, I felt abandoned in some way. You know it was nobody's decision, just a reaction to pain. That was one of the things I struggled with because anger is seen as a toxic emotion. I took a lot of the anger out on myself and dealt with a lot of self-hatred because I had all this anger and nowhere to put it. You feel ashamed for having these emotions. I remember thinking I was crazy because I was so angry all the time. That song, musically, hasn't got any kind of release. That was how I was feeling, too. I couldn't express myself and felt like I had no escape.
I wanted to end by asking about another sad loss, SOPHIE, who passed away last year. What was it like working with SOPHIE and how do you feel about the loss at this point in time?
RW: Working with SOPHIE was so empowering. We wrotewoite "Hot Pink" about the power of femininity and SOPHIE was such an inspiring collaborator. She was completely unafraid to do what she wanted to do at all times. In terms of production she was so innovative and I think writing pop music with her at that time really taught us a lot. The way that I think about music has been shaped and widened by that experience.
JH: She was a visionary, which feels like a general term to use, but she's one of the people we have met that sums that term up. Her vision of what it was possible to do with pop music was so inspiring. She had this combination of craft and a really expansive view of what music can achieve. Being around someone with no boundaries like that was really profound. The power she had as an artistic voice and what she communicated through her songs plus how many people that touched… It's an incredible legacy.