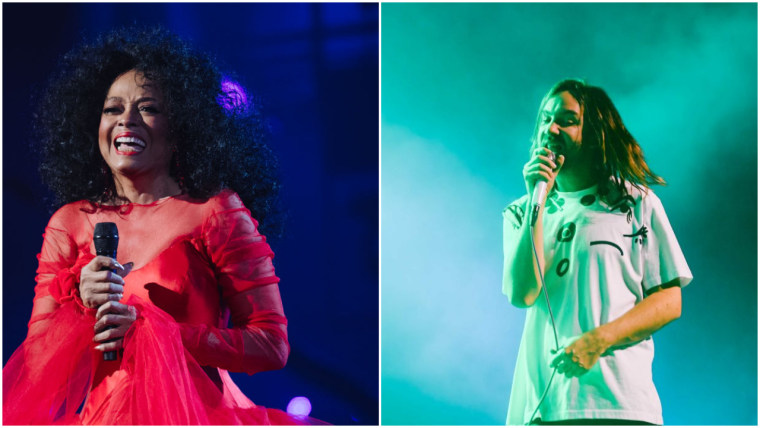 Animated movies ostensibly aimed at kids are often sold with the promise that there will be some good jokes for the parents smuggled in along the way. The makers of Minions appear to be taking things up a notch by creating a blockbuster soundtrack filled with covers from artists such as Phoebe Bridgers and Caroline Polachek, as well as a collaboration between Diana Ross and Tame Impala. The three year olds might not care but the 37 year olds sitting next to them? They are going to love it.
For those not prepped in the Despicable Me lore, Minions: The Rise of Gru is a '70s set story of young Gru as he tries to join a group of supervillains called the Vicious 6. His application goes wrong, however, leaving Gru and his Minions with no choice but to go on the run with the bad guys chasing after them. And the soundtrack to all of this? Jack Antonoff, of course.
Antonoff is at the helm of the Rise of Gru and has appeared to corral a who's-who of talent to cover tracks from the '70s to go along with the animated adventure. This includes the now-on-hiatus BROCKHAMPTON taking on Kool & The Gang's "Hollywood Swinging," Caroline Polachek tackling "Bang Bang" by Nancy Sinatra, and Phoebe Bridgers picking up The Carpenters' "Goodbye To Love."
The rest of the tracklist, see in full below, is equally as impressive, featuring contributions from St. Vincent, RZA, Kali Uchis, Weyes Blood, Thundercat, and Tierra Whack among others. Tame Impala and Diana Ross offer up the soundtrack's one original song, a collaboration titled "Turn Up The Sunshine."
The soundtrack is available to stream and purchase from July 1 via Decca, the same date the movie opens in theaters.
Minions: The Rise of Gru
Diana Ross featuring Tame Impala, "Turn Up The Sunshine"
Brittany Howard featuring Verdine White, "Shining Star" (Earth, Wind & Fire)
St. Vincent, "Funkytown" (Lipps Inc.)
BROCKHAMPTON, "Hollywood Swinging" (Kool & The Gang)
Kali Uchis, "Desafinado" (Stan Getz & Joao Gilberto)
Caroline Polachek, "Bang Bang" (Nancy Sinatra)
Thundercat, "Fly Like an Eagle" (Steve Miller Band)
Phoebe Bridgers, "Goodbye To Love" (The Carpenters)
Bleachers, "Instant Karma!" (John Lennon)
Weyes Blood, "You're No Good" (Linda Ronstadt)
Gary Clark Jr., "Vehicle" (The Ides of March)
H.E.R., "Dance to the Music" (Sly and The Family Stone)
Tierra Whack, "Black Magic Woman" (Santana)
Verdine White, "Cool"
Jackson Wang, "Born To Be Alive" (Patrick Hernandez)
The Minions, "Cecilia" (Simon & Garfunkel)
G.E.M., "Bang Bang" (Nancy Sinatra)
RZA, "Kung Fu Suite"
Heitor Pereira, "Minions: The Rise of Gru Score Suite"