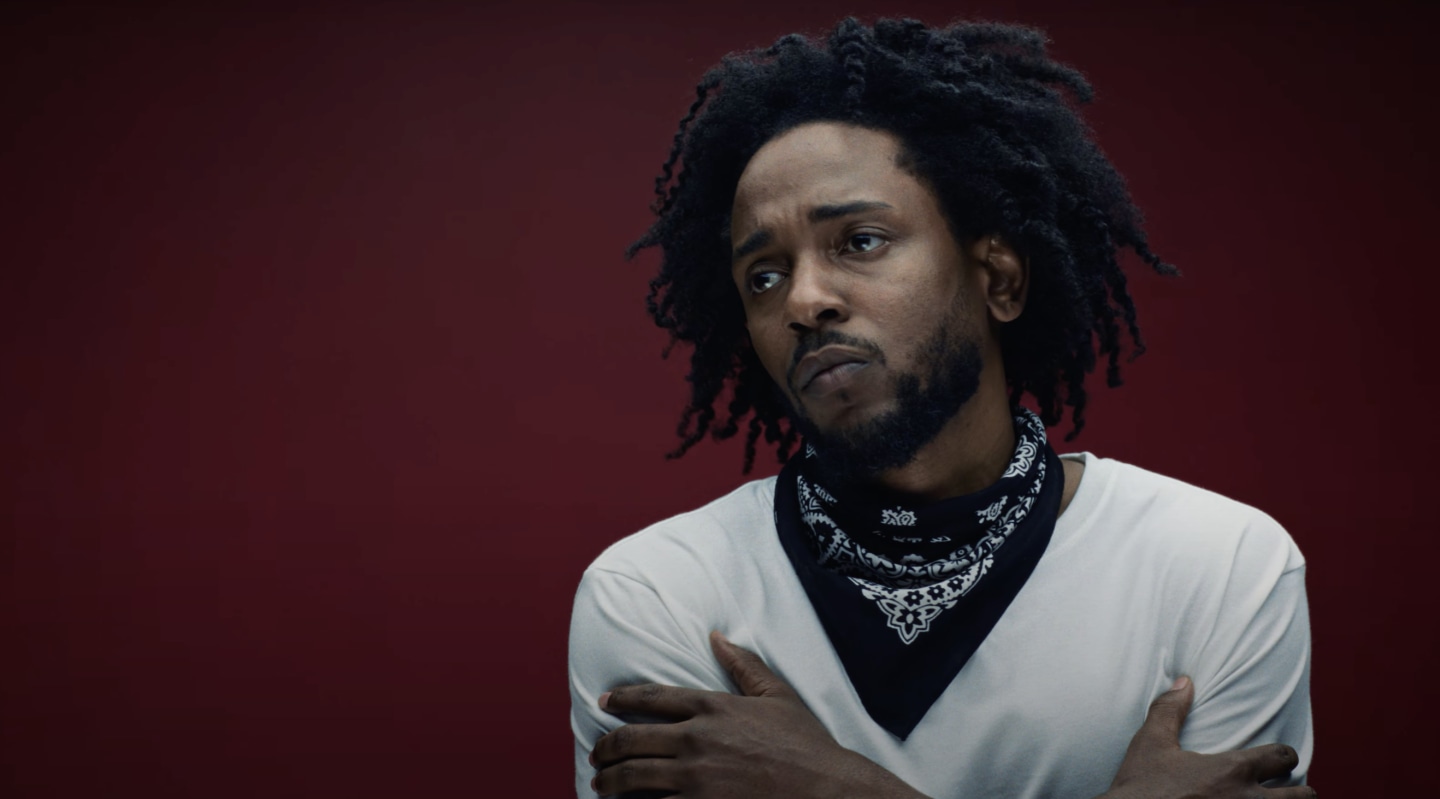 Kendrick Lamar isn't like other rappers. Let every other artist competing for rap's throne jockey for position via social media campaigns, mixtapes, cheap co-branding, and market-tested singles: King Kunta floats above it all like a hip-hop mystic, descending from his mountain a couple of times a decade to bless the masses with scripture. It's not that he won't tie a single to the NBA Finals or drop a quick EP of leftovers to keep the fans fed — it's that even these pragmatic moves have a weight to them. The man can try to bring 'top of the morning' back into popular parlance, rap in a Hulk Hogan voice, and midwife an entire Baby Keem project, but cultural commentators will still dissect every bar for hidden meanings and impact on the discourse.
"The Heart Part 5," the latest entry in Kendrick's series of pre-album, state-of-the-union mission statements, leans into the near messianic fervor that surrounds his music, while subtly deconstructing it. Built on a sleek, modern reconstruction of Marvin Gaye's "I Want You" by duo Beach Noise, the track is, above all, red meat for rap fans — a torrent of rapid-fire rhyming meant to remind everyone from Black Twitter to academia to hoods worldwide that Kendrick is the best rapper alive. It's also an indictment of the toxicity fueling contemporary culture, and a letter from one great Angelo rapper to another. None of this is new territory for Kendrick, but it remains an extremely potent brew, as no other artist, from the deepest underground emcee to the flightiest major label plant, has been able to match his combination of fiery bars, meaningful commentary, and spiritual energy.
The Marvin Gaye connection is key, tying Kendrick's music to that of previous generational talents that once anointed themselves as voices of the people. Like Marvin, Stevie, or Prince, the name Kendrick is now a shorthand for Black excellence, a responsibility that once threatened to derail him as he made To Pimp A Butterfly, but one that he now carries with humility and grace. Few rappers have done well when burdened with such expectations: Nas ran away from them after Illmatic, 2Pac was murdered living up to them, and Jay-Z cannily channeled them towards lucrative ends while losing popular support. Kendrick avoids these pitfalls by making himself scarce, with a release schedule closer to fellow left-of-center icons like Q-Tip or André 3000. But whereas their minimalist output over the past two decades implies a lack of urgency, Kendrick's feels like a dedication to craft. If we have to wait a half-decade between albums, well, that's the time classics take.
None of which makes "The Heart Part 5" an obvious move. It's one thing to sample a beloved soul staple like "I Want You"; it's another thing entirely to lift the song's groove and hook to then use them for an extended meditation on Black culture and one's position within it. A record collection of boomer classics and a desire to say something do not an icon make. At first glance, on paper, "The Heart…" might even read as preachy, with Kendrick's attacks on the culture smelling faintly of the moralism that occasionally turns the odd detractor off from his music. Put it all together, however — the beat, the words, Kendrick's cadence, and intonation — and the song quickly becomes more than the sum of its parts, a scathing indictment of the systems and mechanisms that keep America's Black population at the mercy of circumstance. Infidelity, incarceration, gun violence, poverty – Kendrick refuses to accept these facets of life as an inevitable part of the culture, all without blaming people he knows are victims of forces beyond their control.
"The Heart Part 5" was meant to create a buzz, and it accomplishes this mission flawlessly, inviting commentary and analysis from rap nerds, pop culture prognosticators, and credentialed eggheads in equal measure.
By "The Heart"'s second and third verses, Kendrick's true subject comes into focus, and the song reveals itself to be a letter to the late great Nipsey Hussle, one of a cohort of Black artists senselessly murdered over the past several years. This shift towards the personal, first as words directed towards Nipsey and then as a missive spit from his perspective in the afterlife, instantly ups the ante. No longer criticism from an aloof superstar, Kendrick's worry, grief, and regret take center stage as he works through the difficult reality that Nipsey passed away from gun violence giving back to his hometown, while Kendrick himself was thousands of miles away performing in Argentina. Suddenly, Kendrick rapping once every four years while keeping out of the public eye seems less like the eccentric quirk of a rarified artist, and more of a defense mechanism against a culture that would see him dead, no matter how beloved he might be.
If the song serves as a virtuoso display of verbal gymnastics and self-reflection, the video… doesn't quite stick the landing. A single shot performance against a burgundy backdrop, the visual uses deepfake technology to morph Kendrick's features into approximations of O.J. Simpson, Kanye West, Jussie Smollett, Will Smith, Kobe Bryant, and finally Nipsey Hussle. It's a neat trick, but it only serves to cheapen Kendrick's words by tethering them to the plights of Black celebrity and the disposable, fly-by-night news cycle. "Hurt people hurt people" has a certain Zen profundity, but it loses that depth once you tie it to Will Smith's Oscar slap. Granted, "The Heart" series has never been about long-term staying power, with every song serving as a snapshot of Kendrick's mind state in the current moment ahead of albums the artist knows will be scrutinized for decades to come, but it does call into question whether the rapper's post-TDE venture, the cryptic media firm pgLang, can serve as more than a vehicle for future Kendrick albums.
Not that it matters: "The Heart Part 5" was meant to create a buzz, and it accomplishes this mission flawlessly, inviting commentary and analysis from rap nerds, pop culture prognosticators, and credentialed eggheads in equal measure. In an era when hip-hop is simultaneously a subculture, Black culture writ large, and mass pop culture, Kendrick Lamar is the sole emcee who commands the attention of all listeners, a nearly impossible feat in the era of Twitter teardowns and the problematic fave. We probably won't listen to "The Heart Part 5" come Friday, certainly not if the forthcoming Mr. Morale & The Big Steppers turns out to be a double album's worth of classics to dissect. But until then, it's a potent reminder that this is Kendrick Lamar's universe, and the rest of the rap industry is just orbiting around him.