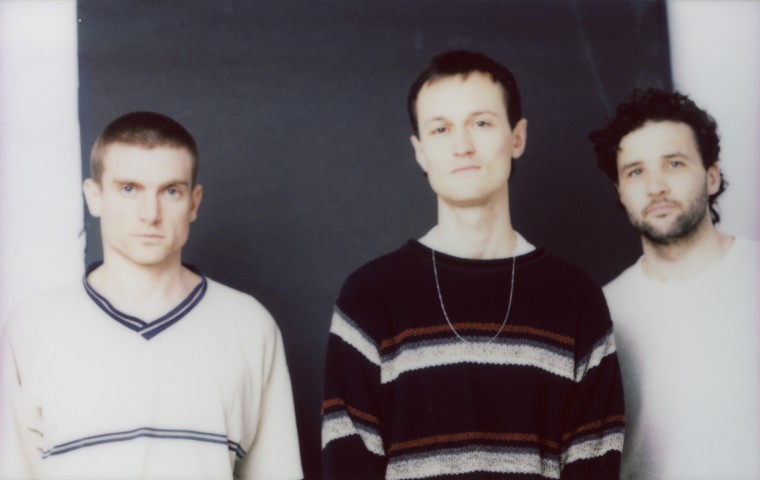 Describing the taste of a glass of Coca-Cola is a surprisingly tricky affair. Sure, it's sweet, fizzy, and refreshing, but try to pick out specific flavors or ingredients and you soon run into a descriptive dead end. This is chiefly because there are no obvious source materials; there's no Cola tree or a Cola bird flying through the sky. Nobody has ever caught a whiff of the breeze and thought, "Mmm, Cola." It's a delicious but utterly artifical product.
Sharing a band name with it, then, asks some interesting questions. Especially for one with such easily identified roots as Tim Darcy, Ben Stidworthy and drummer Evan Cartwright. Darcy and Stidworthy spent the past decade as members of Ought, the sprawling and poetic Montreal post-punk band whose new-wave indebted songs jutted in awkward yet appealing shapes across three studio albums before they called it quits in 2018. Cartwright, meanwhile, has played in bands including U.S. Girls and The Weather Station. The trio formed Cola in 2019 and this week, May 20, release debut album Deep In View. It's an album filled with dystopian visions and the kind of paranoia that comes with spending your life doomscrolling 24/7. And yet, this bleak outlook is undercut by some of the strongest, and sweetest, melodic work across the members' collective back catalogs. Spend a little time in Cola's world and the name begins to sharpen into view: very few bands currently operating are able to capture the mass content era, specifically the way in which it leaves you feeling bloated but somehow empty, than they do.
In the run-up to the album release Cola are premiering album highlight "Fulton Park," a twitchy pop nugget with a bouncing rhythm that gives way to Darcy's surreal recollection of being "pulled over for imitating landscapes." The song is brief but lush almost, Stidworthy's almost psychedelic guitars rubbing up against a honky tonk-style verse. Speaking to The FADER, Darcy explained that the song "conjured in my mind this kind of old west imagery. I suppose looking back on the lyrics now, that same kind of juxtaposition is present. It takes a look at the natural world and then the odd, magical, sometimes empty things that humans do on that landscape."
Check out the song below and read on for a Q+A with Tim Darcy in which he discusses the band's origins, shares some reading recommendations, and some reasons to be positive, too.
THE FADER: What does the timeline of Cola look like? Did plans start before Ought ended? Or was there a gap in between? If so, what convinced you to carry on?
Darcy: Ought broke up in 2018 with a few major tours left to finish. It wasn't an implosion but a quiet ending and we played some great shows to end the run of that project. I didn't know exactly what was on the other side and I spent a lot of time writing in various modes. I definitely had a batch of songs that I felt belonged to a new band project so when Ben reached out to me in the summer of 2019 to talk music it was a pretty organic jump to talk about playing together. We immediately thought of Evan, a friend and incredible musician, as someone we wanted to jam with.
What kind of creative challenges did you come up against when writing Deep In View?
Because we intentionally began with no expectations beyond the pleasure of playing together, we did some navigating of different sound worlds. We would get caught up in trying out different tones etc before we landed on the DNA of what the band was going to be. The process of taking the song ideas that Ben and I were writing and then playing with Evan got more and more productive as we went on and honed our chemistry playing together.
The band's name is, in part, an acronym for Cost of Living Adjustment. There are also allusions to global politics on the album including the ever present threat of war that have only become more timely since they were written. Does it feel like you're releasing the album at precisely the right time?
I mean, the themes and questions present on the record aren't new. I found myself writing about technology a lot on this album. I'm having trouble identifying a lyric that could be about war per se beyond "peace will come/out in the wash" but of course the lyrics are there to be interpreted. As always with my lyric writing there is a good dose of considering fairly essential human experience stuff. "Mint" for example is a song about solitude and "At Pace" is about getting back into an old passion after going through a slump, among other things. With "Met Resistance," I was writing about gallery culture and how bloated and ridiculous it is, with ideas pulled from talking with friends who are visual artists. So all to say, there are many things being considered on the record and yes it was written in 2020/21 so that's the vein the pulse is taken on.
What are the key messages and ideas you hoped to translate in the album?
I think ultimately I hope people feel less alone or that they've maybe encountered an exciting cathartic presentation of something that's been freaking them out reading the news or just in their day to day existence. I hope people smoke and skateboard to some of the songs or paint a weird portrait or just feel like they're okay where they're at and that they can work from there.
There's always been a strong literary influence to your work. Which books would you include on a list to accompany the album?
I've been enjoying the poetry of Bob Hicok recently, specifically This Clumsy Living. I read quite a bit during the pandemic: The journals of Leonard Cohen gave me comfort and inspiration thinking about isolation when we were in lockdown. A Sand Book by Ariana Reines turned me on in a way that contemporary poetry doesn't always do. I finally read Savage Detectives by Roberto Bolaño and was blown away by how fractured the narrative was and yet how intimate it felt.
Dystopian ideas run through Deep In View, for obvious reasons. What, if anything, makes you feel positive about the world in 2022?
I mean it's gotta be people, right? There are so many amazing people making stuff and giving a shit and in 2022 I see people, including myself, are trying to be kinder and more conscientious and be OK with the idea that they don't know everything or need to listen to someone else who hasn't had a chance to speak. We have a long way to go but I'd like to believe I recognize a shift in that way. In the music world, I feel positively about Bandcamp and the amount of incredible music that is coming out all the time. Friends, LP reissues, food, dogs, getting to play shows again. These are good things.
Cola Tour Dates:
6/18 - Montreal, QC @ Suoni il Popolo Fest
6/20 - Winooski, VT @ Monkey House
6/21 - Providence, RI @ AS220s
6/22 - Kingston, NY @ Tubby's
6/23 - Brooklyn, NY @ Baby's All Right
624 - Philadelphia, PA @ Kung Fu Necktie
6/25 - Washington, DC @ DC9
6/27 - Carrboro, NC @ Cat's Cradle (Back Room)
6/28 - Atlanta, GA @ The Earl
6/29 - Nashville, TN @ DRKMTTR
7/1 - Dallas, TX @ Ruins
7/2 - Austin, TX @ The Parish
7/5 - Phoenix, AZ @ The Rebel Lounge
7/6 - San Diego, CA @ Soda Bar
7/7 - Los Angeles, CA @ The Echo
7/8 - San Francisco, CA @ Rickshaw Stop
7/10 - Portland, OR @ Mississippi Studios
7/11 - Vancouver, BC @ The Biltmore
7/12 - Seattle, WA @ Tractor Tavern
7/14 - Boise, ID @ Neurolux
7/16 - Denver, CO @ Hi-Dive
7/18 - Omaha, NE @ Slowdown
7/19 - Minneapolis, MN @ 7th St. Entry
7/20 - Milwaukee, WI @ Cactus Club
7/22 - Detroit, MI @ Magic Bag
7/23 - Toronto, ON @ Baby G
8/20 - Crickhowell, UK @ Green Man Festival
8/23 - Brighton, UK @ Prince Albert
8/24 - London, UK @ Moth Club
8/25 - Birmingham, UK @ Hare & Hounds
8/26 - Bristol, UK @ Rough Trade Bristol
8/27 - Birkenhead, UK @ Future Yard
8/28 - Sunderland, UK @ Pop Recs Ltd.
8/30 - Edinburgh, UK @ Sneaky Pete's
8/31 - Glasgow, UK @ Broadcast
9/1 - Leeds, UK @ Brudenell Social Club
9/2 - Nottingham, UK @ Rough Trade
9/3 - Manchester, UK @ Manchester Psych Fest (Yes)
9/4 - Salisbury, UK @ End of the Road Festival