Blackhaine recruits Blood Orange and Iceboy Violet on "Prayer"
Listen to the latest cut from the U.K. artist's Armour II EP.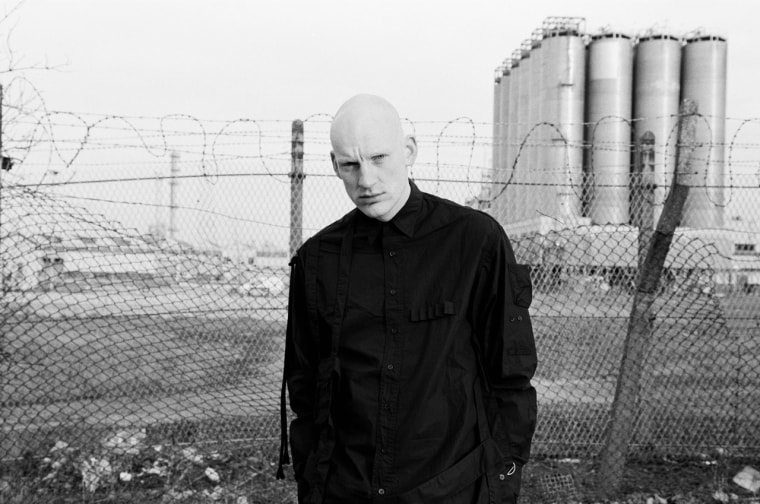 The most striking thing about the music made by Blackhaine is the intensity. There's an unrelentingly tough edge to all that 25-year-old Brit Tom Heyes creates, with Blackhaine existing across disciplinary lines at the cross-section of drill, underground electronic music, and contemporary dance.
Working together with fellow producer Rainy Miller, Heyes began to tell the story of Blackhaine on 2020 EP Armour and continued on last year's And Salford Falls Apart. A follow-up, Armour II due on June 10. The narrative, one of paranoia in a country that fails its people and the realisation that dreams are little more than fantasy, can be overwhelming. There is a beauty to the way Heyes channels his angst, though, as captured on new song "Prayer." The track features fellow northerner Iceboy Violet and Blood Orange, a.k.a. Dev Hynes. Friends old and new connect somewhere between the backroads of Heyes' native Salford and a higher plane as he fires off bars from the edge of hope, clasping hands together and hoping for divine intervention. Iceboy Violet and Blood Orange both cut through with melodic balance, bringing an apt choral quality to the plea.
Check out the "Prayer" video below and read on for a Q+A with Heyes about his upcoming project.
The FADER: What does "Prayer" mean to you and what were you hoping to communicate with the song?
Blackhaine: It's about building the guilt you carry into some form of negative faith. There's ideas of loss in there which often is a companion to guilt.
"Prayer" will feature on your upcoming EP Armour II. In what ways are you moving the storyline of your two previous projects with this release?
Armour II continues from And Salford Falls Apart. There's a narrative connect that I don't believe in being open about, but is clear if you listen to the projects close to each other.
What have you learned from previous EPs that you have put into Armour II?
Armour II has focus on curation and production alongside the narrative. I wanted to add more voices to build upon this for Armour II. I created Armour II with Rainy whilst building a live show, we performed early ideas of tracks like "Pavements" at Berlin Atonal with Space Afrika, then at the Blackhaine headline in London and the live reaction from the audience has informed the creative processes.
What is the long-term ambition for Blackhaine? Do you have a creative goal or target in mind for the near future?
The death of blackhaine.