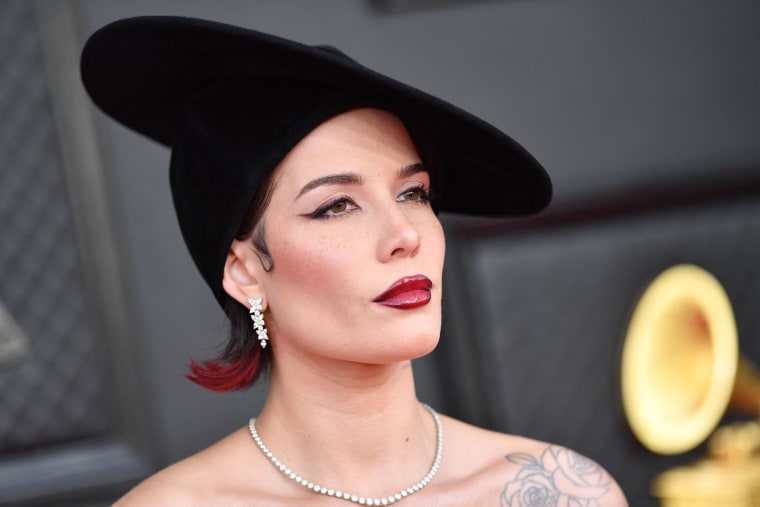 You'll occasionally see tweets from artists half-jokingly saying they're waiting to go viral on TikTok so they can live off their music. But Halsey showed that it's not just indie artists who are expected to have their songs become massive hits on the platform to make their label happy.
Over the weekend, Halsey posted a TikTok featuring an audio clip of a yet-to-be-released track with text that reads, "Basically I have a song that I love that I wanna release ASAP but my label won't let me. I've been in this industry for 8 years and I've sold over 165 million records, and my record company is saying that I can't release it unless they can fake a viral moment on TikTok. Everything is marketing. And they are doing this to basically every artist these days. I just wanna release music, man. And I deserve better tbh. I'm tired."
Then, as proof, they uploaded a second TikTok featuring a conversation with a label exec from Capitol Records about the plan for the song rollout. "I just hate this," says a blatantly annoyed Halsey.
The label got what it wanted: Halsey's TikTok went viral. But in a series of tweets, Halsey noted that though this video achieved what they were asked, the viral moment didn't fit the label's arbitrary requirements.
"Talked to my label tonight after my TikTok tantrum," Halsey wrote. "They said 'wow the TikTok is going really strong!' I was like ok cool so can I release my song now? They said 'we'll see!' 🙃 tell me again how I'm making this up." They added, "At this point I don't know what to do because I told the truth about what's happening and now I STILL don't have a release date AND some of you think I'm lying about this whole fiasco. So I'm double fucked lol. If you have questions, I have answers. I have nothing to hide."
When a fan asked what to do to help, Halsey responded, "Honestly idk the TikTok is already viral + I still don't have a release date. I would say just do what you guys normally are amazing at doing when I announce a song (under better circumstances). They haven't given me a date and I wanna release it ASAP so that's really the hold up."
Halsey clarified the situation further, writing, "It's not about making the TikToks I already make Tiktoks! They are saying if they don't reach some imaginary goalpost of views or virality than [sic] they won't give me a release date at all. I'm not claiming to be oppressed! just saying that all not all marketing methods are universal."
After Halsey's TikTok gained attention, other artists took to TikTok to corroborate on this issue. In a now-deleted TikTok, FKA twigs wrote, "It's true all the record labels ask for are TikToks and I got told off today for not making enough effort." Florence Welch also recently uploaded a TikTok captioned "The label are begging me for 'low fi tik toks [sic] so here you go. pls send help."
Charli XCX had also posted a TikTok that said, "When the label asks me to make my 8th TikTok of the week," but later admitted on Twitter that she was "lying for fun."