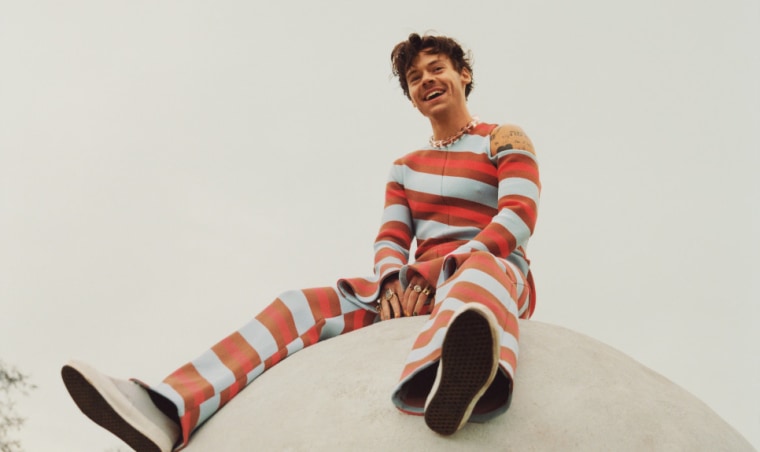 Harry Styles has never been one for torturously drawn out album releases. Each of his three solo album eras have launched with a single shared no more than two months before the project itself was due for arrival. But four weeks ahead of his third studio album, Harry's House, led by the chart-topper "As It Was," someone got impatient. In the late hours of the night, the album surfaced online via Google Drive and Dropbox links spread around Twitter like contraband. Back in the early 2010s, album leak night was one of the most hotly anticipated events in the One Direction fandom. It was never clear exactly when it was coming, but year after year, album after album, the tracks would somehow make their way to Tumblr and Twitter weeks ahead of physical copies hitting the shelves. Only few exhibited hesitance towards listening early — maybe the rest of us didn't view it as the creative intrusion that it was because the music rarely, if ever, felt like a personal offering from the band.
But with Harry's House, it didn't feel right to cross that same line so many of us were used to sprinting past without a second thought. Two-and-a-half years had passed since its predecessor, Fine Line, was released, another four weeks of waiting wouldn't be too unbearable. Luckily, when the project leaked, it trickled out with a few non-album distractions. There were a few of Styles' One Direction-era demos, too – the youth in his voice placing some of them as early as just before the band's 2013 album Midnight Memories. There were discarded options from his 2017 solo debut, too. Each unfinished record flashed back to the a young artist exploring of how far he could, or should, go in terms of brashness and vulnerability — one learning to translate complex and confusing emotions into song with a guarded hesitancy that ultimately kept them locked away.
Styles has admitted that even when he listens back to his debut, he can hear all of the moments on the album where he was holding himself back. For the first time in his career, he was only responsible for communicating his own perspective. And yet there was still a looming shadow of expectation and opinion about how it should look and sound that told him there was a right or wrong way to do so. On Harry Styles, he used pensive rock anthems and brooding ballads to campaign for post-boyband respect like a "for your consideration" ad. Earlier this year, Styles told Better Homes and Gardens that he found himself overcompensating for those moments of hesitation on 2019 solo effort Fine Line, where the tracklist was stacked with grandiose pop hits pumped full of arena-ready production.
Styles was still largely making music for himself. At the time, it was the most he had ever pulled the curtains back without hiding behind them. But the over-consideration for how it would translate, or how it should be packaged, was a heavier weight to shed than he may have realized. It's a cliché that every Styles album is his most personal yet, or his most intimate. But that label being assigned to consecutive projects doesn't make it not true. At that moment, that may be as far as he's willing to go — especially for a young soloist whose musical identity was merged with four others. On Harry's House, Styles reaches new heights on the mountain he's been climbing for the better part of a decade.
At last, he's embraced the notion that the act of making an album is allowed to be purely selfish. In fact, it can almost always be self-serving, egomaniacal and fantastical — something the rest of us are lucky to have a chance to observe. Styles' graceful stumbles and natural blossoming over the course of three studio records is a testament to what it means for an artist to learn to make music for themselves. "Finally, it doesn't feel like my life is over if this album isn't a commercial success," he told Better Homes and Gardens. He set the tone of the record with "As It Was," an end to a futile fight against everything he can't control. On cuts like "Keep Driving," he grabs the reins of what he can, choosing to keep going even as things begin to fall apart. At its core, Harry's House is an album that invites you in rather than coming to you.
Throughout the record, Styles finds new ways to instrumentalize his voice beyond traditional melodic and harmonic structures. He fits too many words into single lines on "Love Of My Life" and rattles off a stream-of-consciousness bridge about cyborgs and cocaine like a never-ending grocery list on "Keep Driving." On "Music For A Sushi Restaurant" and "Late Night Talking," the back-to-back opening disco bombardment, close collaborators Kid Harpoon and Tyler Johnson bring the funk with slick basslines and a stockpile of horns. Between intricately layered harmonic stacks and vocal distortions, Styles dances with, through, and around the instruments. He makes himself inescapable even when he makes himself small, like on the far-away-sounding "Grapejuice," where whispered count-offs linger until they're shaken off in the thrilling start of "As It Was." There's no strict pop formula to adhere to and he's never sounded better, or more present.
Whether delivering his own stories or those that have found their way into his orbit, Styles champions people's emotional complexities with an equal acceptance. On "Matilda," he encourages self-preservation without remorse, because why avoid being selfish when it's what everyone around you has been doing at your expense anyway? "I don't believe that time will change your mind," he sings on a shattering bridge. "In other words, I know they won't hurt you anymore / As long as you can let them go." Along with "Satellite" and "Little Freak," a chunk of the album places Styles' past and present tangos with other people's boundaries under a microscope, showcasing his complicated relationship with loneliness and how crowded it can be. On the latter, he ruminates: "I'm not worried about where you are / Or who you will go home to / I'm just thinkin' about you." Elsewhere, on cuts like "Daylight" and "Cinema," the singer carousels through love languages with vivid metaphors and enthralling magnetism, always on the move.
Harry's House feels like an unquestioning acceptance of who Styles is when no one's watching — and not caring to make that person any different when millions are. It's the moments behind closed doors, together and alone. It's bare feet chilled on tiled kitchen floors, cups of tea forgotten in conversation, nights stumbling through the door, satin sheets, and skeletons poking out of closets. It's choosing the route back to the house with the most red lights and stop signs because the actual physical embodiment of home is sitting in the passenger seat, so what's the rush? The album feels like a healing companion to those rare Sunday afternoons and evenings that carry an air of optimism for the week ahead, rather than the usual atmosphere of worn-down melancholy and dread. It feels lived in and meticulously crafted.
In the past, each of Styles' albums have come with an assignment. On Harry Styles, it was to sing along, to find release and meaning within its ten segments. On Fine Line, it was to dance, wildly and freely, putting on a show while leaving trails of glitter everywhere. On Harry's House, the only true task is to keep up. In making this self-contained record, Styles is finally trusting his gut instinct, pulling an odd thread of curiosity without looking behind his shoulder to see if anyone is following him.