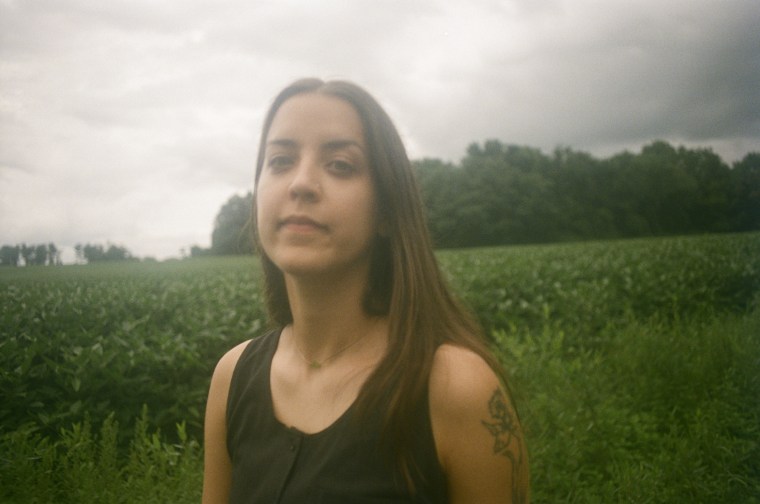 At the start of "Olive,NY," Katie Bejsiuk's hushed yet gently crushing new song, things are looking good. She and her partner are living the millenial dream of moving past a life of renting and maybe, possibly, owning their own home near the Hudson River. "There's a life that we could lead," she sings over delicately picked guitar notes. "Garden plots and chosen poverty." By the end, however, what seemed like a straight forward path has turned back on itself and Bejsiuk is "screaming at politicians" as the life her generation's parents took for granted slips from her grasp. The next move is no longer clear and "Olive, NY" captures that frustration with a tenderness that belies the rage that bubbles underneath.
"Olive, NY" will feature on Bejsiuk's upcoming debut album, The Woman on the Moon, out June 24 via Double Double Whammy. The song is premiering below, where you can also find the former Free Cake For Every Creature songwriter's upcoming live dates.
Speaking to The FADER about the song, Bejsiuk said via email: "In 2019 my partner and I moved from West Philly to upstate New York, partly with the intention to buy a cute little house and live out a pastoral fantasy. At the time, it was still possible to buy cheap property, but by the time we'd saved enough money, the pandemic had hit and housing prices had practically doubled. The song expresses my frustration with our process of trying to buy a house & also with the barriers to entry to 'The American Dream.'"
Live dates:
7/18 - Brooklyn, NY @ Baby's All Right
7/19 - Philadelphia, PA @ Johnny Brenda's
7/20 - Washington DC @ Comet Ping Pong