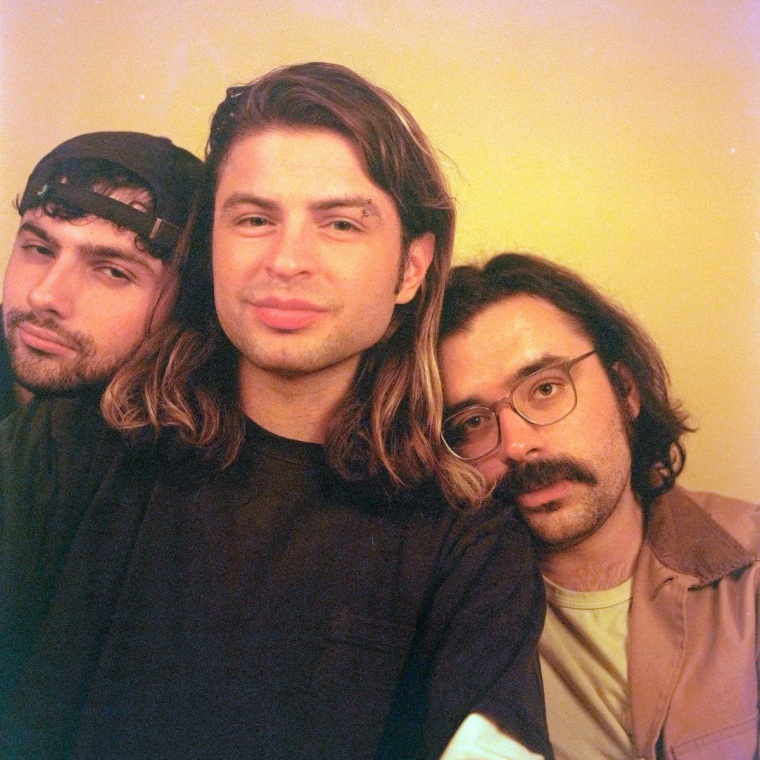 Boston three-piece Horse Jumper of Love have distinguished themselves from other post-Ovlov rock groups with a sincere brand of slowcore that feels less like an arm around the shoulder and more like an extended hand, offering to pick you back up. The band achieve this through dreamlike rather than didactic means; if frontman Dimitri Giannopoulos's presence is like a beacon, his light is like that of a firefly's, dancing in the music's shifting fog.
The songs from Natural Part, the group's upcoming third album, have showcased a reinvigorated Horse Jumper of Love. "I Poured Sugar In Your Shoes" and "The Natural Part" are love songs written on circuitous, more treacherous paths that make the arrivals at their respective destinations all the more satisfying. "Sitting on the Porch," out today, may be the most elusive single from the album yet.
The song's composition borrows a touch of post-punk angularity in the guitars and Giannopoulos's machine-press delivery of his free-associated lyrics. He ruminates on stardom, consumerism, and loneliness in a disjointed fashion that could have come from a character from Richard Linklater's Slacker. The group's engaging tendency to directly approach profundity only to veer away and achieve it from an unexpected direction is on display here: "Sitting on the porch at night," Giannopoulos sings, "I think of all the things I got / I think of all the food I threw away." Even at their most distracted, Horse Jumper of Love touch something truly human.
Natural Part is out June 17. Listen to "Sitting on the Porch" below, followed by Horse Jumper of Love's upcoming tour dates.
Horse Jumper of Love tour dates
July 7 – Richmond, VA – The Camel ~ !
July 8 – Carrboro, NC – Cat's Cradle Back Room ~ !
July 9 – Columbia, SC – New Brookland Tavern ~ !
July 10 – Atlanta, GA – Masquerade - Purgatory ~ !
July 11 – Birmingham, AL – Firehouse
July 12 – New Orleans, LA – Saturn Bar ~ !
July 13 – Denton, TX – Rubber Gloves ~ !
July 15 – Austin, TX – The Parish ~ !
July 16 – San Antonio, TX – Paper Tiger ~ !
July 18 – Phoenix, AZ – Rebel Lounge ~ +
July 19 – San Diego, CA – Soda Bar ~ +
July 21 – Los Angeles, CA – El Cid ~ +
July 22 – San Francisco, CA – Bottom of the Hill ~ +
July 23 – Sacramento, CA – Starlet Room ~ +
July 24 – Reno, NV – Holland Project ~ +
July 26 – Vancouver, BC – Fox Cabaret ~ !
July 28 – Portland, OR –@ Mississippi Studios ~ +
July 29 – Seattle, WA – Vera Project +
July 30 – Boise, ID – Neurolux +
August 1 – Denver, CO – Hi-Dive
August 3 – Kansas City, MO – Farewell Transmission % ^
August 4 – St Louis, MO – The Sinkhole % ^
August 5 – Chicago, IL – Beat Kitchen % ^
August 7 – Cleveland, OH – Mahall's % ^
August 9 – Toronto, ON – The Baby G % ^
August 10 – Montreal, QC – La Sala Rossa % ^
August 11 – Portland, ME – SPACE % ^
August 13 – Philadelphia, PA – Ukie Club
August 18 – Cambridge, MA – Sinclair
* w/ Indigo De Souza
~ w/ Strange Ranger
! w/ They Are Gutting A Body Of Water
+ w/ Cryogeyser
% w/ Babehoven
^ w/ Sadurn