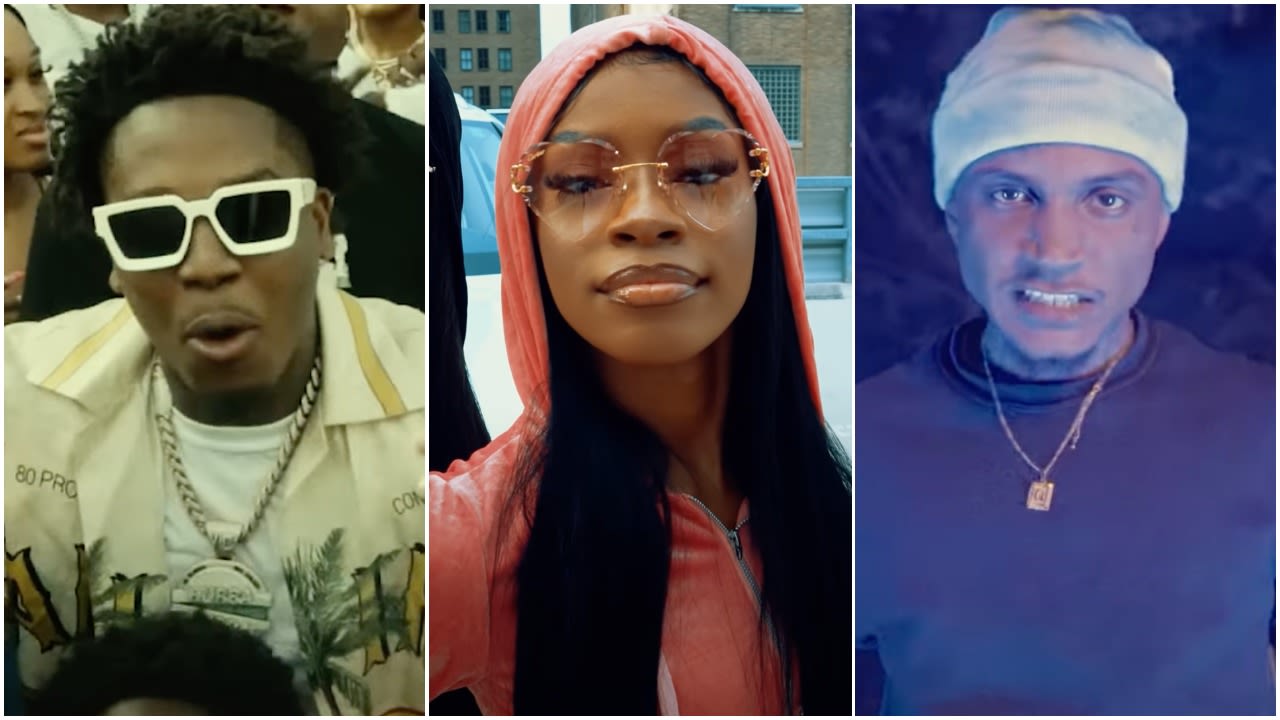 As expansive and forward-pushing as rap can be, it's equally, if not more, steeped in comfort and familiarity. Almost as quickly as trends are set, they become played out. Ones that stick are practically absorbed into the genre's DNA, stylistic origins blurred as they become pastiche. For better or worse, every flow, drumkit, vocal preset, or sound effect is liable to become just another piece of the toolkit for making a contemporary rap song.
Sometimes it sounds like rap has been preserved in amber since 2018; twangy guitars and weepy keys continue to play in a loop with no end in sight. "Sold Out Dates" was such an undeniable hit that Gunna and Lil Baby went back and did it again a few months later with "Drip Too Hard." (The latter peaked at No. 4 on the Hot 100 and has since been certified nine times platinum.) Last year, Polo G rode a maudlin ukulele loop from Einer Bankz to the top of the chart on "RAPSTAR." The year before that, DaBaby and Roddy Ricch did the same with the plucky "ROCKSTAR." It's clearly appealing to someone, so there's been no real reason to mess with a winning formula.
None of this is to say that there haven't been any new waves in rap since then. Look at the rise of drill raps on club beats taking over the Northeast (Bandmanrill, Zahsosaa), the narcotized flows of post-Drakeo the Ruler L.A. (Baby Stone Gorillas), or the sawtooth synths of rage (Yeat) and the sweetened sounds of '90s R&B-indebted plugg (Tony Shhnow, BoofpaxkMooky) that've lulled SoundCloud to sleep these last few years. While these styles have caught the ears of people far from their regional birthplaces, none of them have exactly dominated rap as a whole. Maybe Drake will hop on a club drill beat in a few months, but until then, these sounds are restricted to their respective scenes.
Recently, however, a wide range of rappers have been tapping into the off-kilter flows and unhinged energies of Michigan rap, slowly morphing it into the default sound of street rap across the country. The current spotlight of attention began in 2017 with the release of Tee Grizzley's "First Day Out." Sada Baby and Drego's "Bloxk Party," released a year later, would continue that momentum with Lauri Markkanen-sized shotguns and dance moves. Since then, critics from all over began to take notice. (A special shoutout goes to Alphonse Pierre, who has covered more ground in Michigan than any presidential hopeful.)
While "Bloxk Party" revealed additional voices from Michigan, its ubiquity on certain areas of Rap Twitter obfuscated the deep roots of rap in the region. Records from the Eastside Chedda Boyz ("Oh Boy") and Blade Icewood ("Boy Would You (Boss Up)," "Fa Sho") released in the 2000s, laid the foundation for Michigan rap's current wave. The national attention didn't lead to any overnight successes, either: Babyface Ray is just now breaking through after 10-plus years of rapping from his days in Team Eastside; as a collective, BandGang has been around for a similar amount of time, and Lonnie Bands is still evolving into a better rapper.
Since "Bloxk Party", national stars-in-the-making like Ray and 42 Dugg have emerged, but for the most part, household names aren't scrambling to tap Michigan rappers for features. It looked as though the floodgates might've opened in 2021 with Lil Yachty's regional love letter Michigan Boy Boat; far from the strongest compilation of music from the area, Yachty's project nonetheless directed a whole new set of ears to a slate of rising stars. Their collective dynamism was plainly irresistible to Yachty and Swae Lee, who put on their best Rio Da Yung OG and RMC Mike impressions for "Never Did Coke."
While sometimes the influence of Michigan rap comes off as explicitly as that, most times, it just feels like rappers fuck with the beats more than anything else. To that end, the sound of Flint producer Enrgy Beats is an overwhelming influence on beat selection for artists looking for a bit of Rust Belt toughness. In 2020, he produced the biggest song out of Michigan of the year in GlockBoyz TeeJaee and OnFully's "Wack Jumper," and rappers from Pittsburgh to Stockton passed the beat around like a collection plate. Enrgy's blown-out 808s and high-pitched snare hit like concussive blows from a boxer, ringing in your ears long after a song has stopped playing. And in a lot of Michigan rap, pianos and other sound effects function as a second set of drums. Stubbed key loops form percussive rhythms that'll throw you off balance and while there are pockets available for melody – because what is a rap song in 2022 without a bit of singing? – these beats make rapping the main attraction.

Here are six songs from across the country that show how Michigan has slowly started to shape the sound of rap. Pensive lifestyle raps, hard-nosed street tales, and even flex anthems to get dressed to—think of these songs a national expansion pack to an already all-encompassing scene.

"Keep Dissing 2" — Real Boston Richey feat. Lil Durk
One of Florida's top imports this year might end up being Michigan-style production. Rappers from all over the state have taking a liking to the clanking drums
and chilling melodies and infused them with an undeniably Southern style. Tallahassee's Real Boston Richey's "Keep Dissing" opens with an ominous howl and dramatic strings fit for a tense sit down between mafia bosses. Lil Durk hopped on the song recently and spit one of his best verses of the year, but it's Richey's menacing drawl that keeps me coming back. "Tired of puttin' niggas on and they don't do nothin' with it," he sneers. It's easily one of the hardest songs of the year.
"Suck It Up" — Monaleo
"Suck It Up" dropped last year, making it the oldest song in this list, but it's still a fun one. Monaleo is full of energy, zipping and cartwheeling all over the top of a parking deck while still having enough breath to diss anyone within earshot. "Bitches stay up late at night tryna see how they gon' beef with me," she raps over a chorus of bells. "Meanwhile, I'm sleeping peacefully." Even in Texas, they can't resist getting on these beats to talk a little shit.
"Let Me Talk My Shit Pt. 3" — SleazyWorld Go
It's technically cheating to include SleayzWorld Go in this because he's from Grand Rapids and lives in Kansas City now, but he might be on the cutting edge of something new. His music sounds like the result of combining Chicago drill's grittiness with the bounce and slight funk of Michigan street rap. Late last year, he broke out big with his song "Sleazy Flow," and its become one of the most remixed beats of 2022. (It just got a remix featuring Lil Baby, too.) "Let Me Talk My Shit Pt. 3," released earlier this year, cools off his barbed threats with a bit of humor. "Feelin like Dugg in my city, I'm the youngest / Y'all need to cut that bullshit off because them boys burnt," he raps, his career a testament to the Midwest's impact on rap today.
"Salt Kills Snails" — Sideshow
Sideshow's raps in loosely connected, faded sketches of the past. His storytelling isn't straightforward, but he doesn't rap with the intent to confuse whoever's listening. With each song, the Ethiopia-via-Washington D.C. rapper opens up a little more, crafting a fuller picture of his life. On "Salt Kills Snails," a track from his new project Wegahta Tapes Vol. 1, he goes straight to the source and hops on some production from BeatsBySav, who has provided beats to rappers across Michigan. "I'm overseas like it's down the street, effortless / No police watchin' shit I do," he raps over the lilting strings. There's hints of relief in his voice, but paranoia looms behind these pockets for air as he raps about double-wrapping packages and vacuum sealers.
"Will Smith" — 10TA Lil A x 10TA Mar
The Will Smith Oscars situation happened about three years ago if we're going by 2022 news cycle standards, so dropping a song referencing it in June is a little crazy. But, here we are anyway. 10 Toes Alone is a rap collective from Columbus, Ohio that has harnessed the chaotic nature of Flint raps and taken it back across state lines to make their own. The steel drums, stuttering kicks, and twinkly keys here would be right at home on a project from Krispylife Kidd, who they've collaborated with in the past. Maybe it's just a Midwest thing.
"3rd Eye" — db Tobie
Back to Florida for a second: db Tobie is a powder keg waiting to explode. "3rd Eye" feels like it's building up to something inevitable, but db Tobie lets off enough steam so that nothing ends up happening. Even when the drums come back in after a brief pause, they're still muffled beneath a hair-raising siren. "It ain't no referees up in these streets, don't say I'm foulin'," he says with a smirk. "3rd Eye" is a lesson in anticipation—db Tobie doesn't even need the drums to knock to scare someone.