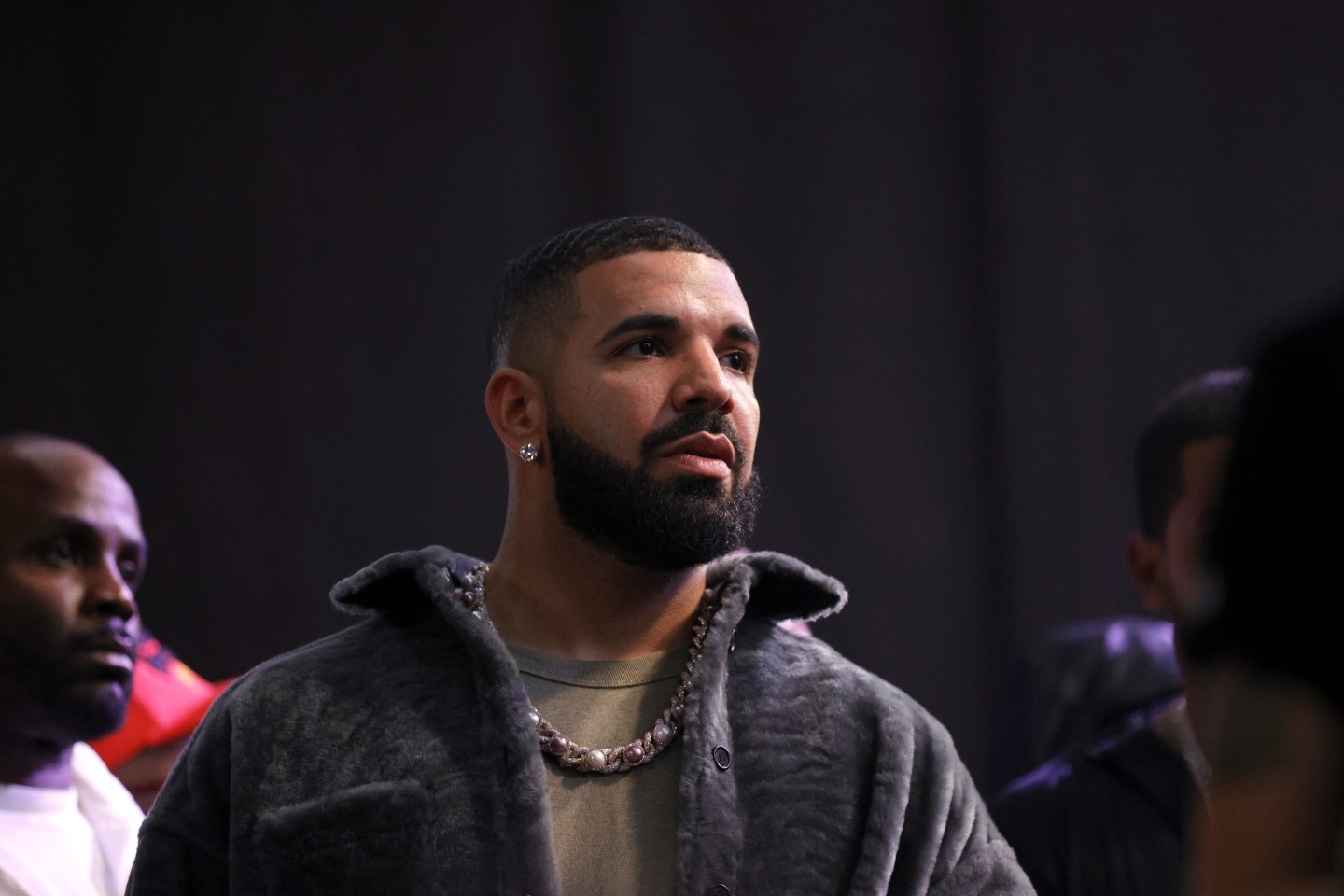 Honestly, Nevermind feels designed to start up conversations. Who let Drake put the Jersey Club bed squeaks on his album? Did you hear Drake sample Rye Rye? Do you think Drake was making Shake Dhat TikToks in his mansion? The longer his career has gone on, the better Drake has gotten at making discourse surrounding him be about everything except the actual music. It's the mark of a true pop star. The music video for "Hotline Bling" was instant meme fodder; "Way 2 Sexy" was beyond parody; the heart in his haircut from the Certified Lover Boy rollout? Come on. Everything Drake does is "the most Drake thing ever," especially what he wants you to see.
Judging by how Drake wants us to see Honestly, Nevermind, he's eager for the music to be the focus of discussion. He actively manicures his legacy by telling you which projects are part of the Drake Canon: If You're Reading This It's Too Late is a "retail mixtape," More Life is a "playlist." These varying classifications allow him to shape his discography in his vision, and whatever he deems 'lesser works' are pushed to the margins. It's notable, then, that Drake described Honestly, Nevermind as his "7th studio album" when it was announced six hours before its release. There are no semantic tricks here: Honestly, Nevermind is not a mixtape, playlist, or a podcast, but a pop artist's most complete statement in the most classic and (to some) outdated formats. The label of "album" invites a heightened level of critical engagement with the music, noteworthy for a project which taps regional club music and house for new musical direction.
Drake is a meticulous editor. He's consistently found ways to package global sounds into familiar packages for stubborn listeners like a parent tricking their child into tasting an unfamiliar fruit. His feature on WizKid's "Ojuelegba" remix in 2015 and Views' "One Dance" seem anticipatory of Afropop's rise to global dominance, and "Only You Freestyle" with Headie One is one of his loosest and most fun rap performances in recent memory. Drake's role on this album, though, is closer to a master of vibes. In what makes for a full-circle moment, he allows South African house producer Black Coffee, the executive producer of Honestly, Nevermind who was sampled on More Life's "Get It Together," to guide him through fourteen airy tracks. Honestly, Nevermind is his "dance music" album—equally frustrating to dance heads, who think that Drake isn't good at this style of music, and to diehard Drake fans, who were looking forward to just a normal Drake album. Its target audience exists somewhere in between, or not at all. It's not meant to be a galaxy brain play; Honestly, Nevermind is maybe the most straightforward album he's ever put out.
The album plays out like a DJ set complete with moody valleys and feverish temporary highs. After a brief saxophone solo on the intro, Drake immediately leaps into the album's glitzy funk. It's bold, and because of that, he tries to quickly establish trust by showing he's familiar with a variety of styles and briskly runs through them. Surprisingly, there isn't much rapping on here. For the majority of the album's 53-minute runtime, Drake's in pure disaffected talk-sing mode, crooning over clubby triplet kicks and chopped vocal samples. He's long flirted with regional dance styles, like on the South Florida jook-inspired "To The Max," which samples Newark club producer Jayhood's "Heartbroken" remix via "Get 'Em Right." Now, he's delivering a full-length summary of the Baltimore Club, Jersey Club, and Afro-house influences that were once just samples and brief detours on other albums.
But as the album continues, it starts to sound more like Drake wants to cry in the club, not dance. The production takes on this energy, too, with plush, subdued melodies and gentle drums. "Flight's Booked" and "Calling My Name," for all their slickness, still manage to get hit with a desaturation filter. Although on the former it's to Drake's advantage, painting grey skies as he sings about a long-distance relationship that's on the decline. Present throughout is a restless ennui that never lifts. Even when Drake tries to wipe the slate clean, he's left falling back into an emotional pit.
Honestly, Nevermind has clear intentions, but its success rate is questionable. There's a scratch take-like quality to the earlier half of the album, particularly on "Falling Back" and "Texts Go Green," that animate the songs; you can hear Drake feeling out the runs and melodies as he sings them. You get a brief glimpse at process from an artist who tries to maintain the appearance of graceful perfection that feels a little intrusive. "Massive" and its gorgeous MIDI piano stabs, which come in a few tracks later, are more in line with the practiced, well-oiled Drake Hit Machine that's synonymous with breaking streaming records. It's one of the few songs on here that truly feels transcendent.
Savvy forecasting and willingness to adopt new sounds are what sustains Drake. Look in a shadowy corner of any club and you'll find an OVO scout discretely Shazaming tracks to feed him new information. Pop music at large has been trending dancier for the last couple of years —songs from Dua Lipa and The Weeknd reached near omnipresence, even during the pandemic— and club music-infused rap songs from Philly, New Jersey, and New York have pushed regional dance music onto younger generations via viral trends. This is what big artists like Drake do: identify movements with traction and magnify (or obscure) them with co-option and massive hits. Though in Drake's case, Honestly, Nevermind sounds like he's moving a few steps behind for once. His instincts aren't far off at all, but there's more to be desired than simply being on the money.