Spark up a conversation with Subjxct 5 about anything and you'll be left wondering if you accidentally walked into a heated barber shop debate. The Elizabeth, New Jersey producer has opinions about everything he's into, and he isn't afraid to let any of them fly. No Limit? Way too funky for his Cash Money-dominated childhood, but he's recently started to appreciate No Limit Top Dogg and Beats by the Pound's thumping basslines. Current-day WWE themes? Wack as hell, just like the promotion. And don't even get him started on Swizz Beatz, who he's quick to stamp as one of his top five favorite producers of all time. Before I can eke out a follow-up question about his standing today, Subjxct 5 leaps into an impassioned defense for the Bronx producer.
"Niggas be trying to play Swizz," he says. "I don't give a fuck. [He's] GOATed. Look, I get both sides, but that's a lost sound, so a lot of people hear those beats and be like, 'Ah, fuck that.' Swizz went so crazy that you really can't take nothing away from him. He was going dumb as shit. "
In an era where gritty backstories to children's movie characters and series reboots are ubiquitous, it's almost refreshing to hear an unabashed reverence for older sounds. But Subjxct 5 and the Jersey-based 2oo4 collective aren't retro-fetishists—their fried visuals and music approach the era with a unique sensibility, bridging the gap between 2001 and 2022 in a way that only those who grew up during the tail-end of New York's reign as hip-hop's capital can. Subjxct 5 started making beats around his senior year of high school in the early 2010s after seeing how Raider Klan, A$AP Mob, and Pro Era were taking old sounds and making them new again. Like them, he's interested in reimagining the past, but Subjxct 5, having been born in 1996, is in the middle of it all. He combines a deep love for the late 90s and early aughts with the omnivorous taste of a rap fan that came of age after high-speed internet became the standard and 106 & Park went off the air.
Subjxct 5's nimble, energized beats draw inspiration from a variety of places, including Jersey Club, drill, and trance, but the lifeblood of his sound is a deep love for the knocking drums, glitzy Casio melodies, and over-the-top braggadocio of 2000's New York. Altogether, it sounds like what'd happen if a copy of Ryde or Die, Vol. 1 rolled down a storm drain and mutated in the dark: Whether he's making kinetic, synth-heavy beats like "Show You" or chopping up R&B samples on Dirty Designer for Papo2oo4 and DJ Lucas, it's all trying to keep that energy alive. A few days before his 26th birthday, I hopped on the phone with Subjxct 5 to talk about growing up in Elizabeth, making sure his beats knock, and linking up with the Dark World crew.

The FADER: What was growing up in Elizabeth like?
I had the best childhood in Elizabeth, because fortunately for me, I was really able just to be a kid type shit. It's a lot of motherfuckers that grew up like me, where they can do the same. A lot of motherfuckers, they didn't have that. They had to fucking do all types of shit. Especially back then, Elizabeth was like that for real. I was fortunate to really be a kid, watch cartoons, fucking watch Rap City, 106 [& Park], all that shit, bro. It was mad regular, but I'll say that was the best childhood. I wouldn't take that shit back for real, for real.

What was some of the first music you remember blowing your mind?
That shit is just so much of my DNA because my mom loves music. She'll be in the crib bumping Mary J., Anita Baker. But as far as the rap side, I'm born in '96, technically a 2000s baby. It's the usual, Hov, X, Luda, Juvenile. Ruff Ryders, D-Block, or Dipset, that was shit that resonated with me. Not for the simple fact of what they was talking about, but that was the music of where I was. That was the music of Elizabeth for real. Not just Elizabeth, all the East Coast. But even down south [too], I feel like Jersey motherfuckers gravitated towards the south shit, maybe a little bit more than New York. I fuck with Scrappy.
One of the first people I think of when I listen to your beats and stuff is Swizz. Everything's electric and moving.
Those are my favorite type of beats, for real. I'm not even going to lie, Swizz, Timbaland, Pharrell, DJ Premier, Just Blaze, those the producers that I grew up off. I said this before, "Jigga My Nigga" from Jay Z, that's low-key my favorite beat. I done tried to copy that drum pattern hella times. It's a lost sound, especially out here. I feel like we do it a certain way where it's still old school, but it's a new twist on it. Niggas fuck with drill, niggas fuck with all sorts of shit, but we try to stick to tradition.. We grew up off that shit, so we try to just keep that whole energy alive.
There's a rhythmic complexity to your beats that feels heavily indebted to the 2000s.
I try to just make shit as unique as I could, which means a lot of layers. There be certain times I'm making shit, and I automatically want to make a movie. I feel like not a lot of people is trying to go down that ramp. It's a lot of simplicity in production. And I feel like people pay attention. Well, at least me. You got to know where you fit in, but it's certain times where I feel like people pay attention to that shit. People hit me up and they'll point out certain shit in the beat like, "You using a techno synth on this." I feel like that's just me trying to stick to my sound.
And it all sounds clean too. I can pick out individual things from your beats and have a random pattern stuck in my head.
One thing I'll pat myself on the back about is that I really know how to mix my beats. I have a certain way to where I want to make certain shit pop. Have a main melody, but have this side synth pop because it sounds cool as fuck, layer everything under the drums correctly. I feel like that's something a lot of producers should really have in they shit because that can make or break a beat. There's so many times I heard crazy ass beats, but it wasn't mixed right. And then, vice versa, a beat that is not even that crazy, but that shit is mixed so perfectly to the point where it hits.
That post-production process is mad important because with the Drake album, I was like, "I fuck with some of the album, but I want to hear this knock."
Honestly, that's my whole thing. I don't know if it's just because I'm just fucking fried, but I try to have shit really knock. That's a part of the culture. Especially with all this Jersey Club shit going on. One rule of this shit is that it got to knock. That's the only way to do it right, when it's fucking blasting out the speakers. Even when it's just regular beats. There's times I can be on my boom bap type shit, and I still want to make the drums knock. That's a part of tradition, I feel like, because growing up all the beats was fucking knocking. You feel me? No matter what it was. It could have been Mos Def rapping about a bottle of ginger ale, and the beat going to go crazy.
How did you meet up with the AF1MG and the 2oo4 guys?
So, I was making music with another group of friends at the time. And I think... Was it Papo or Rich? I forgot who had hit me up. I dropped a beat tape and it was one of the songs on the tape he was trying to fuck with. So they hit me up. And then, niggas had a loft at the time where they used to throw shows and events in the city. They was about to have a show and I think they was just at the loft the night before and my mans was like, "Yo, come with me." Went to the loft, we kicked it. And the rest been history, for real.
Elizabeth is small, so everybody knows each other. Before there was even music made, I knew them just off of other homies I was cool with. They was older, so I knew they was cool with motherfuckers that was in a class one year ahead of me or two year ahead of me. After a while, I started seeing that we all like the same type of music, we fuck with a majority of the same different shit. We can chop it up about a lot of shit for hours. The creativity was there.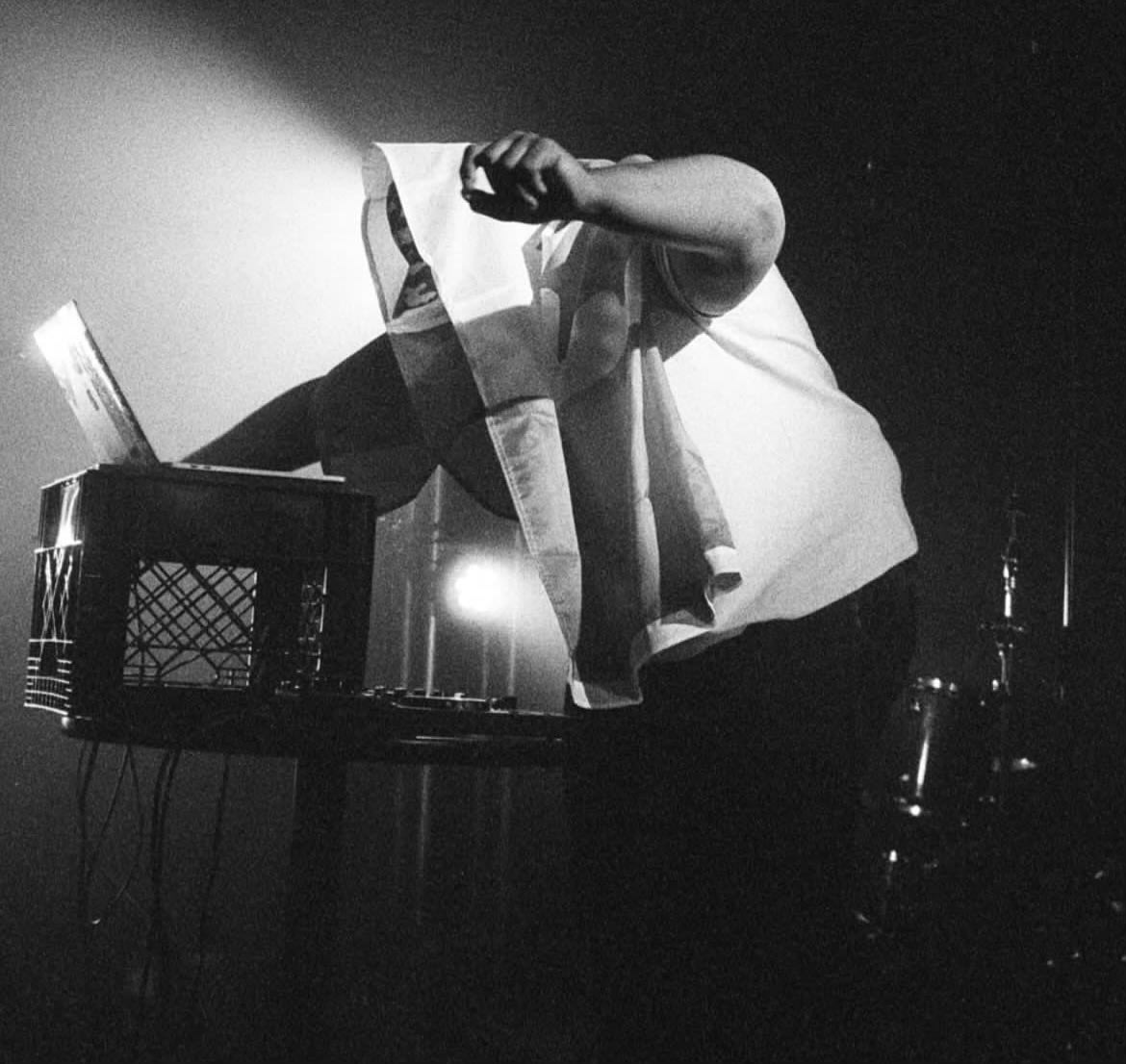 Would you consider y'all to have a regional sound? Or do y'all just see yourselves as moving on your own?
Honestly, with our sound, I feel like it is the aesthetic and the energy we have. How our performances are, when me and Papo go on stage, all of that is on some real Jersey shit. The swag of everything, the Air Forces, the looks, all of that. That's really on some Jersey shit. As far as our sound, I feel like our sound is universal, but it's certain things we add in to show people where we from, whether we trying to fuck with club type shit, or barred up music.
I feel like it's more so the aesthetic of everything that's on some real Jersey shit. We try to still be on some Jersey shit, but also, we be tapped into Detroit music, we be tapped into drill, we be tapped into this, we be tapped into that. I feel like it's more so the look of everything, more than the music, that really puts Jersey out there.
That's something that makes your your collaborations with the Dark World guys so interesting. It has this kindred spirit feeling to it. You can really tell from the music that y'all really just fuck with where y'all from.
With Lucas, I fuck with how he reps Western Mass. He'll hold the flag for that shit through and through. A lot of people might not even be in tune with Western Mass. Motherfuckers really know Boston, but it's a whole world outside of that shit. Because it's how we be with Jersey. We right next to New York, but it's a whole different world across the bridge.
I feel with us [and Dark World], it's the contrast that makes shit so dope. The music they make and our shit, and how we clash, I feel like not a lot of people is doing that. And if they are, it's not doing it the way we do it. That whole tape, the R&B joint [with Papo and Lucas], Dirty Designer. The two styles clashing with each other. One's right field, one is left field, but they still complement each other in a way.

What does home mean to you?
Home? This a Stevie Wonder question. I've been living in New York a good year or two now. I still go back to Jersey every week. Here's my thing, with this music shit and the further I go, a lot of this, I learned in Jersey. It goes back to my childhood. I had the best childhood, bro. I might not have had a lot of experiences of doing certain shit around the city like a lot of other people, but for what I have, I'm grateful for. And I feel like it would've only been that way if I was in Jersey. Nowhere else. The exact street I grew up on, the exact city. The way I move and all of this shit that I'm doing right now is all contributed to that.
Even with everything going on right now with the whole Drake shit and everybody on Jersey club. It sparked the conversation. This is shit that we was listening to in fifth, sixth grade. And now this shit done went world fucking wide. It was something that was just local at the time. Baltimore had they shit, Philly had they shit, but niggas ain't see this shit growing up. I didn't because I'm a hip hop kid before anything. I got tired of club in '08/'09. But I'm proud of it because it came so much of a long way. And that's how I feel about Jersey.
I owe a lot of shit to where I'm from. How I was raised and how I look at certain shit is all from Jersey. That shit definitely mean a lot to me. Even on the shows, I'm on the mics, "Jersey!" I don't even want to say we the underdogs, because there's times where we shined out and we went crazy, and we proved that we fucking got it.