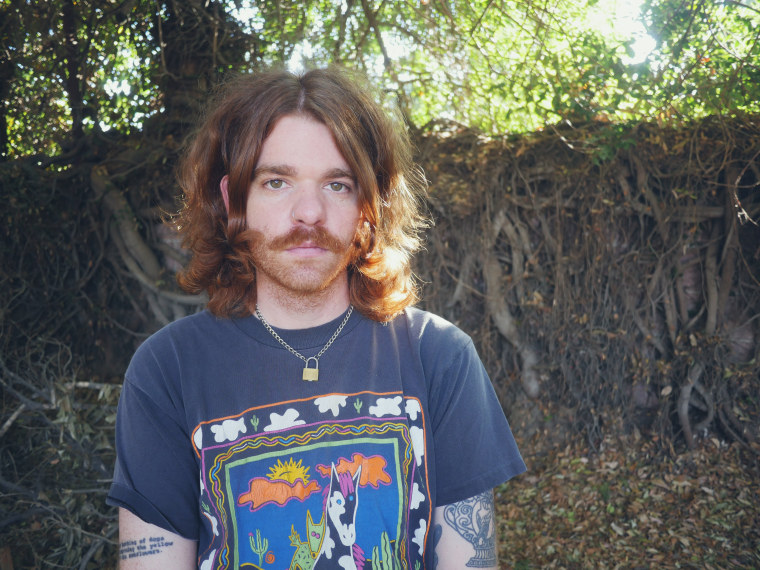 As Field Medic, Kevin Patrick Sullivan makes nerve-ending-raw folk music with a diaristic edge. October 14 will see the release of grow your hair long if you're wanting to see something that you can change, his new album and follow-up to 2020's Floral Prince. It contains the single "i had a dream that you died," out today.
The new song has a sunny, jangle-pop sheen surrounding its morbid, self-consciously narcissistic lyrics, putting it firmly in the lineage of The Smiths. "I had a dream that you died / Somehow made it about me" Sullivan sings, before reflecting on his own mortality and how his subconscious strives to take him to anywhere but his waking life. Watch the video below, wherein Sullivan walks through his apartment displaying lyrics from the song in creative ways.
Sullivan revealed in a press statement that his new album was written after a period of writer's block. "I didn't want to write the same song again," Sullivan said. "I have songs about being on tour, I have songs about drinking too much, and falling in love. I needed a different approach to feel inspired to create… I needed help. Sometimes the best way to get out of your own head is to just get to work. Making this album helped me find my happiness again."
Starting this October, Field Medic is set to play shows across the United States and Canada. Sadurn, Derek Tad, and Juliet Sunflower will open select dates. Find all those below.
Field Medic 2022 tour dates
October 22 – San Francisco, CA – Bottom Of The Hill $
October 25 – Portland, OR – Polaris Hall $
October 26 – Seattle, WA – Barboza $
October 28 – Salt Lake City, UT – Beehive $
October 30 – Denver, CO – Globe Hall $
November 1 – Minneapolis, MN – 7th Street Entry $
November 2 – Chicago, IL – Beat Kitchen $
November 3 – Columbus, OH – Ace Of Cups $
November 4 – Ferndale, MI – The Loving Touch $
November 5 – Lakewood, OH – Mahall's $
November 6 – Toronto, ON – The Garrison $
November 8 – Philadelphia, PA – PhilaMOCA $
November 9 – Boston, MA – Red Room at Cafe 939 $
November 10 – Brooklyn, NY – Baby's All Right $
November 11 – Washington, DC – Songbyrd $
November 12 – Richmond, VA – Richmond Music Hall at Capital Ale House $
November 14 – Carrboro, NC – Cat's Cradle $
November 15 – Atlanta, GA – The Masquerade - Purgatory $
November 16 – Nashville, TN – The End $
November 18 – Dallas, TX – Ruins %
November 19 – Austin, TX – Empire Control Room %
November 22 – Phoenix, AZ – The Rebel Lounge %
November 26 – Los Angeles, CA – Moroccan Lounge #
$ support from Sadurn
% support from Derek Ted
# support from Juliet Sunflower