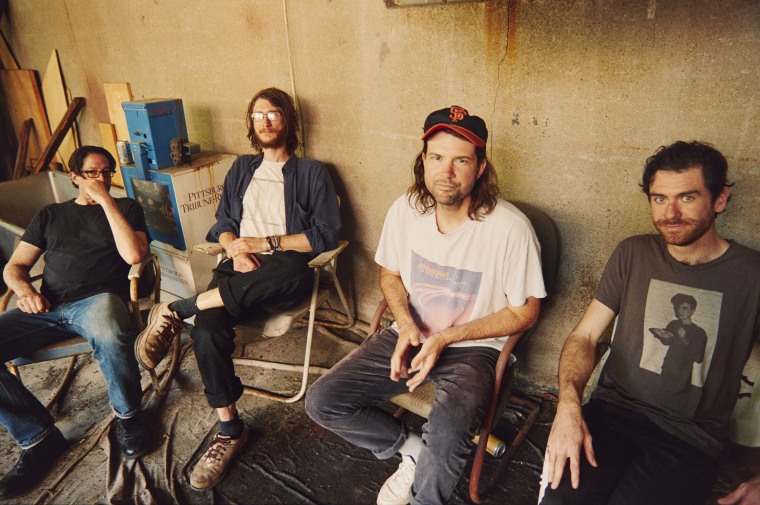 The FADER's "Songs You Need" are the tracks we can't stop playing. Check back every day for new music and follow along on our Spotify playlist.
The love songs of Wild Pink balance poetry with the direct. "Playing Through a Dip Related Injury," a song from the Brooklyn dream-rock band's 2017 self-titled debut, reckons with the sands of time ("My nails keep growing / I get busy and I forget to cut them," John Ross sighs. "I've got a dad's breath / From cheap beer and cigarettes") while showing a more flowery appreciation for the consistent things (you can hear him smiling as he coos "I love you for the way you leaned into the changes in your life / You are my hummingbird.") Sincerity can sometimes be conflated with complacency, and Wild Pink have exposed that fallacy from their earliest records.
A Billion Little Lights, released in 2021, saw a new Wild Pink: more confident, as evinced by their newly soaring compositions, as gossamer yet brilliant as the strands of a sunset. The growth continues on "ILYSM," the title track from the band's upcoming fourth record and anagram for "I Love You So Much." It kicks off as the poppiest thing they've yet released, driven by a hammering synth arpeggio and a shout-along of the song's title, small yet sincere, as if from a select group of intimate friends. Far from a straightforward love song, "ILYSM" is a tragedy where Ross is living with a ghost. He couldn't be happier: "I reached out my hand to touch you," he whispers, "and it went right through." One more time, Ross chirps "I love you so much," savoring every word like they'd be his last before the song explodes into an avalanche of post-rock. "ILYSM" is the work of a band more content than ever before to wander through their sound, and surging with vigor over what they're bringing back.
Wild Pink tour dates
October 12 - Boston, MA - The Middle East (Upstairs) *
October 13 - Portland, ME - Sun Tiki Studios *
October 14 - Brooklyn, NY - Brooklyn Made *
October 15 - Philadelphia, PA - Johnny Brendas *
October 16 - Washington, DC - DC9*
October 17 - Pittsburgh, PA - Spirit Hall*
October 18 - Toronto, ON - The Drake*
October 20 - Montreal, QC - L'escogriffe*
October 21 - Burlington, VT - Foam Brewery*
November 8 - Amsterdam, NL - Paradiso
November 9 - Brighton, UK - The Hope & Ruin
November 10 - Bristol, UK - The Exchange
November 11 - London, UK - Pitchfork London
November 12 - Manchester, UK - Yes Basement
November 13 - Glasgow, UK - The Hug & Pint
November 14 - Dublin, IE - The Workmans Cellar
November 16 - Paris, FR - Supersonic
November 17 - Luzern, CH - Schuur
November 18 - Prague, CZ - Cafe V Lese
November 19 - Berlin, DE - Marie Antoinette
November 20 - Copenhagen, DK - Rahuset
November 21 - Hamburg, DE - Aalhaus
November 22 - Munster, DE - Pension Schmidt
November 25 - Kingston, NY - Tubby's*
November 26 - Syracuse, NY - Funk N Waffles*
November 27 - Detroit, MI - Loving Touch*
November 28 - Chicago, IL - Sleeping Village*
November 29 - Minneapolis, MN - 7Th Street*
December 1 - Denver, CO - Globe Hall*
December 2 - Salt Lake City, UT - Kilby Court*
December 3 - Boise, ID - The Shredder*
December 4 - Spokane, WA - Lucky You Lounge*
December 5 - Seattle, WA - Barboza*
December 7 - Portland, OR - Mississippi Studios*
December 9 - San Francisco, CA - Bottom Of The Hill*
December 10 - Los Angeles, CA - The Airliner*
December 11 - San Diego, CA - Soda Bar*
December 12 - Phoenix, AZ - Valley Bar*
December 14 - Austin, TX - Mohawk*
December 15 - Dallas, TX - Three Links*
December 17 - Nashville, TN - The Basement*
* w/ Trace Mountains