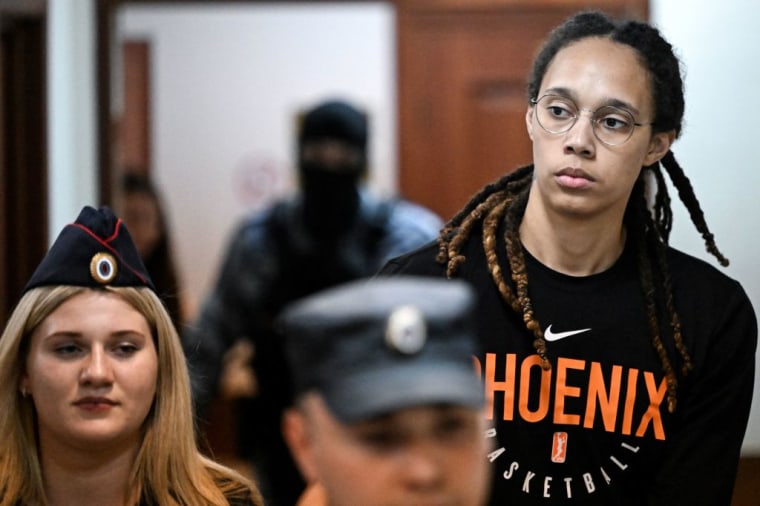 Basketball player Brittney Griner has been found guilty of smuggling drugs with criminal intent in a Russian court today and sentenced to nine years in prison, CNN reports. The Phoenix Mercury player was detained near Moscow earlier this year after security discovered a small amount of the drug in her luggage. Griner is expected to be sentenced later today (August 4).
In a statement released shortly after the sentencing was announced, President Biden claimed it is "one more reminder of what the world already knew: Russia is wrongfully detaining Brittney."
He added: "It's unacceptable, and I call on Russia to release her immediately"
Statement from President Biden on the sentencing of wrongfully detained american Brittney Griner: pic.twitter.com/WPeeqAseEv

— philip lewis (@Phil_Lewis_) August 4, 2022
Last month it was reported that the United States government had proposed a prisoner swap with Russia that would see Griner return home. The WNBA player has said during her trial that the cannabis was prescribed for chronic pain and that she brought it into Russia by accident. She pleaded guilty in July with Secretary of State Anthony Blinken saying she is a wrongful detaineeand that she is being used as a political pawn in Russia's war against Ukraine.
Should Russia agree, Griner would be exchanged for Viktor Bout, a Russian national convicted of arms trafficking in 2011 who is currently serving a 25-year sentence. The proposed swap would also include corporate security director and former marine Paul Whelan, a Canadian-born American citizen who was convicted of espionage against Russia in 2020. There has been no update on the offer since it was first proposed.
The initial arrest of Griner happened in February at Sheremetyevo Airport, near Moscow. Griner had been playing for Russia's UMMC Ekaterinburg during the WNBA off-season. She was accused of allegedly carrying 0.702 grams of hashish oil, a product that contains cannabis, in two vape cartridges.