Fireboy DML can handle the pressure
The Nigerian singer-songwriter digs into his new album Playboy on the latest episode of The FADER Interview.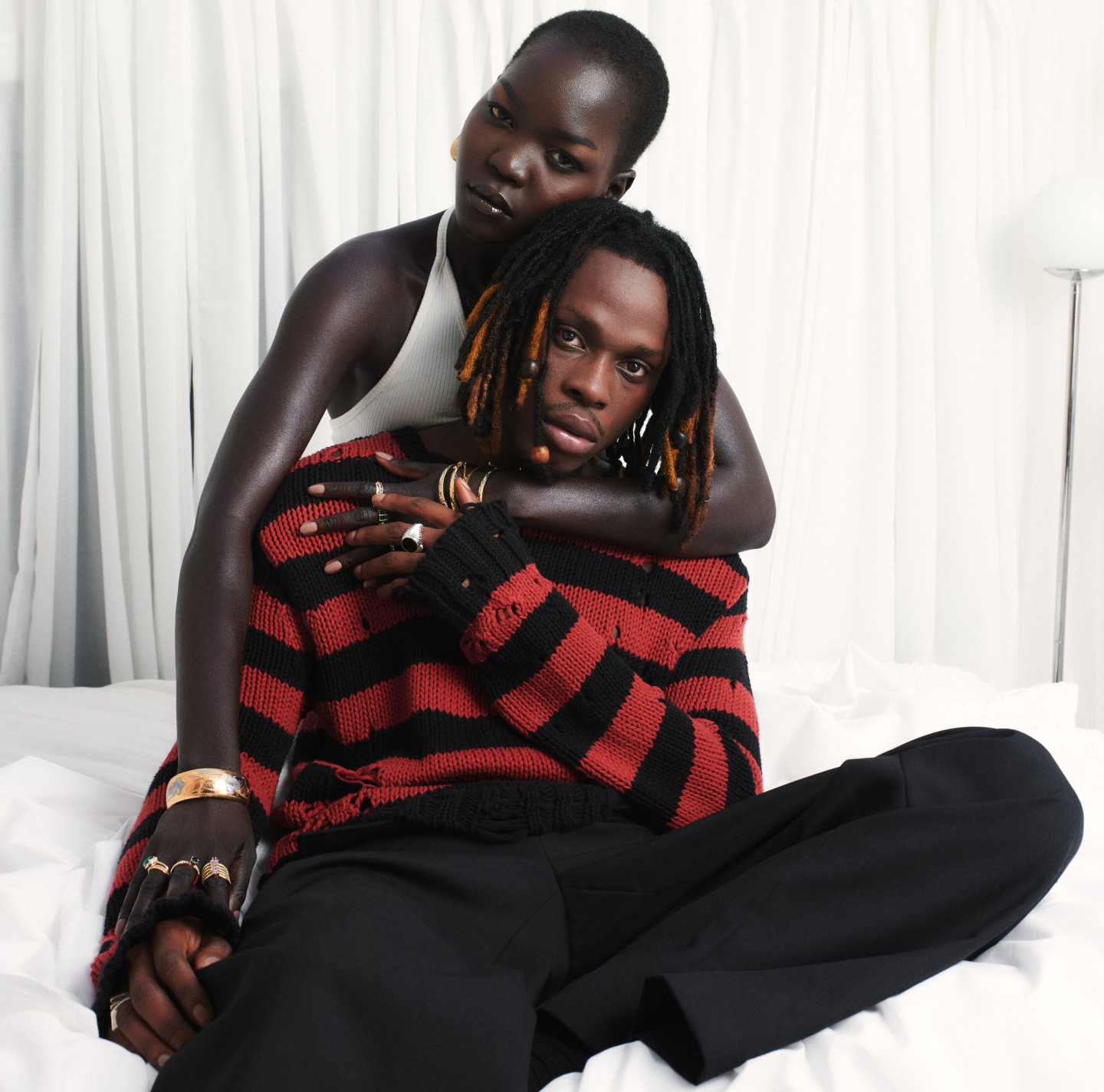 "Change," the opening song of Fireboy DML's new album Playboy, begins with a plain-spoken revelation: "My life dey make more sense as I get older," he speaks over sweet-sounding keys. Continuing, the Nigerian singer-songwriter opens up about the blessings of his rapidly evolving day-to-day — global recognition, charting hits — but these newfound pleasures aren't without discomfort. Fireboy is unsure if people are using him for his talents, and he's beginning to feel the pressures that come with having to balance his career as an artist with his personal life. It's a sobering, clear-eyed reflection on his rapid ascension.
In 2018, Fireboy's enchanting song "Jealous" was released as part of YBNL Mafia Family, a compilation highlighting artists signed to veteran Afrobeats musician Olamide's YBNL Nation label. The song would be re-released the following year, giving Fireboy his first big break. His debut album — the tender Laughter, Tears & Goosebumps — would be released later that same year, followed by his sophomore LP Apollo in 2020, which pushed his songwriting to new levels of vulnerability and openness. On Playboy, out today via YBNL and EMPIRE, he's ready to show another side of himself, tapping into a more playful and braggadocious persona. It's maybe best represented by "Peru," the sticky and sultry jam that earned him his first Billboard Hot 100 entry and was remixed by Ed Sheeran. While Fireboy's past albums focused more on balladry, Playboy puts increased emphasis on his keen pop instincts and irresistible hooks.
On the eve of Playboy's release, I spoke to Fireboy DML about opening himself up to collaboration, valuing solitude, and Afrobeats' global takeover.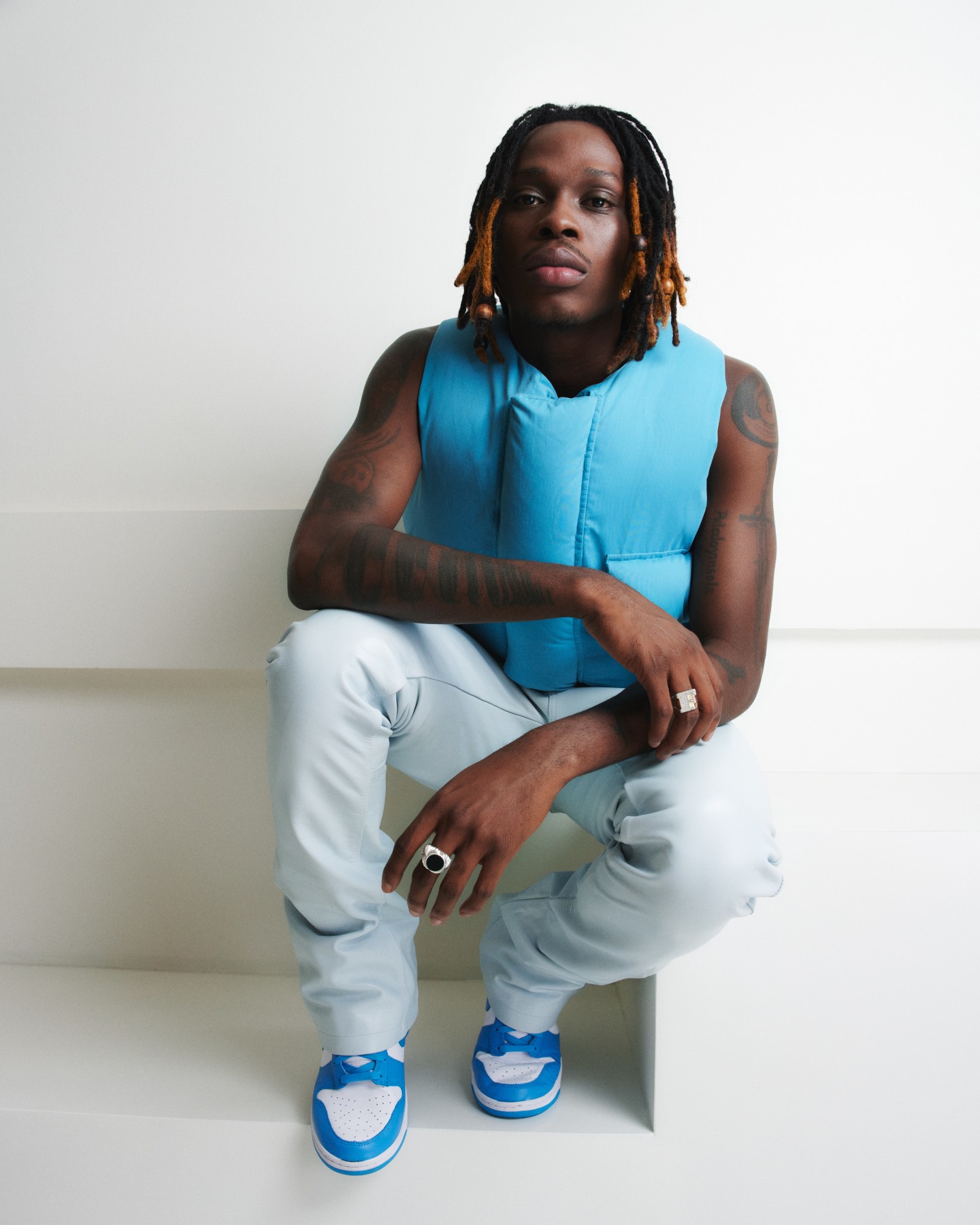 This Q&A is taken from the latest episode of The FADER Interview. To hear this week's show in full, and to access the podcast's archive, click here.
The FADER: Playboy drops tomorrow. How are you feeling right now?
Fireboy DML: Definitely more confident than I felt before I dropped my last two albums. In 2019, when I was about to drop my debut, I was really apprehensive about the future and what it held. But now I feel more confident in my craft… more balanced and settled in my superstar status. Maybe the nerves haven't kicked in yet. Hopefully they do.
I hear that a lot from artists, where it never really sets in until they start seeing all the reactions roll in. Do you read people's reactions or do you try to stay away from social media?
I don't think anyone stays away completely. As a human being, you want feedback. You want to see what people think of your work of art. You're gonna be online, seeing how people receive your stuff. I'll be doing a lot of that. I'm not gonna shy away from the internet. I know this is a solid body of work, and I really cannot wait. I'm gonna be outside. The album is about me coming out of my shell, coming out to play. Fans who have known me over the years know I've been a reclusive homebody. This time I'm stepping out. I'm gonna be in a club, having some drinks, enjoying myself with the vibes.
Earlier this year, you stepped out on your first headlining tour of the United States.
That was amazing. I had some of the best performances of my life on that tour. That's what opened my eyes — not just to how far I've come as an artist, but also how Afrobeats has gone global. That moment meant a lot to me because I saw fans from different walks of life, different races, different countries travel thousands of miles just to watch me perform.
It's crazy, this generation. We've never had this influx of young artists coming out, pushing the culture so globally, at the same time — I can count at least 15 of us. I'm honored to be in the generation that [brought] Afrobeats to the world. It's a blessing, and it's up to us to open bigger doors for the generation coming after us. That's what Afrobeat has always been about: from Fela to 2Face and D'banj down to WizKid, Davido, Burna Boy, Olamide, and now us. That's something I love: that generational connection where artists reach back into the past. It's more than just music. It's about our roots, our identity. It's about where we come from as artists: different tribes, different connections, different roots. That's what makes us Afrobeats artists, not necessarily the sound itself.
Do you ever feel intimidated being part of this new wave? Like, "I have to make sure this song is a smash."
I won't lie: there's always pressure. That's what makes you nervous when you're about to drop an album. You see other people doing this, doing that, dropping bangers. You set some standards for yourself and you can't afford to lower those standards. But I don't let that pressure get to me. They get around me, but I never let them get to me. The only kind of pressure I [let] get to me is the one I put on myself. That's the one that drives me and keeps me going forward. I've come to understand that sometimes it's not just about outdoing yourself; it's about making great music; it's about being consistent. That's my legacy right there. As long as I keep making great [songs], some will be commercially successful, some will not. But after a lot of years, they'll look back and say, "Yo, Fireboy made amazing Afrobeats music." That's what it's all about for me.
"Change" is full of a bunch of different emotions at once: fear, joy, gratitude, skepticism. What kind of changes have you been going through lately?
I deliberately started the album with that song to tell the story, to ease them into the kind of life I live now. I'm saying, "Playboy, I'm outside, I've come out of my shell, blah, blah, blah." But I still have to give them a glimpse of where I'm coming from and why I'm stepping into this life. I recorded that song just when "Peru" had gone number one in the UK. The Ed Sheeran feature made the song a global smash. We were conquering everywhere. Europe was going crazy. The U.S. was going bonkers. I knew my life was about to change in a crazy, crazy way. When your life is about to transcend into another phase, it comes with more challenges, more expectations, more pressure. It's not always a good thing. You have to express that fear. You have to be true to yourself. That's what that song is about: introducing them to that doubt I initially had and then throwing them into the life. From the next song up until the song that ends the album, it's the playboy life. It's me being in my bag, in my superstar element.
How did you cope with the changes and find ways to address them or grow more comfortable with the uncertain?
Most of the challenges that I face as a popular person, I deal with them with solitude. Solitude gives me time to think, to reflect, to be human again after going out there to be a superstar. You're exchanging different energies. You never know who's who; you're paranoid. You're this, you're that. When I come back home, I always make sure I find some time to build on my self-awareness. I stay grounded and I never celebrate too much. I tell myself there's always more; keep working; there's never enough. I think that's all you need: solitude. Take some time to yourself to maintain the parts of yourself that make you feel human and you'll be good.
Those reflective processes show in your music. How did you learn to be so open and honest about yourself and your experiences?
I think art will do that to you — especially music, but anything that helps you express yourself helps you be more honest and open, even when you don't realize it. I'm not the most open person. I have walls that I build around myself, especially with people and relationships. But when it comes to my music, I'm incredibly honest, because I learned early in my career that honesty is the soul of songwriting. As long as there's some element of truth in your song, people will relate to it. And when people relate to the song, they're not just gonna love the song; they're gonna love you.
I read that "Peru" came out of a long freestyle. Is that normally how you go about writing songs?
Kind of. I freestyle, play with the melodies. Most of the time, I write the words in my head before putting them down, but I almost always brush it up. I go back to it a couple of days later, change some lyrics and melodies, properly write and create the song, because making music is an art. But sometimes music is very spiritual. Music is beautiful. Music is freedom. Sometimes music just happens. You're in the studio 35, 45 minutes. You're freestyling, putting words together and trying out different melodies. Before you know it, you have a song. Sometimes you don't have to overthink it. I almost did with Peru: I did not want to release that song. I wanted my team to give me a couple of weeks to brush it up because I felt it was half baked. I'm a perfectionist, but I've learned that sometimes, you have to let go and not overthink. Just put it out there.
How have things changed for you after "Peru?" It exploded out of nowhere, basically.
More global recognition, international rep and whatnot. But mostly, more listeners. Now the whole world is paying attention to my music, and that means the whole world is paying attention to Afrobeats, because that's what I represent.
It still feels like the west is still trying to catch up on Afrobeats. There are so many different polyrhythmic textures going on. You can never predict where a song is going.
That's the beautiful thing about Afrobeats. It's really no rules, per se. It's mainly melodies, rhythm, vibes, instrumentation, the energy around the song. The spice I bring to my music is the relatability of the lyrics, the way they just hit you. Sometimes you're dancing and you hear something that stops you in your tracks, like, "Wow, that's so profound." The west is catching up, but it's gonna take time because we are just beginning. They ain't seen nothing yet.
When I listen to your music, it's like you're a real balladeer. And as I keep listening, I notice more things: a line that randomly gets caught in my head, the way you approach saying something. How did that come to be your thing?
I started out like every single random Afrobeats artist, sounding like the in thing at the moment — Wande Coal, WizKid. But I realized that if I really wanted to blow up, I needed to find a spice. I looked around and no one was putting much intention into writing. To be fair, Afrobeats has never really been about songwriting. It's always been about the melodies and the rhythm. But I've always been good with words. I studied English. I grew up writing poems, reading books. I still read in my free time. I'm like, "Why not put this knowledge into your music and see where it gets you?" I decided to start writing the unconventional way: using multisyllabic rhyme schemes, crazy words, things that were not usually heard in Afrobeats at the time.
That's how I stood out, but melody is number one in Afrobeats. I never let that thought go. Sometimes, I have to compromise. It's all about striking a balance between giving them memorable lyrics and memorable melodies.
Who are some of your favorite authors or poets?
I love Oscar Wilde. I love fiction; that's my favorite genre. My favorite writer is Dan Brown. Lately, I've been reading a lot of Dean Koontz. I put it up on my Twitter: "Dan Brown is probably the best writer of fiction I've ever read." My fans were reacting like, "Nah, you haven't read this, you haven't read that. Blah, blah, blah." They recommended some books. I love William Shakespeare. I love Ernest Hemingway.
You say your intention going into this album was to make it easygoing, playful, showing more sides of yourself. Was that a challenge?
Yeah. I started making the album in late 2020, early 2021. Around May, I got writer's block — my first creative block ever in my life. I panicked. I was all over the place. I thought I'd lost my mojo. I called Olamide, my mentor. He was like, "Yo, relax. It's your first time. I know how it feels. You need to change your environment." I took a flight to the U.S. for the first time in my life, went to New York, went to a strip club in Miami, had the time of my life. They literally had to drag me out of the strip club, bro. I could not be stopped. I took that energy to San Francisco, where I recorded "Peru," and I took it with me [when] I flew back to Nigeria and completed the album.
In an interview earlier this year, you said you didn't know if you were ever gonna be as vulnerable as you were on Apollo again. On Playboy, I wouldn't say you're being vulnerable in the same way that you were there, but you're still showing us a softer side.
You're right. This is just a phase. It's not like I'm permanently transitioning into some kind of demon or bad guy. I'm still that reclusive, thoughtful, relaxed, calm, reserved person. I'll always be that person. Even when I'm in this zone, I know it's temporary. I'll go back into my shell again, but I still might not be able to make that kind of vulnerable album again because it was slept on. I feel like it's one of those albums they won't appreciate until maybe 10 years from now. I want it to be that album they can always go back to when they miss that side of me.
I was wondering where you found inspiration for songs like "Need You" from Laughter, Tears and Goosebumps that are almost acoustic covers — a step away from your usual mode.
That's growth. At the time I recorded LTG, I made it based on songs I'd written in my really vulnerable, naïve years: 2016, 2017. Even at the time, after I dropped the album, I was naïve to the fame, naïve to the money, naïve to the women, to the experiences, the relationships I was in.
It reflected in the music I was making. On Apollo, it had been nine months after I'd grown into a superstar, but I was still holding back. And I realized that most of the stories I told on LTG were not my stories. I wanted to tell my stories in Apollo, which I'll never do again, by the way. Learned the hard way. It's been a lot of growth, transitioning from that to this. Someone who's realized who he is and who is willing to come out and not shy away from the reality that is his life.
The closing song on this album, "Glory," is the opposite of "Change." You're not fearful anymore. You're more accepting of everything. You're like, "This is who I am now, and I'm not gonna look back."
One fun fact about the album is that I made it in a way that you could turn it upside down and it would still make sense. I initially wanted to make "Glory" the intro, but I didn't wanna just throw [my listeners] into that life. I wanted to ease them into it. That's why I started with "Change" and ended with "Glory." When I was recording "Glory," I was in some God-complex, braggadocio mindspace. But I also wanted to reflect on where I was coming from, because I told some stories about how I struggled on the streets of Lagos tryna make music, tryna make money, tryna to survive on my own without my family, without knowing anyone [there]. Just to inspire people and let them know that I didn't just come from nowhere to this. This is my villain story.