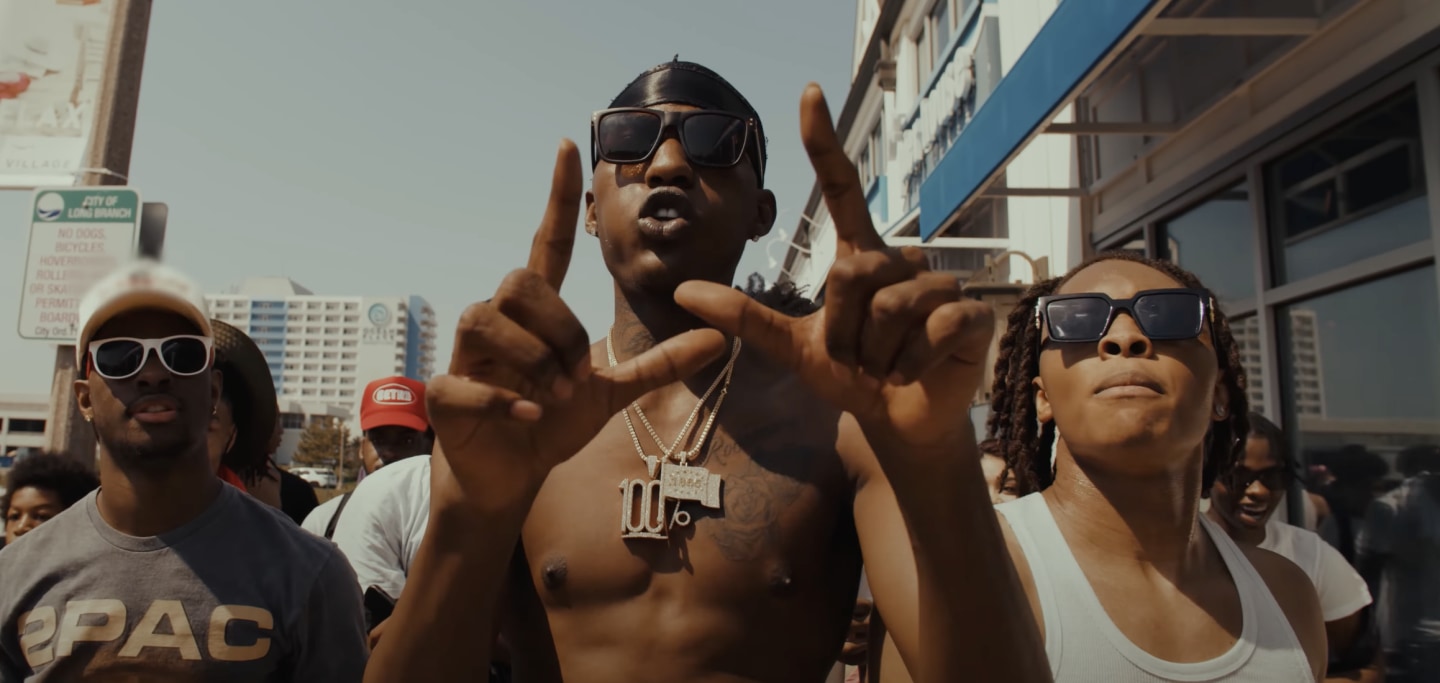 Every week, The FADER's Brandon Callender shares his highlights from across the rap world, from megastar artists to the deep underground.
Bandmanrill — "Real Hips"
Bandmanrill's music videos aren't expensive effects-filled or high-concept short films, but they're still able to add a new layer of fun to his songs. Seeing him get together a massive crowd of people to take over a pool so they can have a dance cypher is thrilling. In "Real Hips," he takes his flash mob to the beach, and even a few lifeguards can't resist the opportunity to get in on the action. DJ Bake and KilSoSouth's soulful club beat gives "Real Hips" a cooler energy—albeit, not by much— than the frenzied collabs with Mcvertt that launched Bandmanrill early last year. It's fun listening to these songs alone, but it's a club music summer. We should all be going crazy in the center of a dance circle somewhere.
WB Nutty — "94 Feet"
WB Nutty's "94 Feet" sounds like he found a long-lost Jeezy and Shawty Redd instrumental and blasted it off the cheapest pair of desktop speakers imaginable, and it rules. The Detroit rapper is better known as half of the duo Los & Nutty, where they rap about traveling to random small towns all over the midwest to set up shop and hustle. On new solo mixtape City of Addiction, he doesn't stray far from the formula. "'How many times you spend the night? How many times you hit it?' / Pocket watchin' ass niggas mind your motherfucking business," he hollers over the thunderous horns. "94 Feet" could get the laziest person you know fired up.
Bfb Da Packman — "Megan Knees" (From The Block Performance)
"From The Block," the performance series curated by Chicago still videographer A Zae productions, has gotten out of control with its location scouting. A few months ago there was Sauce Walka rapping like his life depended on it in front of a row of Port-A-Potties at SXSW, then Jacquees showed up on a yacht, and now, Flint's Bfb Da Packman's coming up from underwater with a donut in hand to rattle off punchlines about "pussy seasoning" and BBLs. "Megan Knees" is an 85/15 blend of off-color jokes and cartoony threats—even for Bfb, it's pretty damn raunchy. Regardless, he's confident as ever talking shit over the racing, a-little-too-loud drums.
SME Taxfree and SME Boo — "Doin A Dolla"
SME Taxfree and SME Boo's "Doin A Dolla" makes me wish that summer lasted a little bit longer. Over a wispy vocal sample, they sound entirely at ease rapping about high-speed chases and stuffing their jeans with money. "I been countin paper all night long, I done caught a splinter" Taxfree raps. He has a stretchy, gravelly voice that reminds me a lot of Detroit's Drego. It gives his melodic flow a jumpy feeling, like holding a note for too long would break some unspoken rule. There probably won't be a breezier song than this dropping this week.