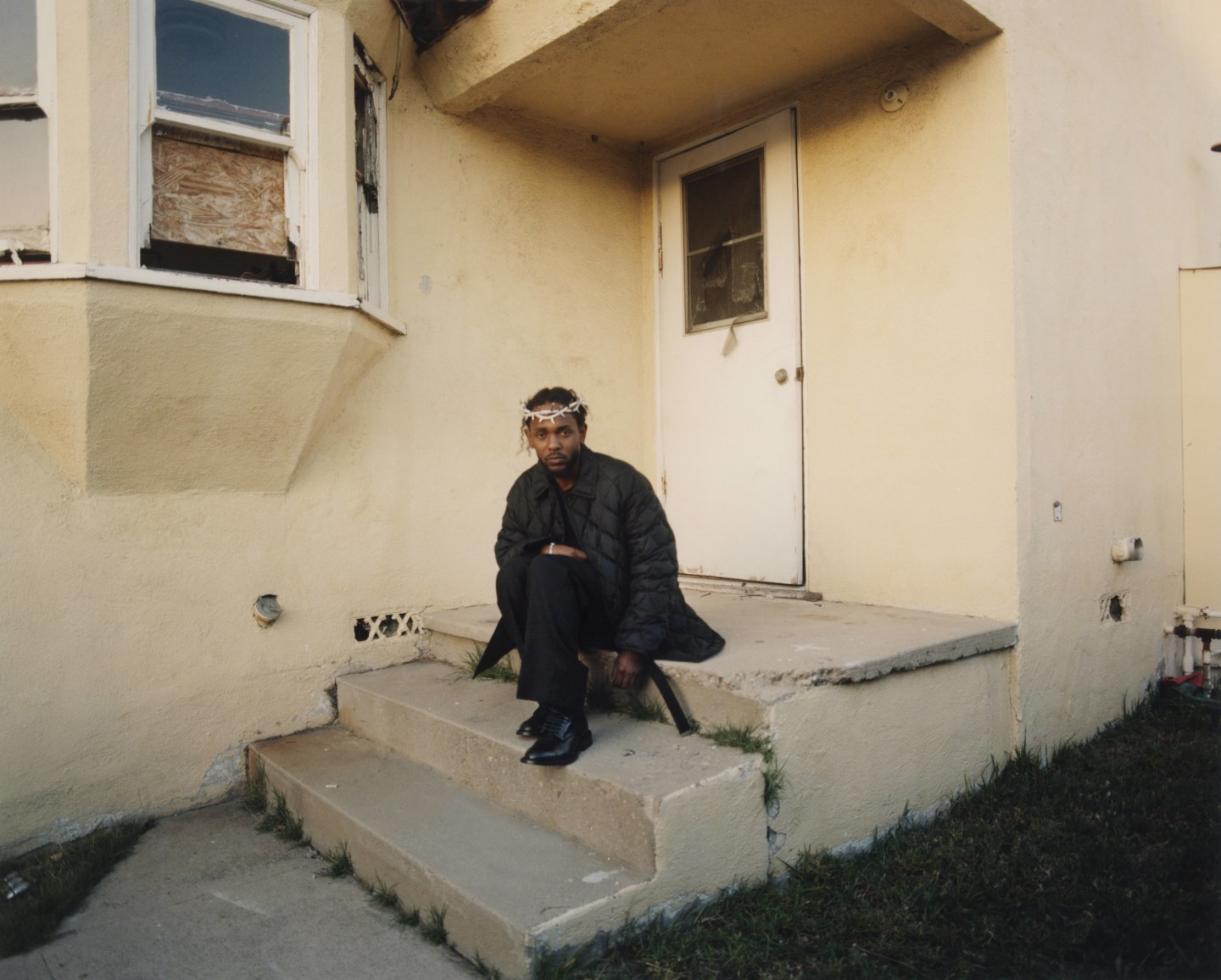 "Are you alive right now?" Kendrick Lamar's question boomed through TD Garden not long after he took the stage. Aside from repeating the questions a few times to feed off the crowd's rapturous energy and thanking Boston for welcoming him back, Kendrick didn't have much to say in-between songs. The silence outside of his performance felt meditative, as if he were channeling the Kendrick Lamar characterized on Mr. Morale & The Big Steppers: cagey, defensive about his responsibilities as an artist and one of the biggest rappers on the planet, and learning how to open up through a mess of conflicting impulses. Early on in his set, a soft robotic voice speaks to Kendrick directly: "You seem to forget who you are… Do you need a reminder?"
Nearly clueless about the setlist and performance, I wondered how Kendrick, whose live performances are known to elevate his songs to greater heights, would attempt to draw new depth out of his latest album. The melodrama of Mr. Morale can make it, at times, a difficult headphone listen. Its supporting tour understands this issue and works to bring the songs to life with intense emotive rapping and visuals projected onto a flowing box of white drapes meant to enhance their storylines and metaphors.

Lamar's entrance is heralded by a group of suit-wearing dancers — some in all black, others all white — who clap, turn, and bounce as the curtains raised. Then, Lamar appears from the darkness, his back turned to a piano and wearing a black suit as the opening notes of "United In Grief" ring out. Sitting beside him is an identically dressed mini-Kendrick puppet that stares into the crowd. On his left hand, Kendrick wears a glittering white glove; the nod to Michael Jackson, both pop music's most exalted figure and the subject of horrific allegations, is a glimpse of Lamar's onstage reckoning with celebrity. As Lamar and the puppet perform the song together, the arena is charged up with its invigorating sermon.
The simplicity of the stage design means there isn't much to look at besides Kendrick and whatever is projected onto the curtains. But with Kendrick's colossal presence, the stage never feels empty. The pageantry, sparse as it is, has dynamic energy. Kendrick treats weighty themes with a lack of subtlety on Mr. Morale, but he's more elusive on stage – set pieces like the puppet and piano vanish almost as quickly as they're introduced. Mystery persists throughout the night.
Frequently, Kendrick digs through his back catalog for high-energy cuts like "ELEMENT" and "Backseat Freestyle," crowd pleasers in the truest sense. While rapping these songs, a different Kendrick appears on stage for a moment: his voice becomes more frenzied and emphatic, intent on drawing the biggest roars from the crowd possible. It's a departure from the precision-focused, more intimate approach he employs on Mr. Morale material, which asked that you listen closely to his aching words. Dancers rush out and circle him with brisk, uniform movements while the somber arena became flooded with lights and WrestleMania entrance-style pyrotechnics. Kendrick is never lost in these frenzied sequences—he is undeniably captivating on stage, zen in the middle of the storm. With this earthquake-abrupt switch in tone, his non-Mr Morale songs felt intermediary, almost like rewards for making it through invisible checkpoints.
Upon the album's release, people wondered if "We Cry Together" and its Poetic Justice argument scene-meets-RZA "Domestic Violence"-style dramatics could even work live, nevermind what it would look like. In real life, the song is reduced to just a snippet of the argument while a verbal spat between two silhouetted people is projected onto the drapes. When the argument fades into the shimmering intro of "Purple Hearts," the two songs become an inseparable pairing. The argument cools off, and at end of "Purple Hearts," the two silhouettes hug. It's a brief moment that shows the tour's potential to expand on the quest to heal that underlies Mr. Morale.
One image has stuck with me in the days since the show. During "Count Me Out," he raps hunched over, bouncing to keep time. On the curtains, Lamar is arched over from the several arrows sticking out from his back, a heavy-handed metaphor fitting for Mr. Morale—a messy, labored-over album that attempts to show how Kendrick Lamar the artist and Kendrick Lamar the human are not as far apart as they seem. This is the most that Lamar's music has been explicitly about him in a long time; the album is filled with the lessons on learning and unlearning and forgiveness of both self and others that he's picked up along the way. It can be heartwarming, but also incredibly stubborn and, for some, occasionally offensive: Notably missing from the setlist is the clumsily handled "Auntie Diaries," where Kendrick drops the f-slur multiple times while discussing how he came to embrace his trans family members, deadnaming and misgendering them in the process. Though an abbreviated version of the song was performed once at the tour's opening show in Oklahoma.
Looking at that wounded portrait of Kendrick, I thought back to "The Heart Part 5," our first preview of this era. As he rapped about the systems and policies that continue to oppress Black America, he morphed into O.J. Simpson, Kobe Bryant, Kanye West, Will Smith, and others. Linking all these celebrities of—depending on who you ask—differing levels of ill repute is a quest for forgiveness that I feel Kendrick sees in himself. But that framing leaves me wondering how expansive his ask for forgiveness is. Who else besides wealthy Black men should be granted the grace to fuck up in public?
Closing the show is "Savior," where Kendrick disavows the Christ status thrust upon celebrities and other public figures. Indeed, celebrities shouldn't be our moral lodestars—it's a statement so true that it's a little annoying to finger wag about it for an entire song, though abdicating all responsibility here is cowardly. It goes against the lessons of Mr. Morale & the Big Steppers, which spends so much of its runtime talking about breaking toxic cycles. On the project, he openly discusses his process to overcome his vices — addiction, affairs — and moves toward healing passed-down traumas; bowing on stage with "Savior" feels like he's building up another box around himself. From the album's talks of therapy, it's clear that Kendrick is aware that learning and growing is a never-ending process. Hopefully, he isn't content with stopping here.