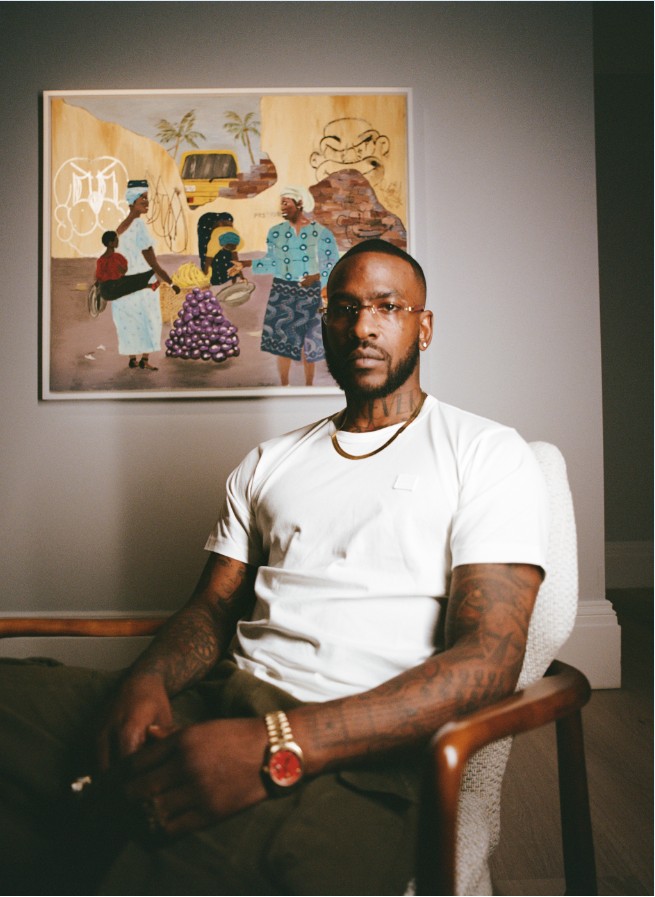 Skepta is auctioning his first foray into the world of contemporary art at Sotheby's in London this month. The grime MC has contributed a painting to a collection he has co-curated specifically for the auction, which takes place in mid-September. An exhibition of the works, which includes works by Slawn, Omar Ba, Theaster Gates and Ouattara Watts, will be be on display at Sotheby's' New Bond Street galleries from September 8-13.
Mama Goes To Market is the title of Skepta's painting (see below) and is a work he describes as having come from a fear that his young daughter will never be able to visit a market in Nigeria, the home country of his parents. ""I thought, 'She will always have to buy everything online, she's never going to experience this,'" the grime MC said in a statement, "so I tried to portray it in paint." The painting has a pre-sale estimate of £40,000 to £60,000 ($46,000-$69,000).
Elaborating on the painting, Skepta added: "My mum used to carry me just as the woman in my painting carries her child. I always planned to include these four figures: a young boy, two women engrossed in conversation, and another lady rationing rice into a bowl besides baskets brimming with fruit and veg. I designed their clothes too - 'Nigerian Couture'."
Skepta's last solo album was 2019's Ignorance Is Bliss. A year later he shared Insomnia, a collaborative album made with Chip and Young Adz.