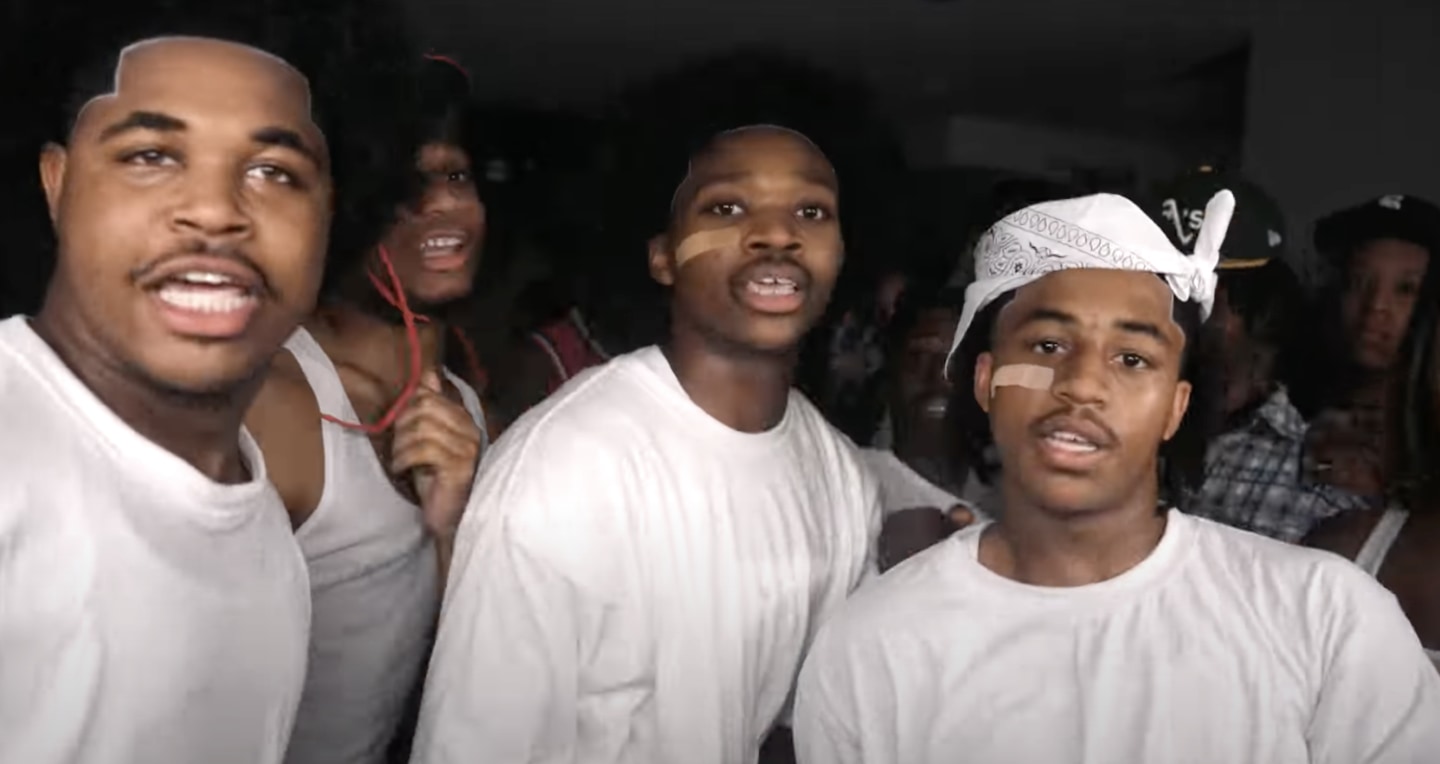 Every week, The FADER's Brandon Callender shares his highlights from across the rap world, from megastar artists to the deep underground.
Philly Goats – "The Shakeover"
It's been a minute since the last group song from the Philly Goats. DSturdy's been running around solo these last few months, joining up with Asian Doll and dropping a song of his own that's run wild on my TikTok For You Page since it was a snippet. They're back together for "The Shakeover," which doubles as a celebratory moment for the Philadelphia group who set the year ablaze in January with their all-fun no brakes club raps. The video opens with clips of kids who couldn't be older than middle schoolers in line for a hometown concert screaming the Philly Goats' names. It's a brief yet heartwarming moment that comes right before the video descends into the chaos of a house party. Over the frenzied, skeletal beat, DSturdy, Spence, and Sou rap like they're in a rush to get the words out their mouth so they can get back to dancing. Even if this song doesn't end capturing the initial rush of "Philly Shake" (I'd argue it gets close), you can't deny that this is their moment.
4L Javi –"Playboy"
4L Javi's music feels like walking through the club. It's not hard to picture the cars he's pulling up in or smell the Dior cologne he's wearing. On this year's Letters 2 U, the Riverside, California artist sang and rapped his way through a plethora of "I ain't shit, but I'm trying" love stories. For me, the songs with singing tended to work better since they warmed up what would otherwise be cold-hearted stories. But "Playboy," 4L Javi's latest track, has me rethinking my stance on him as a rapper. Over twinkling keys and distorted Michigan-style percussion, he raps about retail therapy and getting stopped in the mall by girls with a too-cool-to-care attitude. There's nothing that can blow his high. "It ain't easy being me but they think so," he says in the song's opening line. "Playboy" is a theme song fit for players and high rollers around the world.
Vel Nine – "Away Game"
Vel Nine makes it clear from the jump that she's competitive. Her new project Freakjet opens with a sample of the opening scene from Love & Basketball, where a young Monica, new to the neighborhood, asks if she can join Quincy and his friend's game. They agree, but upon discovering she's a girl, they dismiss her skill. (Monica ends up almost beating Quincy, but he pushes her down during a potentially game-winning shot). Her steely, day-in-the-life raps match up with hardened old East Coast souls like YL and Starker, who are both featured on the tape, but she hails from Southern California. On the standout "Away Game," she takes on two different Zoomo beats with ease. Her flow is near breathless on the first, and on the second, she's brimming with confidence and aggression. It's strictly bars over here.
1600J – "No Options" feat. BoofPaxkMooky and RealYungPhil
1600J, BoofPaxkMooky, and RealYungPhil all come from different parts of the United States, but they all know how to make their respective lifestyles feel extra exclusive. New York's 1600J's breezy flow keeps things light; North Carolina's BoofPaxkMooky bends his voice in a million directions to make whatever he's talking about sound like a rare video game item; and Connecticut's RealYungPhil has takes such a laidback approach to describing objects you'd think he didn't care about anything. "No Options" combines all of their approaches with a woozy beat that's as hypnotizingly beautiful as a beach sunset. It might sound like I'm describing three different songs at once, but trust me, I'm not.
Goldenboy Countup – "Decatur"
Linking together all of Goldenboy Countup's music is a sense of urgency that never seems to dissipate. On "Decatur," the Central Florida rapper sounds like he had just finished running around town and decided to rap about everything he saw. His raspy voice, erratic, punched-in flow, and dark sense of humor only add to the feverish feeling of his gritty country drug-dealing tales. "Baby I'm from the hood, I'm Dickied down. I don't rock Supreme," he raps over the pulsating bass. Goldenboy Countup doesn't glamorize anything.