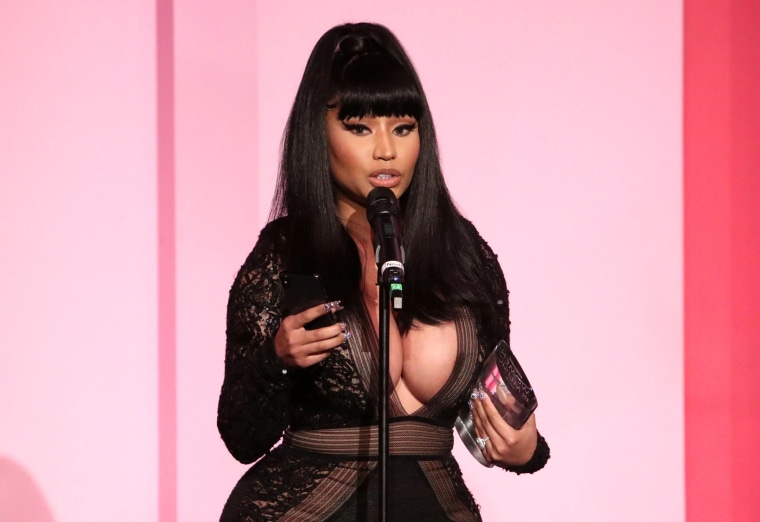 Nicki Minaj has filed a $75,000 lawsuit against Marley Green, an internet celebrity gossip personality known as "Nosey Heaux," TMZ reports and documents obtained by The FADER can confirm.
In a complaint filed on Wednesday in New York, Minaj's attorney Judd Burstein accuses Green of defaming his client by lying about a drug habit. This stems from a video Green shared to Twitter on Monday, saying "[Nicki is] shoving all this cocaine, shoving in all this cocaine up her nose. Allegedly. Thank you. Allegedly. But we all know it's true. Fuck—listen, I can't even say allegedly with that 'cause I—we know it's true. I'm not saying allegedly on that. Nicki Minaj is a coke head." The video was liked over 2,000 times and retweeted 260 times, which led to "a firestorm of social media attention which was undoubtedly caused by multiple levels of subsequent retweets," according to the complaint.
The complaint also mentions comments made by Green regarding Minaj's son: "Your baby is going to be a rapist, too." The insult appears to be in reference to her husband Kenneth Petty, who was convicted of attempted rape in 1995 and served four years in prison. The complaint acknowledges that Green's comments are not "actionable," but do "demonstrate why punitive damages should be awarded in this case."
The comments made by Green, the complaint surmises, may have been part of a campaign launched by an unnamed rival of Minaj to hurt her career: "On information and belief, and as discovery will likely reveal, Green has been acting as a proxy for another performer who, mistakenly believing that she and Plaintiff are stars of equal stature, has repeatedly used other social media intermediaries in a hopeless effort to advance her career at Plaintiff's expense. However, the fact that Green was acting at the behest of another does not make her conduct less egregious or excuse her from the consequences of the damages she has caused Plaintiff to suffer."
In a statement to The FADER, Judd Burstein said that in the event of a successful suit, the "Nosey Heaux" trademark will be seized from Green if she cannot pay the full amount.
"Marley Green is a disgrace -- someone so lacking in fundamental decency that she has posted vile comments about Nicki's one year-old son. When this case is over, she will no longer be permitted to use the name "Nosey Heaux" because we will take her trademark from her when she does not have enough money to pay the judgment. Anyone else who spreads lies about Nicki will suffer a similar fate. My marching orders are to aggressively sue anyone with a media or social media following who damages her with intentional lies. Eventually, the lesson will be learned."
The FADER has reached out to Nosey Heaux for a statement. Last week, Minaj shared the "Queen Mix" of her hit "Super Freaky Girl" featuring Katie Got Bandz, JT, and more.