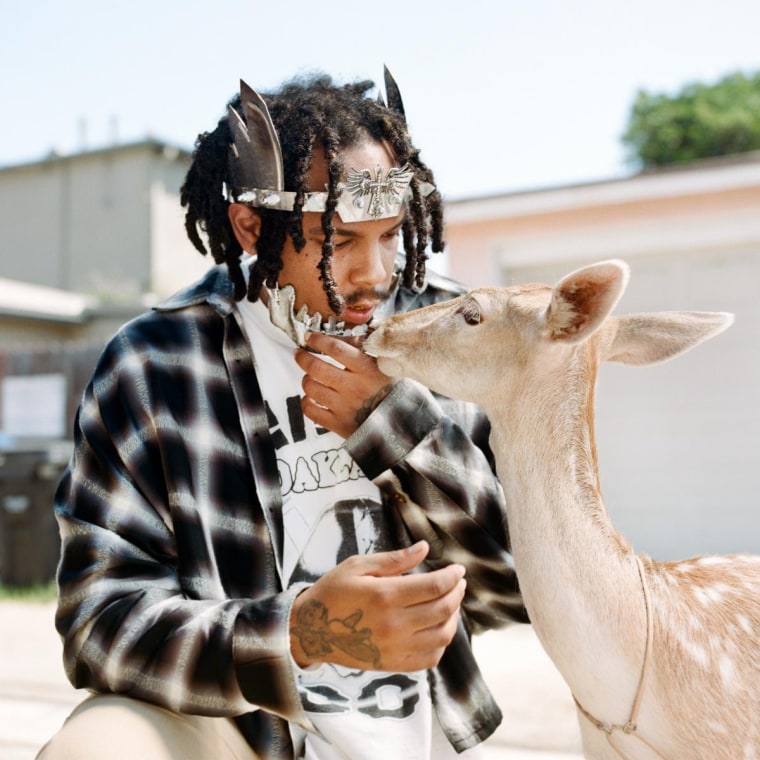 The FADER's "Songs You Need" are the tracks we can't stop playing. Check back every day for new music and follow along on our Spotify playlist.
A baptism is a ritual signifying rebirth; leaving past sins behind; the beginning of a contract signifying the end of solitude, self-doubt, and pain. It's not something Jean Dawson has ever sounded like he needed. His 2019 album Bad Sports introduced an artist that thrived in a perpetual motion pastiche — in this case, a flood of flannel-paneled indie rock and abstract hip-hop. He followed it the following year with Pixel Bath, a superior effort with more genres in its toolbox. The concept of baptism is prominent in "PIRATE RADIO*," Jean Dawson's new song. His renewal, however, doesn't come from a divine source. As ever, it's within.
Even in the context of Dawson's shifting catalog, "PIRATE RADIO*" is striking. It has all the ingredients of a flop: it's a Bon Iver-indebted folk song with mere traces of rap on its hook and a soaring sincerity beneath every plucked acoustic guitar string and swooning fiddle. But Dawson lands it without a stumble, his voice filled with Justin Vernon's tremolo from the jump as he describes his search for redemption: "Push my head underwater / See how long it'll hold / Way down in the deep end / Rinse the sins from my clothes."
The song's power lies in the hook, as cathartic as anything released in pop music this year. "Pull up nobody panic / Why did you vanish?" Dawson sings, his voice distant as if looking over a vast and empty expanse. "Hold up, needed a hand, and / Nobody had it." "PIRATE RADIO*" is the sound of someone alive on their own terms, unattached to any rules or dogma. Keeping with his iconoclastic creative streak, Jean Dawson celebrates rebirth for rebirth's sake.
Jean Dawson tour dates
October 16 - San Diego, CA - Voodoo Room
October 18 - Las Vegas, NV - The Space
October 19 - Phoenix, AZ - Rebel Lounge
October 21 - Austin, TX - Come and Take It Live
October 22 - Houston, TX - Warehouse Live
October 23 - Dallas, TX - Cambridge Room
October 25 - Atlanta, GA - Masquerade Hell Stage
October 27 - Washington, DC - Union Stage
October 28 - Allston, MA - Brighton Music Hall
October 29 - Philadelphia, PA - The Foundry
October 30 - Brooklyn, NY - Elsewhere
November 1 - Montreal, QC - Le Belmont
November 2 - Toronto, ON - Velvet Underground
November 4 - Detroit, MI - Shelter
November 5 - Chicago, IL - Lincoln Hall
November 6 - Minneapolis, MN - 7th Street Entry
November 8 - Denver, CO - Cervantes Other Side
November 9 - Salt Lake City, UT - Kilby Court
November 11 - Vancouver, BC - Biltmore Cabaret
November 12 - Seattle, WA - Chop Suey
November 13 - Portland, OR - Holocene
November 15 - Oakland, CA - The New Parish
November 17 - West Hollywood, CA - The Roxy