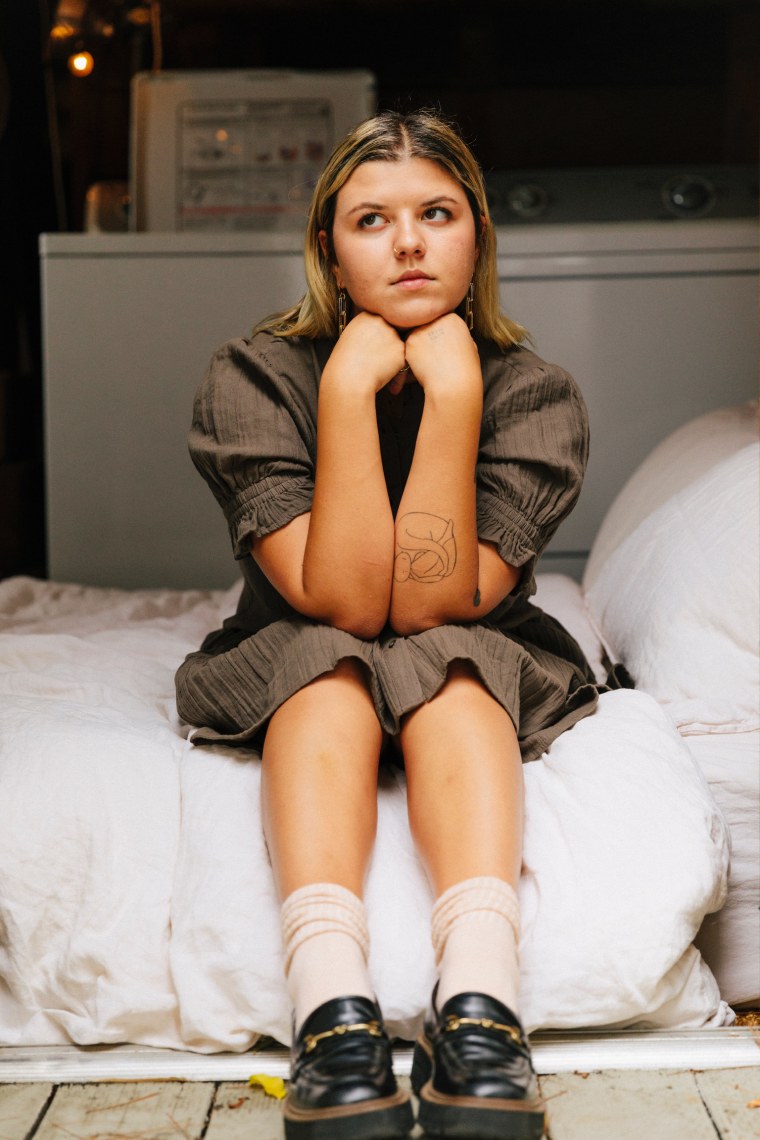 "Doing Fine," an instantly memorable ode to both feeling sad and feeling guilty for being sad, is technically Eliza McLamb's debut single. Anyone who is alert to McLamb's online presence (and if not you're missing out) will know that she has been sharing stripped-back songs and ideas on TikTok for a while now. "Doing Fine" steps things up a notch, however.
Produced by Sarah Tudzin of Illuminati Hotties, the song taps into familar themes of alienation and struggling to cope in the world but McLamb's writing, sharp and heavy at the same time, packs a heftier kick than her singer-songwriter peers. Hers is a world where depression isn't glamorized or used as an aesthetic, it's one filled with dead dogs on leashes and where life is compared to stepping into the ring with a heavyweight boxing champion. She repeats the refrain "Snap out of it" fourteen times, poking fun at the simplistic advice with a dark wit.
The "Doing Fine" video looks like it was gruelling in different ways with McLamb stalked by black-clad mystery figures like something out of a horror movie. Check it out below.
Speaking via email, McLamb says: "This song is about that feeling in your gut that someone is watching you when you're alone. When everything is going well, all your ducks are in a row, and a quiet gnawing still sits in your stomach. It's eerie. You're full of resentment. And every day you just put on your perfume and run your errands and try to live as though it's not living right alongside you."
Eliza McLamb tour dates:
11/10 - Teragram Ballroom - Los Angeles, CA
11/11 - Catalyst - Santa Cruz, CA
11/12 - August Hall - San Francisco, CA
11/13 - Goldfield Trading Post - Sacramento, CA
11/17 - Wonder Ballroom - Portland, OR
11/18 - Biltmore Cabaret - Vancouver, Canada
11/19 - Neptune Theatre - Seattle, WA
All dates w/ Illuminati Hotties & Enumclaw