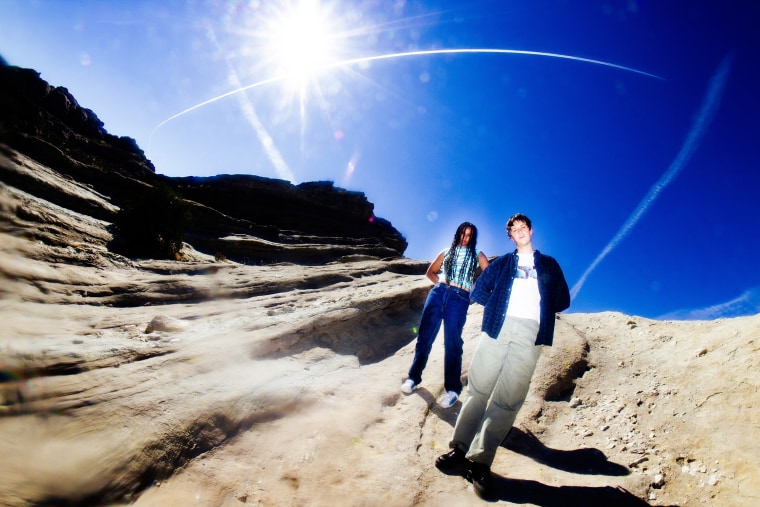 London-based duo Jadu Heart have shared details of their third album, Derealised, alongside a video for new track "I Shimmer."
The album is due Janury 20 via VLF Records and follows 2020's Hyper Romance. "I Shimmer," a dreamy shoegaze-adjacent indie pop song, acts as something of a thesis for the larger themes of Derealised, which juxtaposes feelings of despair with a more optimistic outlook.
"'I Shimmer' is about that mania you can feel after a low", the band say in a statement. "We can both go to dark places from time to time but there's always a moment where you see a chink of light and you're like 'fuck it, let's go towards it'. It's that journey from hopelessness to nihilism where you feel you can not be stopped. Where you follow a moment of clarity."
Speaking about the desert-set video, they add: "We thought LA would be the perfect place to film the video. Jaxon [Left, director] took us around and you couldn't shake the feeling the city was dancing on the edge of collapse. But in the middle of our stay we walked up to the observatory at night and spent the evening looking at the beauty of space from a giant telescope on an ancient mountain. That experience really chimed with what the song is about."
In addition to the new album, Jadu Heart have also announced a headline tour of North America for January 2023. See below for date and venue details.
Derealised tracklist:
"Glistener"
"Cocoon"
"Blame"
"Freedom"
"There Is No Door"
"I Shimmer"
"8x8"
"Endless"
"Sway"
"You Are"
"The Glass Box Between Me And You"
"Webs"
"Derealisation"
Jadu Heart live
January 24 - Echoplex, Los Angeles, CA
January 25 - Starline Social Club, Oakland, CA
January 27 - Doug Fir Lounge, Portland, OR
January 28 - Barboza, Seattle, OR
January 29 - Fortune Club, Vancouver, BC
February 1 - 7th St Entry, Minneapolis, MN
February 3 - Sleeping Village, Chicago, IL
February 4 - The Velvet Underground, Toronto, ON
February 5 - Petit Campus, Montreal, QB
February 7 - Brighton Music Hall, Allston/Boston, MA
February 8 - Elsewhere, Brooklyn, NY
February 10 - The Foundry, Philadelphia, PA
February 11 - Songbyrd Record Cafe, Washington, DC