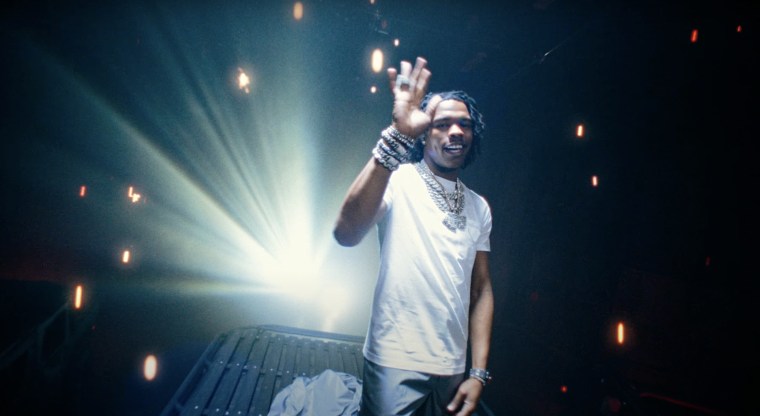 Ahead of the release of his next album, It's Only Me, on October 14, Lil Baby has shared a new single from the project called "Heyy" along with its cover art and tracklist.
If you read it in a text message, the word "Heyy" could come off as shy or even noncommital. That's not the tack Baby takes on "Heyy," bragging about his roster of girls and nodding to his origins on the streets of Atlanta as fuel to drive his domination of the rap game. It gives the chorus, where Baby sounds coy as he repeats the title, a dry kind of humor that I really enjoy. Hear the track in the new music video below, which features Baby with a money counter, a fleet of fancy cars, and in the middle of the ocean surrounded by alligators.
Along with the new song comes It's Only Me's cover art and tracklist. It's similar to the cover art of 2020's My Turn, depicting Lil Baby in nature. This time, though, there's a Mount Rushmore of Lil Baby faces in the clouds. The tracklist sports features from Young Thug, Nardo Wick, Future, EST Gee, Pooh Shiesty, and more.
It's Only Me cover art
It's Only Me tracklist
1. Real Spill
2. Stand on It
3. Pop Out feat. Nardo Wick
4. Heyy
5. California Breeze
6. Perfect Timing
7. Never Hating feat. Young Thug
8. Forever feat. Fridayy
9. Not Finished
10. In a Minute
11. Waterfall Flow
12. Everything
13. From Now on feat. Future
14. Double Down
15. Cost to be Alive Feat Rylo Rodriguez
16. Top Priority
17. Danger
18. Stop Playin feat. Jeremih
19. FR
20. Back and Forth feat. EST Gee
21. Shiest Talk feat. Pooh Shiesty
22. No fly Zone
23. Russian Roulette