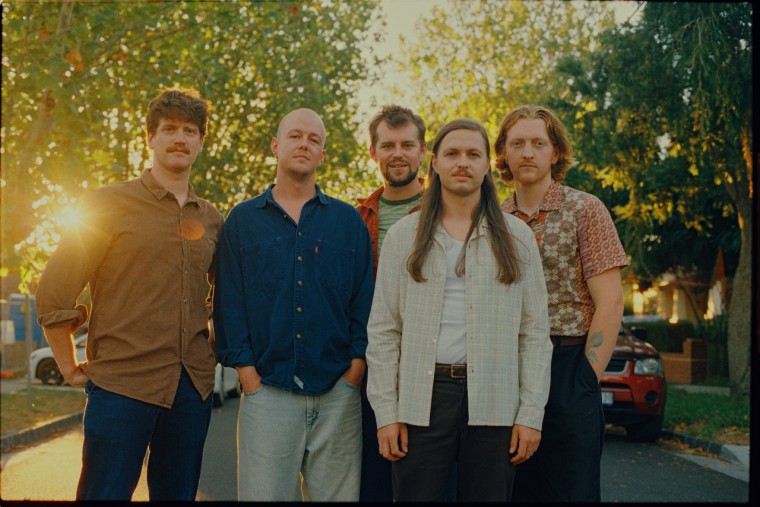 Australian band Surprise Chef's take on jazz pulls from the classics but keeps things from sounding dusty with a respectful distance between them and their influences. There are shades of Blue Note that run through new album Education & Recreation in the same way that any jazz artist is likely to be influenced by such an outsized presence. However, the quintet's orbit also pulls in '70s film scores and a rap producer-style use of samples resulting in an instrumental album that remains unpredictable throughout.
Education & Recreation, streaming below ahead of its October 14 release, follows Surprise Chef's first two albums; All News Is Good News and Daylight Savings. Together, Lachlan Stuckey, Jethro Curtin, Carl Lindeberg, Andrew Congues, and Hudson Whitlock lock in to a funk-laden groove that peaks with the sprightly yet somewhat sombre "Money Music" with the quirkily titled "A1 Bakery Pledge Of Allegiance" offsetting Stuckey's unruffled guitar work against a skittering rhythm section. The album is mellow throughout but with enough ideas popping up that it never lapses into background music. At its best Education & Recreation feels transportative.
Speaking via email, the band's Lachlan Stuckey said, "The title Education & Recreation represents the two core principles of our process of making music together; our foremost goals are to be constantly learning to do our thing better, and to enjoy the blessed experience recording music together.
We've been refining our process of writing, arranging and recording music together over the last few years, and we wanted to use this album as another opportunity to get deeper into the process that we employ. We gave ourselves so many days to record so that we could have more time to execute takes that we felt best represented the tunes, and we wanted to record as many songs possible to carve out an album that represented the direction of the band's music.
The 12 tunes that made the album embody our collective relationship and experience of living and playing music together. On Education & Recreation, we leaned more into the band's own creative voice, and less on actively looking to musical influences to guide the tunes."