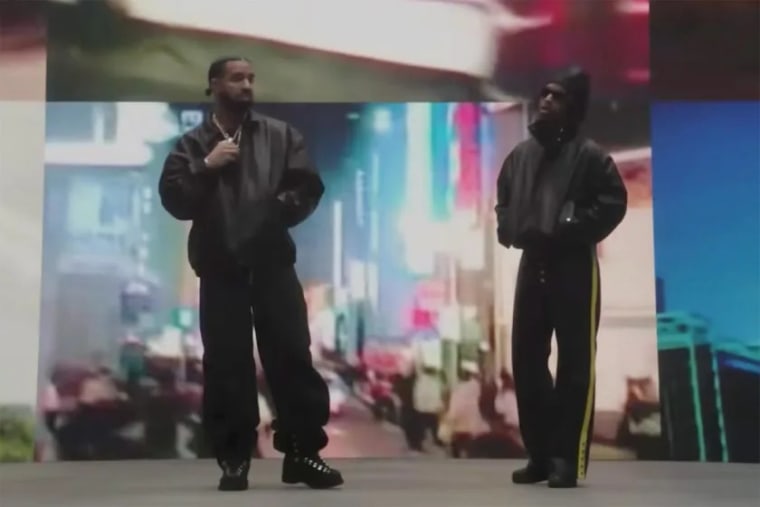 The roll-out of Drake and 21 Savage's new album Her Loss has been an exercise in bootlegging, with the duo appearing in fake clips for things like SNL, Colors, Howard Stern, and NPR's Tiny Desk Concert. They essentially executed a series of big promotional looks without having to work with anybody outside of their own team.
Naturally, a magazine cover is a desired part of a promo campaign and the pair secured one of those two, with a fake Vogue cover mocked up and shared online. Condé Nast is not seeing the fun side of it, however, with TMZ reporting today that the publisher, alongside Vogue parent company Advance Magazine Publishers, is suing Drake and 21 Savage for trademark infringement, brand dilution, and false advertising. Not only was the cover image posted on social media, physical copies of the fake magazine were dropped in major cities and posters plastered on walls, too.
"Vogue magazine and its Editor-in-Chief Anna Wintour have had no involvement in Her Loss or its promotion, and have not endorsed it in any way," the suit reads. "Nor did Condé Nast authorize, much less support, the creation and widespread dissemination of a counterfeit issue of Vogue, or a counterfeit version of perhaps one of the most carefully curated covers in all of the publication business in service of promoting Defendants' new album."
Lawyers for Condé Nast say that they have repeatedly asked for anything using the Vogue imagery to be removed. They are seeking up to $4M in damages. The full lawsuit can be viewed here.
The FADER has reached out to representatives for both artists for comment.