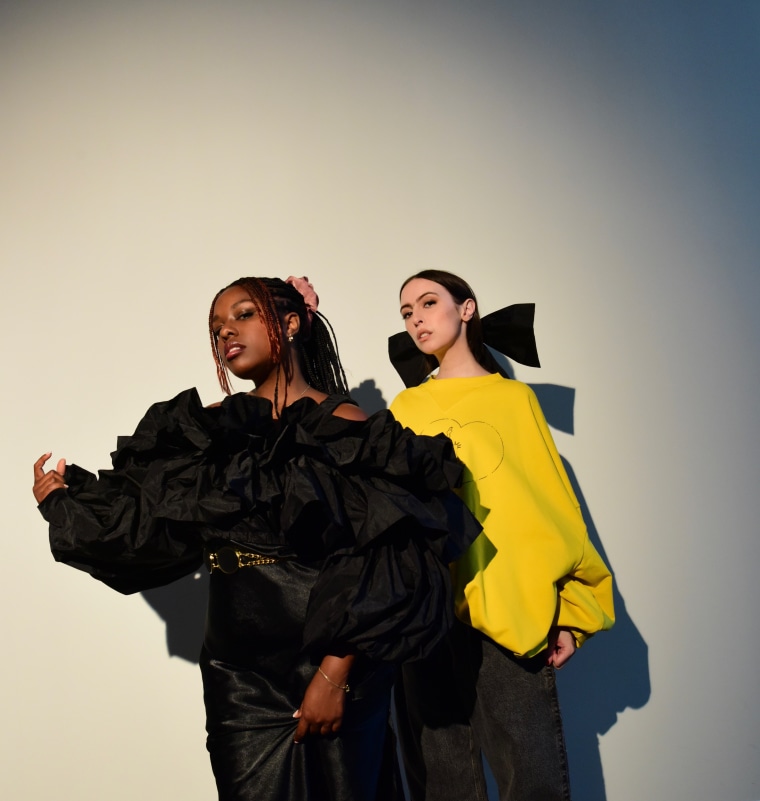 Coco & Clair Clair are the guests on this week's episode of The FADER Interview. In a wide-ranging, 40-minute conversation, they tell The FADER's news editor, Jordan Darville, about the making of their brand new sophomore studio LP, Sexy, and much more. Beyond the album's impressive features list, its underlying aspirational themes, and its effortless appeal, the Atlanta glam-rap duo go deep on the "TikTok artist" stigma, reminisce about the wild Atlanta house shows where they cut their teeth, and share an on-brand anecdote about meeting Richmond, Virginia rap queen Babyxsosa.
Listen to the episode and subscribe to The FADER Interview wherever you get your podcasts via this link, and read read a few excerpts from the conversation below.
On Sexy's many featured guests:
Clair Clair: Porches is a friend through friends. We went to his show in Atlanta and we all hung out after. It was just a conversation, like, would you want to do something together? He was so down.
Deto Black, we've both just been watching her… Even style wise, she's such a fashionable inspiration and someone who we've always thought, "They seem so fun. I'd love to go to London and hang out with them." She started randomly, and we were like, "Holy shit, we love her. That's so crazy." We hit her up and she was down.
Marjorie Sinclair, we'd been listening so much to him and it was kind of a shot in the dark.
Coco: We were considering Matt Ox at one point for a feature. Then we found Evanora, and we were like, "Okay, this is cool. This is a really cool vibe."
DEELA, I was just on Spotify listening to related artists, a bunch of random people. I was on a spiral and I came across DEELA. I loved how deep her voice was, her accent, and her style. Everything about her was so cool. It feels good to be able to find someone with fucking talent and give them a platform.
On playing Atlanta house parties with a pre-"Magnolia" Playboi Carti:
Coco: When we would perform earlier on, we'd play crazy-ass house shows. We'd hop on any bill, so we'd play with punk bands one day and Playboi Carti [the next]. Being in that environment and seeing people perform so carefree and have people love it, that definitely impacted our performance style. We still prefer the house show vibe. We still prefer to scream on the microphone unprompted and be really silly, but it's way more controlled now obviously because we're older, and we're playing bigger and more serious shows, and more serious people are in the room now. So I can't pour an entire bottle of whiskey on my head anymore.

On the misconceptions they face:
Clair Clair: That we're mean. The songs have that cheekiness to them, and I think people are surprised when they meet us that we're shy, giggly, and want to be friends with everyone. When we do go out, people give us a bit of attitude because they're expecting it from us. Please, be nice to us. I got a comment on Instagram today. This girl was like, "You guys were in my dream. I said 'Hi, you're so cool,' and your response was 'We know.'" It broke my heart.
Coco: The first eye-opening experience about how we're perceived was when we met Babyxsosa. She was like, "Y'all are actually cool." We were like, "Oh, do we seem like we're not? What does that mean?"
Clair Clair: She didn't know we were from Atlanta. As soon as anyone sees the TikTok thing, they're like, "Okay, L.A. industry plant, weird girl, don't need to know her, she's fake.